WHAT INDIA EATS – QMIN DISCOVERS NEW FOOD TRENDS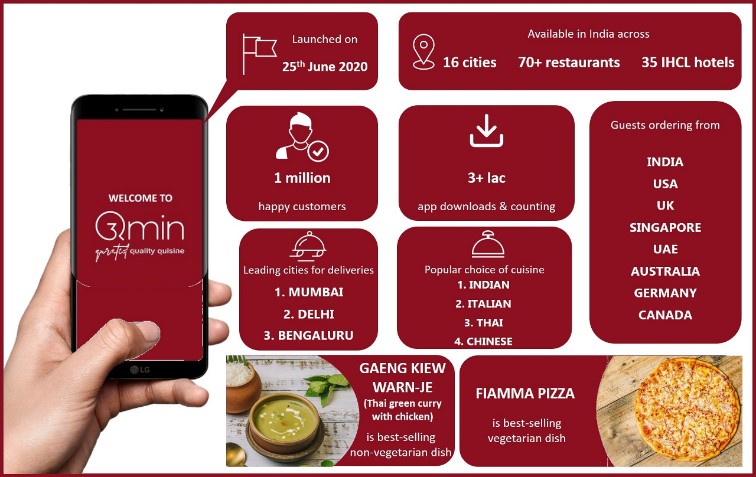 MUMBAI, JULY 20, 2021: It is said that 'Food is the way to one's heart' – and rightly so. While the pandemic brought the joy of eating out to a grinding halt, food continued to be the catalyst that kept people connected with family and loved ones. Qmin, the food delivery platform by Indian Hotels Company (IHCL), which was launched in 2020, has won over hearts as it brought popular dishes from IHCL's signature restaurants to the safety of guests' homes.
With food delivery becoming the flavour of the season, Qmin has unearthed some new and interesting food trends that define India's food consumption patterns within the first year of its service. Serving over 1 million happy customers in the first year itself, Qmin delivers food in 16 cities from over 70 restaurants across 35 IHCL hotels in India.
The Qmin app, which is the only app in the country that can serve the same curated menu to over 2,000 people across many cities simultaneously, leverages IHCL's extensive network of hotels and is a popular choice for those looking to host virtual celebrations, gatherings and meetings. With over 3 lakh downloads, the app has an ever-growing user base, and is also available in the US, UK, UAE, Singapore, Hong Kong and Germany, through which one can seamlessly order a Qmin experience for family and loved ones back home in India.
While Delhi might be the foodie capital of the country, Mumbai leads in the number of deliveries, followed by Delhi and Bengaluru. Staying true to one's roots, Indian cuisine stood out as the most preferred among Qmin consumers, followed by Italian, Thai and Chinese.
President, an IHCL SeleQtions hotel in Mumbai, delivered the highest number of meals with its legendary Fiamma Pizza being the best-selling vegetarian dish. For the non-vegetarian lovers, Gaeng Kiew Warn-Je (Thai Green Curry with Chicken) was the go-to choice, making it a best-seller. Popular dishes such as vegetable noodles, dal makhani, paneer tikka and mutton biryani too featured in the list of the most popular dishes in the past year.
With Qmin also offering a wide variety of choices – curated festive menus to comfort food, subscription meals and immunity-boosting INNERgise menus, it has fast become one of India's popular food delivery platform. With an online patisserie and deli and added loyalty program features for customers, there is something to satiate everyone's tastebuds.
So what are you waiting for? Order your favourite cuisine and bond with your loved ones over delectable delights with Qmin today! Customers can call the dedicated toll-free number 1800 266 7646 or download the Qmin app on android and IOS mobile devices to order their favourite Quisines. For more information, please visit here.
About Qmin

Qmin – the gourmet culinary and food delivery platform by Indian Hotels Company (IHCL), South Asia's largest hospitality company, was introduced in June 2020. With its repertoire of culinary experiences, the Qmin App delivers dishes from the group's signature restaurants to the comfort of guests' homes across 16 cities from over 70 IHCL restaurants across 35 hotels.
Keeping up with changing market requirements, Qmin recently introduced Qmin Comfort, a range of comfort food options; Qmin Subscription meals bringing wholesome home-style meals available on subscription; as well as its latest offer of immunity enhancing menus curated using superfoods – INNERgise.
The brand had broadened its scope with new innovations like Qmin Celebrations offering customised menus for virtual weddings and conferences, as well as its lifestyle gourmet store concept – Qmin Shop and the Qmin Food Truck in Mumbai.
Please visit: https://www.qmin.co.in/
For more information, please contact: rakhee.lalvani@ihcltata.com
Follow us on social media:

Follow Qmin        
@QminApp | 
@QminApp |  
@QminApp