THIS WORLD WILDLIFE DAY, DISCOVER THE SECRETS OF THE JUNGLE WITH TAJ SAFARIS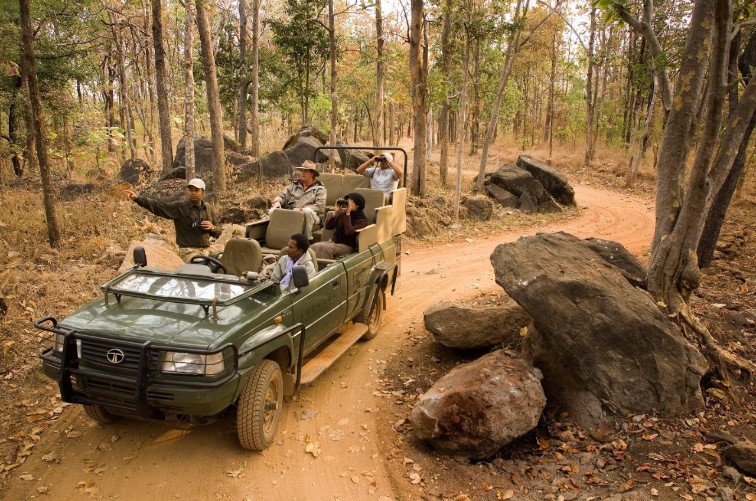 MUMBAI, FEBRUARY 28, 2022: This World Wildlife Day, embark on an adventure that takes you into the heart of India's jungles with Taj Safaris. With summer upon us and temperatures rising, there is no better time than now to explore the hidden secrets of the jungles. Join the expert naturalists of Taj's safari resorts and discover the wildlife and flora and fauna that call the forests of Madhya Pradesh home.
With towering trees, thick foliage and an undulating landscape that varies from jungle to jungle, Madhya Pradesh's jungles are known for a variety of wildlife – from chital and sloth bears to gaurs, Barasingha, leopards, wild boards, wild dogs and most importantly – the Royal Bengal Tiger. The scorching summer not only forces the wildlife to step out of hibernation but drives them to congregate at waterholes in search of respite from the heat. This offers travellers the perfect opportunity to view the animals in their natural habitat on daily safari drives conducted with Taj Safaris' naturalists.
Guests can also learn about the many native flora that dot the forests of Pench, Kanha, Bandhavgarh and Panna – be it the mahua or Butter Tree, Kaithor Wood Apple tree or the Kullu or Ghost Tree. From curated experiences such as nature walks and cozy bush dinners under the starry skies to glamping where luxury camping weaves in the local culture and heritage of the forests and their tribes, Taj Safaris makes for the perfect getaway this summer.
To know more and book a Wilderness Getaways offer with Taj Safaris, please visit here.
About Taj Safaris
Breaking new ground in India, Taj Safaris offers India's first and only luxury wildlife circuit. Its four lodges based in India's tiger heartland, Madhya Pradesh and one in Chitwan National Park, Nepal; provide guests with the ultimate wildlife experience. Taj Safaris' lodges are founded on sustainable tourism principles and its specially-trained naturalists offer an interpretive and unforgettable wildlife experience coupled with the legendary service that the Taj is renowned for.
Taj Safaris first opened its doors at Mahua Kothi—Bandhavgarh National Park in 2006. Three more lodges complete the Madhya Pradesh wildlife circuit: Baghvan—Pench National Park, Pashan Garh – Panna National Park and Banjaar Tola – Kanha National Park. In 2016, Taj Safaris opened its first international lodge, Meghauli Serai—Chitwan National Park.
To know more about Taj Safaris and to make bookings, please visit  www.tajhotels.com
For more information, please contact:  nairita.ghosh@ihcltata.com