Taj Safaris Announces 'Nature Talk' on International Tiger Day
                                              ~ Nature Talks is a four-part webinar series hosted by expert naturalists from Taj Safaris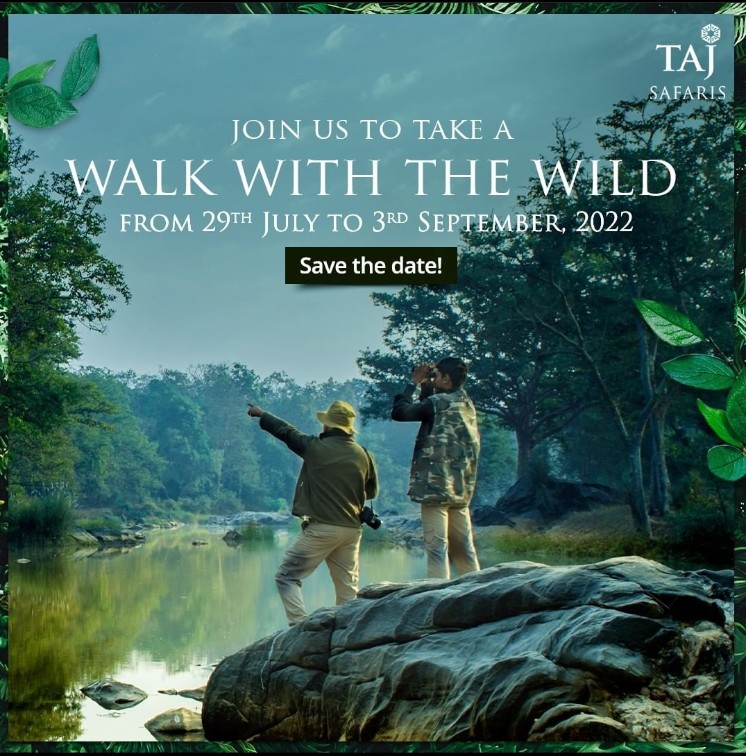 MUMBAI, JULY 26, 2022: As we head towards completing 50 years of tiger conservation in India, Taj Safaris, India's first and only luxury wildlife circuit, celebrates International Tiger Day by providing viewers a peek into the wondrous realm of the animal kingdom. Indulge in engaging talks about wildlife through the four-part webinar series, Nature Talks with Taj Safaris – hosted from July 29th to September 4th – passionately narrated by expert naturalists sharing first-hand knowledge on subjects that seek to build awareness.
An Ode To 'Collarwali' by Naturalist Kopal Thakur from Baghvan, A Taj Safari – Pench National Park, will take you back in time where Collarwali, the iconic tigress attained immortality in the teak forests of Pench. Unravel the life of successful predators as the Whistling Hunters of Central India by Naturalist Yajuvendra from Banjaar Tola, A Taj Safari - Kanha National Park brings alive the magic of the Indian jungles. Get acquainted with the prowess of preservation, civilization's ethics of co-existence with nature and the commitment to reverse the looming decline of multiple species from

our wild heritages with Naturalist Ramesh from Mahua Kothi, A Taj Safari – Bandhavgarh National Park on Conservation Success Stories of India. Lastly, The Flying Rulers by Naturalist Tarun from Pashan Garh, A Taj Safari - Panna National Park will take you soaring into the world of some of the most endangered birds on the planet.

Built on a proven sustainable ecotourism model, Taj Safaris offers the ultimate wildlife experience and has established numerous development programs that ensure engagement surrounding the neighbouring communities in making small, yet meaningful differences.

Open for all, the one-of-its-kind virtual seminar will unveil the hidden tales of the jungles. For registration and details on the webinars, please visit here.

About Taj Safaris

Breaking new ground in India, Taj Safaris offers India's first and only luxury wildlife circuit. Its four lodges based in India's tiger heartland, Madhya Pradesh and one in Chitwan National Park, Nepal; provide guests with the ultimate wildlife experience. Taj Safaris' lodges are founded on sustainable tourism principles and its specially-trained naturalists offer an interpretive and unforgettable wildlife experience coupled with the legendary service that the Taj is renowned for.
Taj Safaris first opened its doors at Mahua Kothi—Bandhavgarh National Park in 2006. Three more lodges complete the Madhya Pradesh wildlife circuit: Baghvan—Pench National Park, Pashan Garh – Panna National Park and Banjaar Tola – Kanha National Park. In 2016, Taj Safaris opened its first international lodge, Meghauli Serai—Chitwan National Park.
To know more about Taj Safaris and to make bookings, please visit  www.tajhotels.com
For more information, please contact:   nairita.ghosh@ihcltata.com