The Taj Mahal Palace, Mumbai and Taj Lake Palace, Udaipur Ranked Among the World's Top 100 Hotels at the Prestigious Conde Nast Traveller UK Readers' Travel Awards 2018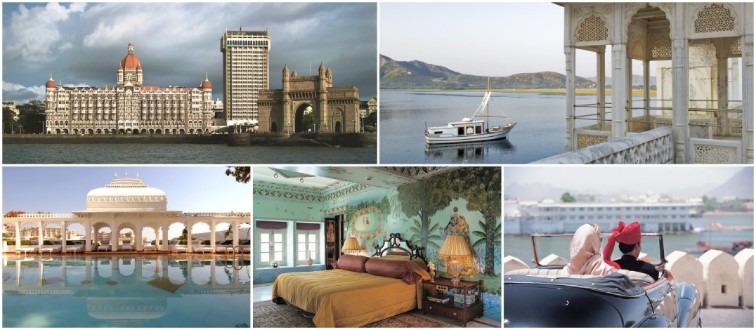 Mumbai, September 6, 2018 – Three legendary hotels of Taj, the iconic brand of The Indian Hotels Company Limited (IHCL) have been recognized by the readers of Conde Nast Traveller UK at the annual Readers' Travel Awards 2018 across categories. Ranging from authentic palaces to landmark city hotels, Taj combines the best of Indian hospitality and timeless elegance with modern-day luxury. The list includes The Taj Mahal Palace, Mumbai, Taj Lake Palace, Udaipur and Taj Falaknuma Palace, Hyderabad. 
In the highly coveted World's Top 100 list, The Taj Mahal Palace, Mumbai has been honoured twice, in the categories of Overseas Holiday Hotel and Overseas Business Hotel. The flagship hotel, overlooking the majestic Gateway of India celebrates 115 years of playing host to kings, dignitaries and eminent personalities from across the globe. Taj Lake Palace, Udaipur, acknowledged as the most romantic hotel in the world has also featured on the list.
Additionally, The Taj Mahal Palace, Mumbai, Taj Lake Palace, Udaipur and Taj Falaknuma Palace, Hyderabad – perched 2000 feet above the city of Hyderabad, featured in the list of Top 20 Overseas Holiday Hotels in Asia & the Indian Subcontinent.
The Conde Nast Traveller Readers' Travel Awards are presented annually and are based on votes from readers of the magazine for the best that the travel world has to offer – from hotels and spas to airlines and airports, rating their choices according to criteria such as service and design. Results are then collated and analysed by an independent market-research company.
About Taj
Established in 1903, Taj is Indian Hotels Company Limited's (IHCL) iconic brand for the world's most discerning travellers seeking authentic experiences in luxury. From world-renowned landmarks to modern business hotels, idyllic beach resorts to authentic Grand Palaces, each Taj hotel offers an unrivalled fusion of warm Indian hospitality, world-class service and modern luxury.
The unique portfolio comprises hotels across the globe including presence in India, North America, United Kingdom, Africa, Middle East, Malaysia, Sri Lanka, Maldives, Bhutan and Nepal.
For more information, please visit www.tajhotels.com