Incredible Stories from the Grand Palaces of Taj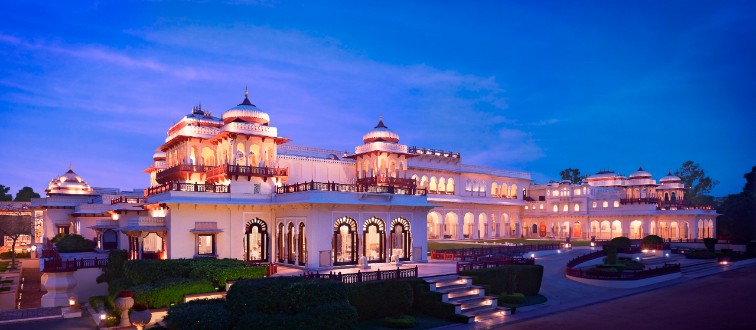 30 August, 2018: Once the exclusive residences of Indian royalty, Taj's iconic Palace hotels today reflect the bygone era of luxury and grandeur. Each hotel has a majestic story to tell and offers guests the chance to live as Maharajas once did.
Retrace the steps of the erstwhile Nizam of Hyderabad at the Taj Falaknuma Palace, Hyderabad built by Sir  Viqar-Ul-Umra, Prime Minister of the Hyderabad state from 1894 to 1901.The construction stone was laid in March 1884 and it took nine years to complete. It cost Sir Viqar all of INR 4,000,000 in his day, and almost bankrupted him in the process.
Maharana Jagat Singhji II decided to build his own pleasure palace on an island in the middle of Lake Pichola. According to popular legend, his father put a stop to his moonlight picnics with the ladies of his Zenana, which is why he built his own Pleasure palace.   Inaugurated in1746, what may have begun as a rebellious gesture was turned into one of the most romantic hotels in the world Taj Lake Palace, Udaipur.
Built in 1835 on a modest scale for the queen's favourite handmaiden Kesar Badaran, and later refurbished as a royal guesthouse and hunting lodge, Rambagh Palace, Jaipur  was named after the then reigning Maharaja Sawai Ram Singh II. He converted Rambagh into the magnificent Palace it is today. The pride of the palace was the sprawling garden that featured in Peter Coat's 'Most Beautiful Gardens of the World'.
Perched high above the desert capital of Jodhpur, Umaid Bhawan Palace, Jodhpur  is the last of the great palaces of India and one of the largest private residences in the world. The Palace was built, between 1928 and 1943, for H.H. Maharaja Umaid Singh Ji, who had benevolently commissioned a new palace in 1923 to give employment to the people of Marwar during the period's great droughts and famines.
Experience the timeless luxury of these living palaces of Taj and discover the stories within.  For more information and to book, please visit Tajhotels.com  
About Taj
Established in 1903, Taj is Indian Hotels Company Limited's (IHCL) iconic brand for the world's most discerning travellers seeking authentic experiences in luxury. From world-renowned landmarks to modern business hotels, idyllic beach resorts to authentic Grand Palaces, each Taj hotel offers an unrivalled fusion of warm Indian hospitality, world-class service and modern luxury.
The unique portfolio comprises hotels across the globe including presence in India, North America, United Kingdom, Africa, Middle East, Malaysia, Sri Lanka, Maldives, Bhutan and Nepal. 
For more information, please visit www.tajhotels.com