The Indian Hotels Company Limited (IHCL) Signs a New Taj Hotel in Lucknow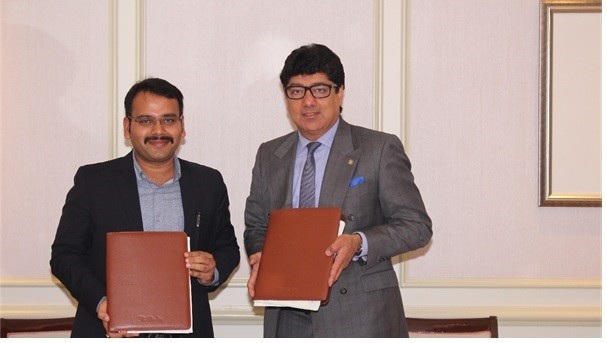 In the picture from left - Mr. Amit Singh, Director, Luxus Hospitality Pvt. Ltd. and Mr. Puneet Chhatwal, MD & CEO, IHCL

Mumbai, December 13, 2018: The Indian Hotels Company Limited (IHCL) is pleased to announce one more Taj branded hotel in Lucknow, a city with rich history and an exciting future. This hotel will be in partnership with Luxus Hospitality Pvt Ltd. With this addition, IHCL will have three hotels across two of its brands in the city.

Puneet Chhatwal, Managing Director and Chief Executive Officer, IHCL said, "We are delighted to partner with Luxus Hospitality. This signing is aligned to Aspiration 2022 with its focus on aggressive domestic growth. The Company is very optimistic about Lucknow as it is an important centre of governance, business, culture and tourism."

The Taj branded hotel will be conveniently located at Vibhuti Khand, New Gomti Nagar Centre with close proximity to key corporate parks, institutions and recreational facilities. The hotel will comprise of 185 spacious guest rooms, an all-day diner, a specialty restaurant, a bar, a wellness area and banqueting facilities. The Greenfield project is slated to open in 2022. 

 Mr. Amit Singh, Director, Luxus Hospitality Pvt Ltd said, "We are proud to partner with The Indian Hotels Company Limited for its iconic Taj brand and bring their famed hospitality to Lucknow."

Lucknow is the capital of Uttar Pradesh, one of the largest states in India. IHCL has two existing hotels in the city – Taj Mahal Lucknow and Ginger Gomti Nagar. 

About Luxus Hospitality Pvt Ltd
Luxus Hospitality Pvt Ltd is a company promoted by Lucknow's Singh family. Leading the venture are the young Turks Mr. Amit Singh and Mr. Arpit Singh, sons of Mr. Anil Singh, Managing Director of APCO Infratech Pvt Ltd. APCO Infratech is a leading national level infrastructure developer with focus on Expressways/ Highway constructions. The company is   associated with prestigious projects like Delhi – Meerut Expressways, Purvanchal Expressway and Nagpur - Mumbai Expressway etc.
About The Indian Hotels Company Limited
The Indian Hotels Company Limited (IHCL) and its subsidiaries, bring together a group of brands and businesses that offer a fusion of warm Indian hospitality and world-class service. These include Taj -the hallmark of iconic hospitality, Vivanta with its collection of sophisticated upscale hotels, and Ginger which is revolutionizing the lean luxury segment.

Incorporated by the founder of the Tata Group, Jamsetji Tata, the Company opened its first hotel - The Taj Mahal Palace, in Bombay in 1903. IHCL operates 170 hotels including 25 under development globally across 4 continents, 12 countries and in over 80 locations.  

The Indian Hotels Company Limited (IHCL) is amongst South Asia's largest Indian hospitality company by market capitalization. It is primarily listed on the BSE and NSE.
Please visit www.theindianhotels.com; www.tajhotels.com; www.gingerhotels.com