The Indian Hotels Company Limited (IHCL) Charts Strong Growth Story and Reports Record Number of Signings
15 New Hotels Added with an Inventory of 1825 Rooms. 90% Growth in Pipeline over Last Year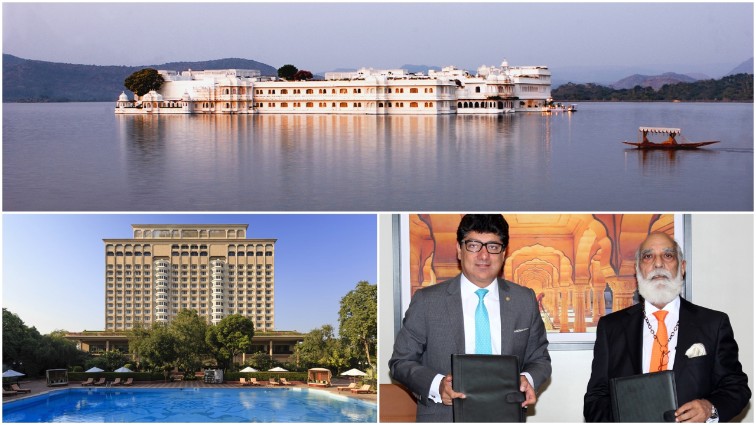 In the picture from left - Mr. Puneet Chhatwal, MD & CEO, IHCL with Shriji Arvind Singh Mewar of Udaipur
Mumbai, November 14, 2018: The Indian Hotels Company Limited (IHCL), South Asia's largest and most iconic hospitality company saw an aggressive growth momentum adding 15 new hotels across brands with an inventory of 1825 rooms this financial year. The first half of the year also saw the Company winning the bid for the prestigious Taj Mahal, New Delhi and the renewal of the long term agreement for the globally acclaimed Taj Lake Palace, Udaipur. IHCL also strengthened its portfolio in the capital with the winning of the bid for The Connaught. The Company currently operates 170 hotels globally out of which 25 are in various stages of development.
Mr. Puneet Chhatwal, Managing Director and Chief Executive Officer, IHCL said, "There has been a 90% growth in pipeline over last year. The strong development is aligned to our five year business strategy, Aspiration 2022 articulating its vision to double total inventory to over 25,000 rooms. The refreshed brandscape of the Company has played a significant role in multiplying the portfolio across segments."
The Company has signed 15 new hotels, including three Taj hotels, five Vivanta hotels, one SeleQtion and six Ginger hotels in this financial year. This includes a Vivanta at Heathrow in London, a Taj hotel in Makkah, Saudi Arabia, a Taj hotel at the Deira Creek in Dubai and a Vivanta in Kathmandu, Nepal.
"We see the next five years as a defining period for growth. We aim to further strengthen our portfolio through an Asset SMART approach with Strategic, Margin Enhancing, Asset Management, Relationship building and Tracking as its key pillars." said Suma Venkatesh, Executive Vice President, Real Estate & Development, IHCL.
Earlier this year, IHCL had inaugurated Taj Exotica Resort & Spa, Andamans, the company's first zero single- use plastic hotel. Taj Connemara, the oldest hotel in Chennai opened its doors through a grand re-launch ceremony last month after going through a massive renovation and design overhaul. Among other openings, in the coming months,  IHCL is further poised to open Taj Aravalli Resort & Spa in Udaipur, Taj Rishikesh Resort & Spa in Rishikesh; Taj Theog Resort & Spa In Theog; Vivanta in Katra and the new prototype Ginger at Panaji in Goa. The opening of the Taj Jumeirah Lake Towers and Taj Exotica Resort & Spa, The Palm in Dubai are also scheduled over the next 6 to 12 months.       
About The Indian Hotels Company Limited
The Indian Hotels Company Limited (IHCL) and its subsidiaries, bring together a group of brands and businesses that offer a fusion of warm Indian hospitality and world-class service. These include Taj – the hallmark of iconic hospitality, Vivanta with its collection of sophisticated upscale hotels, and Ginger which is revolutionizing the lean luxury segment.
Incorporated by the founder of the Tata Group, Jamsetji Tata, the Company opened its first hotel - The Taj Mahal Palace, in Bombay in 1903. IHCL operates 170 hotels including 25 under development globally across 4 continents, 12 countries and in over 80 locations.  
The Indian Hotels Company Limited (IHCL) is amongst South Asia's largest Indian hospitality company by market capitalization. It is primarily listed on the BSE and NSE.
Please visit www.theindianhotels.com; www.tajhotels.com; www.gingerhotels.com
For more information, please contact:  rakhee.lalvani@tajhotels.com