The Indian Hotels Company Limited (IHCL) Delivers a Stellar Performance for the Second Quarter and First Half of FY 2018-19
                              15 New Hotels Signed Adding an Inventory of 1825 Rooms Year to Date
Mumbai, November 14, 2018: The Indian Hotels Company Limited (IHCL),South Asia's largest hospitality company reported its consolidated and standalone financials for the second quarter and half year ending September 30, 2018.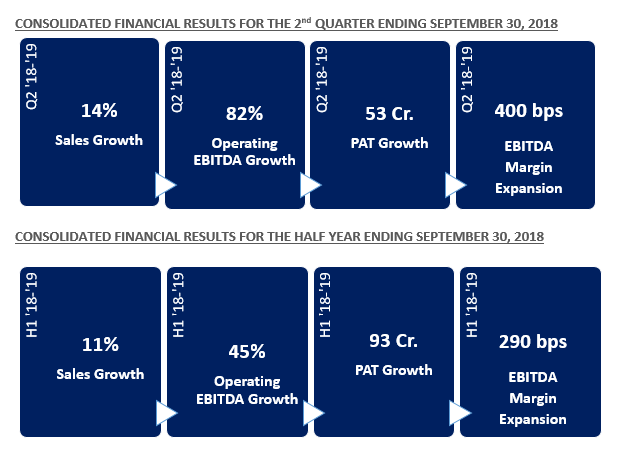 Mr. Puneet Chhatwal, Managing Director and Chief Executive Officer, IHCL, said "It has been a momentous year for IHCL as it retains the iconic Taj Mahal, New Delhi and renews its long-termagreement for the landmark hotel, Taj Lake Palace, Udaipur. In line with its five year business strategy, Aspiration 2022, IHCL continued its growth trajectory and signed 15 new hotels across brands in this year. The Company has shown a marked improvement across all financial parameters with a significant margin and EBITDA expansion for the second quarter as well as the half year."

The business results are in line with the comprehensive five year strategy of improving EBITDA margins by 800 bps.
Mr. Giridhar Sanjeevi, Executive Vice President and Chief Financial Officer, IHCL stated: "The strong results reflect our proactive focus on business performance and asset management, mitigating the mark to market impact on the historical forex swaps." 
KEY HIGHLIGHTS
⦁     IHCL won the bid for the iconic Taj Mahal, New Delhi which has been an important part of the cultural and historic fabric of the National Capital. It also renewed its contract for Taj Lake Palace, Udaipur.
⦁     IHCL signed 15 new hotels this year resulting in a 90% growth in pipeline over last year.
⦁     The landmark, Taj Connemara dating back to 1854 reopened in September after undergoing a two year-long extensive renovation and redesign.
⦁     In line with the asset monetisation strategy, our associate company Oriental Hotels Ltd (OHL), sold The Gateway Hotel Beach Road Visakhapatnam, while  retaining the management contract with IHCL. The money generated from the sale is being used to reduce debt in OHL.
⦁     The existing Vadodara hotel will add another 60 keys to its inventory.
⦁     A new corporate website www.theindianhotels.com was launched recently.
⦁     The Company contributed Rupees One Crore to the Chief Minister's Welfare Fund for the Kerala floods, majority of which was voluntarily contributed by  the employees with one day's salary.
AWARDS & RECOGNITION
⦁     CFI.co CORPORATE GOVERNANCE AWARD - IHCL's iconic brand Taj was awarded the Best Hospitality Corporate Governance Award in India.
⦁     INDO-GERMAN CHAMBER OF COMMERCE (IGCC) - IHCL was recognised by the IGCC for its Outstanding Contribution towards Best Sustainable Business Practices by a Large Enterprise.
⦁     EARTHCHECK GOLD CERTIFICATIONS - IHCL has set a global benchmark in hospitality for environmental sustainability with 67 of its hotels being awarded Gold Certification by EarthCheck.
⦁     TRAVEL + LEISURE WORLD'S BEST AWARDS - Taj was recognised as one of the 'Top 20 Hotel Brands in the World'. Rambagh Palace, Jaipur; Taj Lake Palaces , Udaipur; Taj Exotica Resort & Spa, Goa; Taj Bangalore and Taj Palace, New Delhi have ranked among the 'Top 100 Hotels in the World' at Travel + Leisure's annual World's Best Awards 2018.
⦁     CONDE NAST TRAVELLER UK READERS' TRAVEL AWARDS 2018 - The Taj Mahal Palace, Mumbai and Taj Lake Palace, Udaipur featured on the list of the  World's Top 100 Hotels.
⦁     FREDDIE AWARDS - Taj InnerCircle has been bestowed with the special 210 Award in the hotel category for the Middle East/Asia/Oceania region for Strongest Performing Program off the Radar of Voters.
⦁     CONDE NAST TRAVELLER UK – HOT LIST - Taj Exotica Resort & Spa, Andamans featured in the highly coveted Conde Nast Traveller UK Hot List.
⦁     TOWN & COUNTRY USA - Taj Exotica Resort & Spa, Andamans featured in Town & Country's annual Travel Awards list. 
⦁     MICHELIN GUIDE - Quilon, Taj's award-winning coastal Indian cuisine restaurant in London, retained its Michelin Star for the 12th successive year.
 About The Indian Hotels Company Limited
The Indian Hotels Company Limited (IHCL), and its subsidiaries, bring together a group of brands and businesses that offer a fusion of warm Indian hospitality and world-class service. These include Taj –the hallmark of iconic hospitality, Vivanta  with its collection of sophisticated upscale hotels, and Ginger which is revolutionizing the lean luxury segment.
Incorporated by the founder of the Tata Group, Jamsetji Tata, the Company opened its first hotel - The Taj Mahal Palace, in Bombay in 1903. IHCL operates 170 hotels including 25 under development globally across 4 continents, 12 countries and in over 80 locations.  
The Indian Hotels Company Limited (IHCL) is amongst South Asia's largest Indian hospitality company by market capitalization. It is primarily listed on the BSE and NSE.
Please visit www.theindianhotels.com; www.tajhotels.com; www.gingerhotels.com
For more information, please contact:  rakhee.lalvani@tajhotels.com