The Indian Hotels Company (IHCL) Signs A Vivanta Hotel In Thiruvananthapuram, Kerala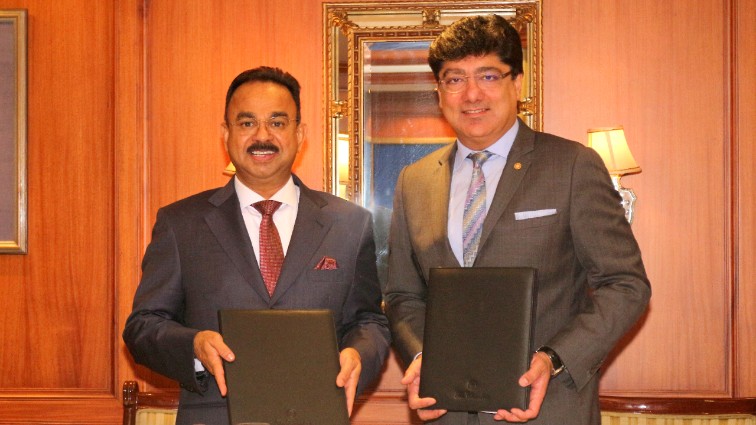 Caption (left to right): Mr. K. Muraleedharan, Chairman and MD, Muralya Hotels & Resorts Pvt with Mr. Puneet Chhatwal, Managing Director and Chief Executive Officer, The Indian Hotels Company Limited (IHCL)
Mumbai, January 21, 2020: The Indian Hotels Company (IHCL), South Asia's largest hospitality company, today announced the signing of a Vivanta hotel in Thiruvananthapuram, Kerala. This hotel is a management contract with Muralya Hotels & Resorts Pvt. Ltd. 
Commenting on the signing, Suma Venkatesh, Executive Vice President - Real Estate & Development, IHCL said, "This signing is in line with Aspiration 2022 to be present in all the state capitals of India. Kerala has always been very important for the company. With the addition of this hotel, we will have 11 hotels in the state. We are delighted to partner with Muralya Hotels & Resorts Pvt. Ltd."
The 108-room Vivanta Thiruvananthapuram is ideally located at the city centre in close proximity to important business and leisure locations and is just five minutes away from the State Assembly and Secretariat. The hotel is a blend of contemporary chic, reinterpreted with a local theme and craftsmanship. Facilities include spacious rooms, an all-day diner, an Indian specialty restaurant, bar and meeting spaces. It also boasts of a rooftop swimming pool and a gym. The hotel is slated to open in March 2020.
Mr. K. Muraleedharan, Chairman and MD, Muralya Hotels & Resorts Pvt. Ltd. said, "IHCL has a strong presence in Kerala. The hotel will open in a couple of months and we look forward to bringing a Vivanta hotel to Kerala's largest and most cosmopolitan city."
Thiruvananthapuram, the capital of the state of Kerala, is a beautiful seaside city built on seven hills. The city is a major IT, medical & educational hub as well as an important tourist centre, which is a gateway to other popular tourist destinations such as Kovalam, Kanyakumari, Varkala and Kollam. 
IHCL is the largest hospitality operator in Kerala with 11 hotels including two under development. 
About Muralya Hotels & Resorts Pvt Ltd
The Muralya Hotels & Resorts Pvt Ltd, is constituted with a vision to provide paramount hospitality service to the customers. It is the subsidiary of the SFC Group based in Abu Dhabi, UAE, managing multi-brand concepts with over 50 upmarket F&B retails, providing career opportunity to over 2500 employees of different nationalities. 
The SFC Group in the UAE and Muralya Group in India, established by the entrepreneur and philanthropist, K Muraleedharan, has made their strong presence in their respective regions for almost 4 decades.
The hospitality brands under the Group in UAE are well acclaimed in the region and accoladed with prestigious Awards. The brands include Avenue Hotel, India Palace Restaurant, SFC Plus, Golden Dragon Restaurant, Sthan Restaurant, Southern Food and Catering Services. In India, the Muralya Dairy with a fully integrated Dairy Project having fully automated plant and State of the Art farm in South India.
Please visit: 
https://www.sfcgroup.com, https://muralyadairy.com  https://muralyafoundation.com
About The Indian Hotels Company Limited (IHCL) 
The Indian Hotels Company Limited (IHCL) and its subsidiaries bring together a group of brands and businesses that offer a fusion of warm Indian hospitality and world-class service. These include Taj – the hallmark of iconic hospitality, SeleQtions, a named collection of hotels, Vivanta, sophisticated upscale hotels and Ginger which is revolutionizing the lean luxe segment. 
Incorporated by the founder of the Tata Group, Jamsetji Tata, the Company opened its first hotel - The Taj Mahal Palace, in Bombay in 1903. IHCL has a portfolio of 196 hotels including 40 under development globally across 4 continents, 12 countries and in over 100 locations. 
The Indian Hotels Company Limited (IHCL) is South Asia's largest hospitality company by market capitalization. It is primarily listed on the BSE and NSE. 
Please visit:
www.ihcltata.com; www.tajhotels.com; www.seleqtionshotels.com; www.vivantahotels.com; www.gingerhotels.com
Follow Taj 
  Follow SeleQtions 
 Follow Vivanta
  Follow Ginger 
For more information, please contact:  rakhee.lalvani@ihcltata.com