Taj Safaris Celebrates the Indian Jungles with Wildlife Escape Offer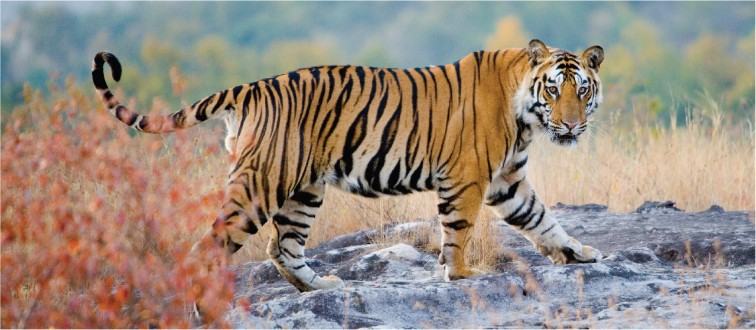 Mumbai, August 21, 2018:  Taj Safaris announces The Wildlife Escape Offer to celebrate the Indian jungle experience. Taj Safaris - India's first and only luxury wildlife circuit in the jungles of Central India, Baghvan in Pench National Park, the very jungle that inspired the original Jungle Book, Mahua Kothi in Bandavgarh National Park; Pashan Garh in Panna National Park and Banjaar Tola in Kanha National Park  will reopen on October 1, 2018 . The new season promises the ultimate Indian jungle experience with exciting adventures on offer from dawn till dusk. 
The day begins just after sunrise, with early morning jungle drives in specially designed 4x4 jeeps with Taj Safaris' Resident Naturalist to spot the wildlife that inspired Rudyard Kipling's characters, including the famous Sher Khan - the Royal Bengal Tiger. Children can try their hand at The Young Naturalist Programme available at all lodges to brush up on their jungle survival skills. They will learn to make fire, rope knots and use an old water compass to find their way and more. Once hunger sets in, head back to the lodge to indulge in local flavours including Kipling inspired Burra Sahib High Tea and a Man Cub Village Menu for lunch.
As the sun sets, guests can head out on a night walk with the in-house Naturalist into the pristine jungles to stargaze the North Star, Milky Way and the constellations. Later in the night listen out for various animal night calls by the campfire and end the day with delicious treats delivered through the in-room 'butler hatch', including hot chocolate, chai cookies and kulfi.
The Wildlife Escape offer is now available at all Taj Safari lodges in India. To book please visit: Taj Safaris.com
About Taj
Established in 1903, Taj is Indian Hotels Company Limited's (IHCL) iconic brand for the world's most discerning travellers seeking authentic experiences in luxury. From world-renowned landmarks to modern business hotels, idyllic beach resorts to authentic Grand Palaces, each Taj hotel offers an unrivalled fusion of warm Indian hospitality, world-class service and modern luxury.
The unique portfolio comprises hotels across the globe including presence in India, North America, United Kingdom, Africa, Middle East, Malaysia, Sri Lanka, Maldives, Bhutan and Nepal. 
For more information, please visit www.tajhotels.com