Taj Safaris Announces "Nature Talk" On International Tiger Day
~ A four-part webinar series by Taj Safaris' expert naturalists
MUMBAI, JULY 23, 2020: Taj Safaris, India's first and only luxury wildlife circuit, has been celebrating the Indian jungles for over a decade. This International Tiger Day, the brand is commemorating the occasion by hosting a four part webinar series – Nature Talk with Taj Safaris, to spread awareness about the habitat of the tiger and various facets that support it.
Located within some of the worlds most renowned National Parks in the central state of Madhya Pradesh in India, and at the UNESCO World Heritage listed jungle of Chitwan in Nepal; Taj Safaris offers the ultimate interpretive wildlife experience, based on a proven sustainable ecotourism model. The safari drives, conducted by expert naturalists, is an integral part of the Taj Safaris experience.

Webinars curated by the expert naturalists of Taj Safaris will focus on the biodiversity of India's jungles with spellbinding talks. From covering the journey of the tiger from a cub to the majestic conqueror, to survival techniques of animals in the jungle or unique facts about common birds and uncovering secrets of animals' homes; you can experience the jungles through the eyes of men and women who witness the wild at close quarters.
For registration and details on the webinars please visit: Taj Safaris - Nature Talk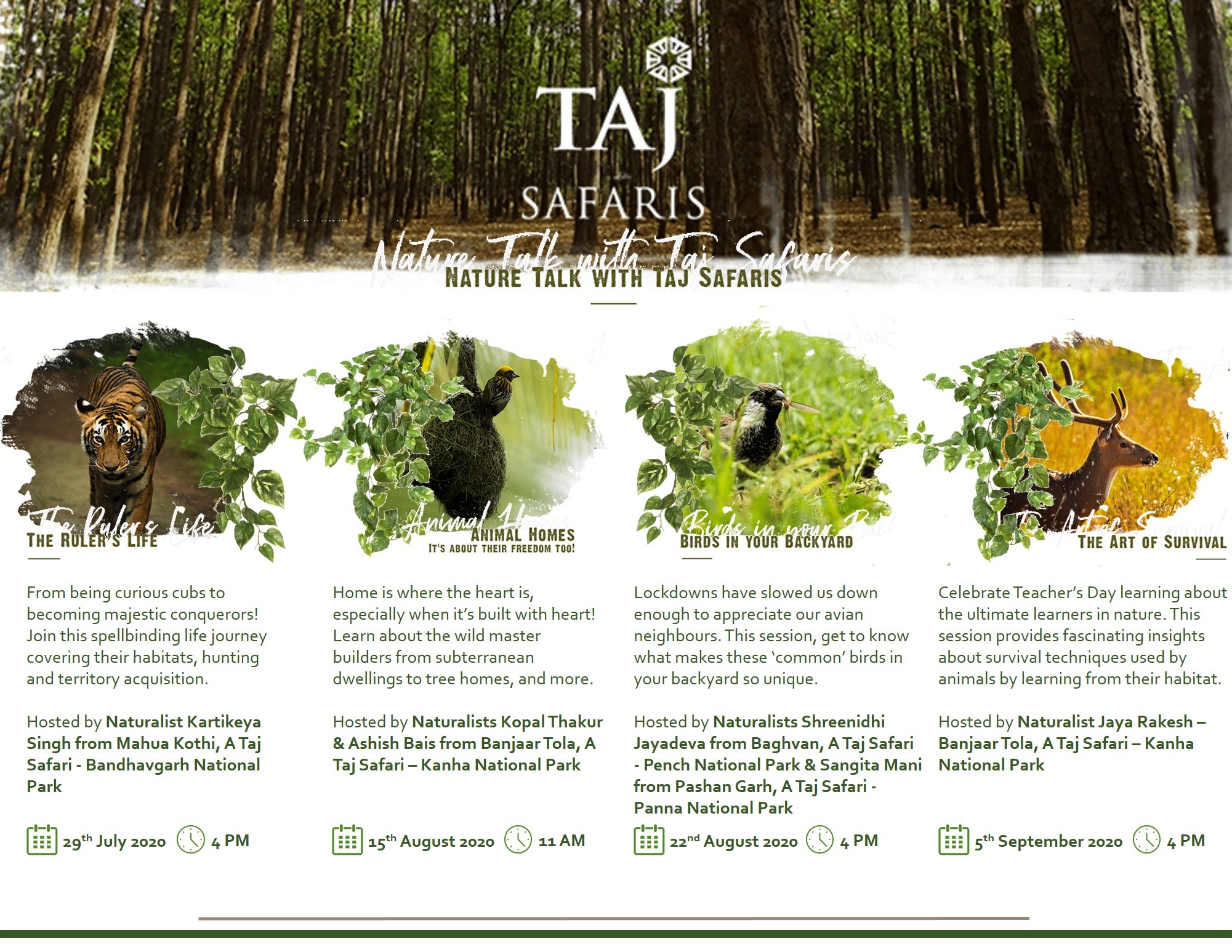 About Taj Safaris
Breaking new ground in India, Taj Safaris offers India's first and only luxury wildlife circuit. Its four lodges based in India's tiger heartland, Madhya Pradesh and one in Chitwan National Park, Nepal; provide guests with the ultimate wildlife experience. Taj Safaris' lodges are founded on sustainable tourism principles and its specially-trained naturalists offer an interpretive and unforgettable wildlife experience coupled with the legendary service that the Taj is renowned for.
Taj Safaris first opened its doors at Mahua Kothi—Bandhavgarh National Park in 2006. Three more lodges complete the Madhya Pradesh wildlife circuit: Baghvan—Pench National Park, Pashan Garh – Panna National Park and Banjaar Tola – Kanha National Park. In 2016, Taj Safaris opened its first international lodge, Meghauli Serai—Chitwan National Park.
To know more about Taj Safaris and to make bookings, please visit  www.tajhotels.com
For more information, please contact:  rakhee.lalvani@ihcltata.com