Taj Bekal Resort & Spa, Kerala Introduces Yoga to its Neighbouring Schools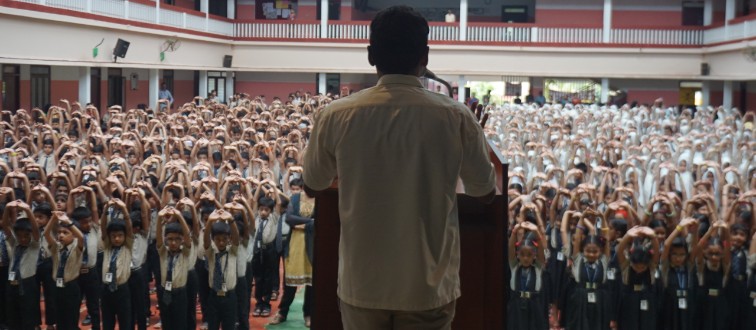 Sudeep Basu, Yoga Master at Taj Bekal Resort & Spa, Kerala introduces Yoga to the children of Greenwood Public School Bekal.
Mumbai, June 21, 2018: This International Yoga Day, in line with Taj's ethos of community building and development, Taj Bekal Resort & Spa in Kerala conducted special Yoga sessions for the children of its neighboring community schools. Sudeep Basu, Yoga Master at Taj Bekal's Jiva Spa addressed the children to create awareness about Yoga and its benefits and taught beginner level asanas.
The Resort also offers a holistic four day programme on the subtle science of Yoga with its origins in the Yoga Sūtras of Patañjali; known to be the foundational text of classical Yoga philosophy. Sudeep Basu, disciple of the Bihar School of Yoga conducts twice daily Yoga sessions, Shatkarma (purification), wellness talks on relevance of Yoga asanas and Yog Nidra (psychic sleep). Taj Bekal Resort & Spa is the perfect venue to evoke a state of calm and self-awareness.
Situated on the meandering Kerala backwaters and Kappil River, the Resort has an award-winning Jiva Grande Spa, spread over 165,000 sq. feet which is the highlight of this wellness retreat.
Guests can benefit by booking the special Yoga offer; all-inclusive of Yoga sessions, meditation, chanting and a Yogic diet. To know more, please visit www.tajhotels.com
About Taj
Established in 1903, Taj is Indian Hotels Company Limited's (IHCL) iconic brand for the world's most discerning travellers seeking authentic experiences in luxury. From world-renowned landmarks to modern business hotels, idyllic beach resorts to authentic Grand Palaces, each Taj hotel offers an unrivalled fusion of warm Indian hospitality, world-class service and modern luxury. The unique portfolio comprises hotels across the globe including presence in India, North America, United Kingdom, Africa, Middle East, Malaysia, Sri Lanka, Maldives, Bhutan and Nepal. 
For more information, please visit www.tajhotels.com