TAJ AND AIR INDIA UNVEIL THE MAHARAJA SUITE, PAY TRIBUTE TO THE TIMELESS AIR INDIA ICON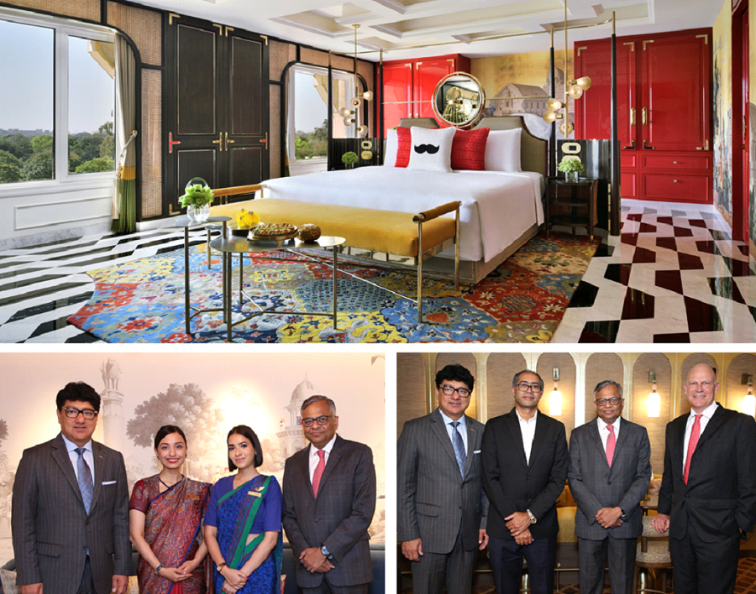 L to R- PIC 1 - Mr. Puneet Chhatwal, MD& CEO, IHCL, Ms. Ambika Negi of Taj Mahal, New Delhi, Ms. Jovita William of Air India and Mr. N. Chandrasekaran, Chairman, Tata Sons.
L to R – PIC 2 - - Mr. Puneet Chhatwal, MD& CEO, IHCL Mr. Vinod Kannan, CEO, Vistara, Mr. N. Chandrasekaran, Chairman, Tata Sons and Mr. Campbell Wilson, CEO&MD, Air India
MUMBAI, MAY 04, 2023: Indian Hotels Company (IHCL), India's largest hospitality company unveiled The Maharaja Suite at the capital's landmark, Taj Mahal, New Delhi. The suite design is a tribute to the world-renowned symbol of Air India, welcoming the national carrier back in the folds of Tata group.
Mr. Puneet Chhatwal, Managing Director & Chief Executive Officer, IHCL, said, "Taj, with its rich legacy for over a century, has always been renowned for pioneering innovative concepts. We are proud to bring this distinctive experience of The Maharaja Suite starting with New Delhi. As Air India takes flight to gateway cities around the world, Taj will partner their journey to offer the world -class Indian hospitality that it is known for."
A journey through time, The Maharaja Suite, offers a uniquely themed master bedroom, dining room, an enclosed balcony lounge, and a study paying homage to the pioneer of Indian aviation. The characteristic style, wit and warmth of the Maharaja comes alive in its specially-commissioned furniture and artworks. Maharaja's distinctive moustache takes centre stage in the upholstery and aviation aesthetics in the airplane styled windows, lounge chair, luggage elements and the deep red in the doors and ceiling.
Mr. Campbell Wilson, Chief Executive Officer and Managing Director, Air India, said, "The iconic Maharaja is a proud part of Air India's long legacy, and we are delighted that Taj is celebrating it through The Maharaja Suite at Taj Mahal, New Delhi. It will stand as a strong reminder of Air India's history even as we transform the airline to become, once again, amongst the best in the world."
Designed by Bobby Mukherji and Associates, introduction of The Maharaja Suite also marks the completion of the renovation of the marquee Taj Mahal, New Delhi.
To know more, please visit: Taj Mahal, New Delhi
About Air India:
Founded by the legendary JRD Tata, Air India pioneered India's aviation sector. Since its first flight on October 15, 1932, Air India has an extensive domestic network and has spread its wings beyond to become a major international airline with a network across USA, Canada, UK, Europe, Far-East, South-East Asia, Australia and the Gulf. Air India is a member of Star Alliance, the largest global airline consortium. After 69 years as a Government-owned enterprise, Air India and Air India Express were welcomed back into the Tata group in January 2022. The present management at Air India is driving the five-year transformation roadmap under the aegis of Vihaan.AI to establish itself as a world-class global airline with an Indian heart.
Vihaan.AI is Air India's transformational roadmap over five years with clear milestones. It will be focussing on dramatically growing both its network and fleet, developing a completely revamped customer proposition, improving reliability and on-time performance. The airline will also be taking a leadership position in technology, sustainability, and innovation, while aggressively investing in the best industry talent. Vihaan.AI is aimed at putting Air India on a path to sustained growth, profitability and market leadership.
Please visit: www.airindia.in
About the Indian Hotels Company Limited
The Indian Hotels Company Limited (IHCL) and its subsidiaries bring together a group of brands and businesses that offer a fusion of warm Indian hospitality and world-class service. These include Taj – the iconic brand for the most discerning travellers and ranked as the World's Strongest Hotel Brand and India's Strongest Brand as per Brand Finance Hotels 50 Report 2022 and India 100 Report 2022, respectively; SeleQtions, a named collection of hotels; Vivanta, sophisticated upscale hotels; and Ginger, which is revolutionising the lean luxe segment.
Incorporated by the founder of the Tata Group, Jamsetji Tata, the Company opened its first hotel - The Taj Mahal Palace, in Bombay in 1903. IHCL has a portfolio of 263 hotels including 75 under development globally across 4 continents, 11 countries and in over 100 locations. The Indian Hotels Company Limited (IHCL) is India's largest hospitality company by market capitalization. It is primarily listed on the BSE and NSE.
Please visit: www.ihcltata.com; www.tajhotels.com; www.seleqtionshotels.com; www.vivantahotels.com; www.gingerhotels.com
For more information, please contact: Kirti.Dhingra@ihcltata.com