St. James' Court, A Taj Hotel in London Unveils Newly Renovated Rooms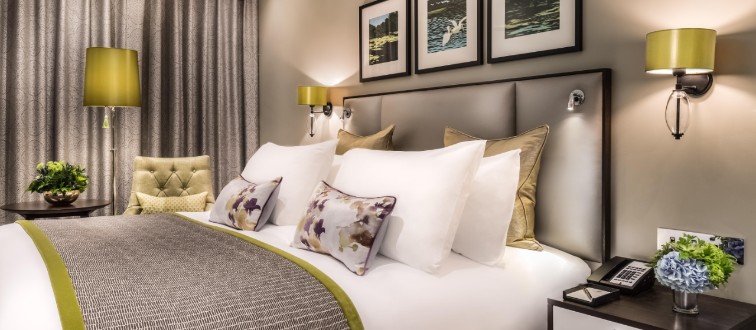 Mumbai, June 26, 2018: St. James' Court, A Taj Hotel, in Westminster, London has launched its newly renovated rooms at the Almoners Townhouse, as part of a multi-million pound renovation.
"Since opening its doors in 1902, St. James' Court, A Taj Hotel, has symbolized union between Taj's Indian heritage and timeless British pedigree" comments the UK Area Director and General Manager, Digvijay Singh. "Hosting over a 100,000 travellers every year, the renovation marks an exciting new era for the hotel to serve the ever evolving needs of the modern traveller."
The iconic hotel in London, footsteps from Buckingham Palace and St. James' Park, close to the West End and Mayfair is perfectly positioned to explore the city, for business or pleasure. It is a discreet Victorian masterpiece, with architectural features indicating its illustrious past; maintaining an equilibrium between the historic design features and a fresh contemporary finish in recent renovations.
The new rooms are designed by the award-winning architects and interior designers, Dexter Moren Associates, alongside interior design consultant Sue Freeman. The renovation will also see the opening of new spa facilities in August 2018.
St. James' Court houses four restaurants - Bistro, Kona, Bank and the Michelin-starred Quilon along with two bars - Hamptons Bar and Zander Bar. The award-winning Bombay Brasserie, serving authentic flavours of the subcontinent is just a few minutes away from the hotel. Adjoining St. James' Court is the historic Taj 51 Buckingham Gate Suites & Residences which is the perfect address in London for longer stays.
About St. James' Court, A Taj Hotel, London
In a country that values understatement, St. James' Court, is an English classic typifying the concealed charm of one of Britain's finest hotels. With a distinguished pedigree shaped over the centuries, this discreet Victorian masterpiece with its award-winning Shakespearean Courtyard is perfectly placed between Buckingham Palace and the Houses of Parliament in a historic enclave marking the centre of power. Crisp and elegant, with an easy charm that's reserved, yet attentive, the hotel strives to make each visit more pleasurable and memorable. St. James' Court has 338 rooms and suites, offers complimentary Wi-Fi, premier Golden Keys Concierge service and an exceptional range of dining options with four restaurants and two bars. Exceeding the expectations of today's discerning traveller, St. James' Court is a slice of the past served up on a contemporary platter. For more on St. James' Court, A Taj Hotel visit taj.tajhotels.com/en-in/st-james-court-a-taj-hotel-london/
About Taj
Established in 1903, Taj is Indian Hotels Company Limited's (IHCL) iconic brand for the world's most discerning travellers seeking authentic experiences in luxury. From world-renowned landmarks to modern business hotels, idyllic beach resorts to authentic Grand Palaces, each Taj hotel offers an unrivalled fusion of warm Indian hospitality, world-class service and modern luxury. The unique portfolio comprises hotels across the globe including presence in India, North America, United Kingdom, Africa, Middle East, Malaysia, Sri Lanka, Maldives, Bhutan and Nepal. 
For more information, please visit www.tajhotels.com