QMIN EXPANDS ITS FOOTPRINT IN BENGALURU – OPENS 11 NEW OUTLETS ACROSS THE CITY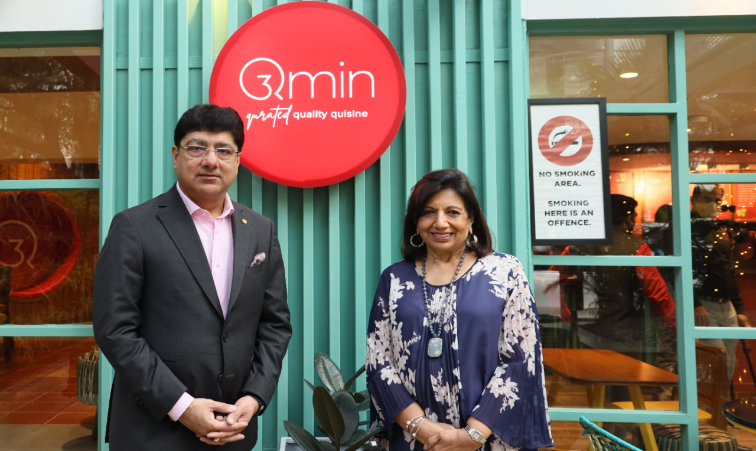 L To R: Mr. Puneet  Chhatwal, Managing Director and CEO, IHCL and Ms. Kiran Mazumdar Shaw, Executive Chairperson and Founder, Biocon Limited
MUMBAI, DECEMBER 11, 2021: Qmin, the culinary and food delivery platform from Indian Hotels Company (IHCL), today announced the opening of 11 new outlets across the city of Bengaluru. Qmin's footprint continues to expand across virtual and physical formats.  
Speaking on the occasion, Mr. Puneet Chhatwal, Managing Director and Chief Executive Officer, IHCL, said, "We are excited to bring the new Qmin outlets to the garden city of Bengaluru. Qmin's expansion is in line with its strategy of growing its Food and Beverage portfolio across multiple market segments. The new outlets will also broaden the brand's reach and cater to a diverse audience."
Strategically located in residential and commercial areas including at the airport in Bengaluru, Qmin will offer an array of bakery and confectionery products, in addition to a wide selection of teas and coffees. From quaint outdoor spaces to cozy nooks, these vibrant outlets with free Wi-Fi are the perfect place for a quick meeting or catch-up. Guests can relish light-bites on the go or get a quick takeaway from a selection of snacks including cookies, croissants, pretzels, samosas and pizzas. 
Since its launch in mid-2020, Qmin has rapidly expanded to 20 cities, delivering comfort food as well as signature favourites from IHCL restaurants. The brand is available on its proprietary Qmin app, catering to the consumer demand for online food delivery. It broadened its scope to include Qmin stores offering a variety of gourmet products, and a café. Qmin - On The Move, the food truck, caters to the need of on-the-go meals.
To know more about the Qmin outlets in Bengaluru, please visit https://www.qmin.co.in/
About Qmin

Qmin – the gourmet culinary and food delivery platform by Indian Hotels Company (IHCL), South Asia's largest hospitality company, was introduced in June 2020. With its repertoire of culinary experiences, the Qmin app delivers dishes from the group's signature restaurants to the comfort of guests' homes across 20 cities from over 90 IHCL restaurants across over 35 hotels.
Keeping up with changing market requirements, Qmin recently introduced Qmin Comfort, a range of comfort food options; Qmin Subscription meals bringing wholesome home-style meals available on subscription; as well as its latest offer of immunity enhancing menus curated using superfoods – INNERgise.
The brand had broadened its scope with new innovations like Qmin Celebrations offering customised menus for virtual weddings and conferences, as well as its lifestyle gourmet stores and food truck.
Please visit: https://www.qmin.co.in/
Follow Qmin        
@QminApp | 
@QminApp |  
@QminApp
For more information, please contact: rakhee.lalvani@ihcltata.com