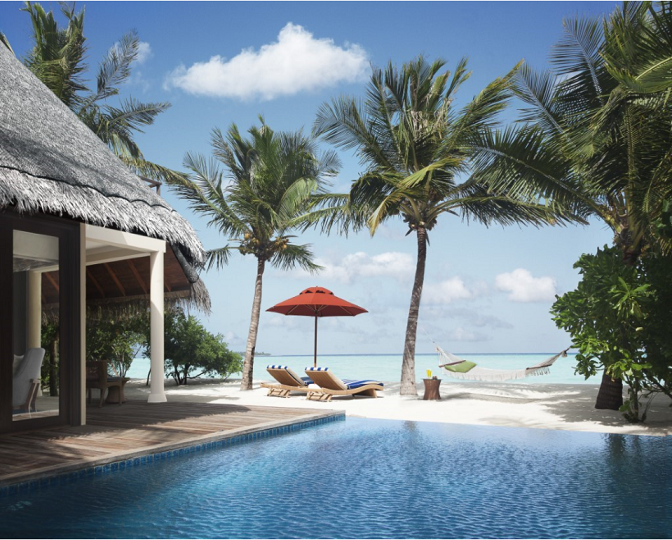 MUMBAI, DECEMBER 10, 2020: As the temperature dips, beaches have become the go-to destination to soak up the sun. The crystal blue waters of Andaman's sprawling shores to white-sand private islands in the Maldives – Taj hotels offer a glimpse of a truly special tropical paradise with exciting offers that make your holiday a memorable one.
Surrounded by mangroves, Taj Exotica Resort & Spa, Andamans is a medley of rainforests, untouched beaches and ancient tribal cultures. Located on Radhanagar Beach, one of Asia's finest, the island's rich biodiversity promises long, languid days of leisure, underwater action and exceptional seafood.
Uncover the secrets of the sea at the beautiful Taj Exotica Resort & Spa, Maldives. Here doing nothing is a form of art. Lounge by the infinity pool, laze in a hammock over the blue waters or just lay below the stars at night in this oasis of calm. At Taj Coral Reef Resort & Spa, Maldives adventure-seekers can swim amidst an authentic shipwreck or help regenerate the ecosystem by bringing coral back to life. It has all the exotic ocean views and dramatic sunsets you need for the perfect tropical holiday.
Island escapes make for great vacations. For more information and to book your stay visit: www.tajhotels.com
About Taj
Established in 1903, Taj is The Indian Hotels Company Limited's (IHCL) iconic brand for the world's most discerning travellers seeking authentic experiences in luxury and has been rated as India's Strongest Brand as per Brand Finance India 100 2020 report. From world-renowned landmarks to modern business hotels, idyllic beach resorts to authentic Grand Palaces, each Taj hotel offers an unrivalled fusion of warm Indian hospitality, world-class service and modern luxury.
The unique portfolio comprises hotels across the globe including presence in India, North America, United Kingdom, Africa, Middle East, Malaysia, Sri Lanka, Maldives, Bhutan and Nepal. 
 For more information, please visit www.tajhotels.com 
For more information, please contact:  rakhee.lalvani@ihcltata.com