IHCL'S YEAR 1 OF GROWTH ROADMAP DELIVERS ALL ROUND RESULTS
~ ALL TIME HIGH EBITDA MARGINS AND PAT
~ RECORD YEAR OF SIGNINGS AND OPENINGS
~ TAJ TOPS 100 HOTELS; GINGER TURNS PROFITABLE; TAJSATS CLOCKS ALL TIME HIGH PROFIT
MUMBAI, MAY 11, 2023: The Indian Hotels Company Limited, , India's hospitality market leader, today reported its progress under Ahvaan 2025, a strategic plan with an objective of being the most iconic and profitable hospitality company in South Asia. Value creation has been at the cornerstone of this strategy driven by the initiatives of re-engineering its traditional business, scaling its re-imagined businesses and re-structuring its portfolio. As part of this strategy, IHCL aims to build a portfolio of 300 hotels, clock a 33% EBITDA margin with 35% EBITDA share contribution from new businesses and management fees by FY 2025-26
AHVAAN 2025 - CURRENT SCORECARD
 

FY2022-2023

FY2025-2026

NUMBER OF HOTELS

263

300

PORTFOLIO MIX

(Owned/Leased: Managed)

50:50

50:50

EBITDA %

32.7%

33%

NET DEBT

NIL

NIL
Mr. Puneet Chhatwal, Managing Director and Chief Executive Officer, IHCL said, "Ahvaan 2025, our comprehensive strategy to be an iconic and profitable hospitality ecosystem has witnessed a strong start. With four consecutive quarters of record financial performance, the company achieved an all-time high PAT of over INR 1,000 crores and maintained zero net debt status. In the last 12 months, IHCL expanded its portfolio to 263 hotels and attained an ideal portfolio mix of 50:50 between owned or leased hotels and managed properties.
With its reimagined brandscape, industry-leading brands and operational excellence, strong footprint across 125+ cities, as well as the unwavering trust of guests and dedication of all colleagues guided by the ethos of Tajness, IHCL is well poised to deliver on this vision."
IHCL continues to Re-engineer its traditional businesses achieving a 20% plus growth in revenue, 15.2 percentage points margin expansion. It introduced the global Italian brand Papermoon in Goa; launched a new Indian restaurant concept branded Loya and expanded House of Nomad and 7 Rivers in Goa.
Scaling up its Re-imagined businesses, Ginger reached a portfolio of 85 hotels and reported at PBT of INR 48 Crores turning profitable for the first time. TajSATS, an industry leader in airline catering clocked an all-time high EBITDA margin of 19.7% and a PBT of INR 107 Crores. amã Stays & Trails', a branded offering in the homestay market, grew at a steady pace, and is now a portfolio of 114. Qmin, IHCL's culinary platform has expanded to multiple formats including as the all day diner in Ginger hotels, and has 34 outlets now
Re-structuring its portfolio, achieved a 50:50 mix between its owned or leased and managed hotels with the signing of 36 hotels. Taj, ranked as the World's Strongest Hotel Brand and India's Strongest Brand as per Brand Finance reached a milestone with 100 hotels.
Sustainable and responsible tourism is the way forward. The company announced a comprehensive ESG+ framework –Paathya which drives IHCL's sustainability and social impact measures. In its first year, Paathya has made significant progress in the areas of renewable energy, plastic elimination, conserving heritage, and skilling.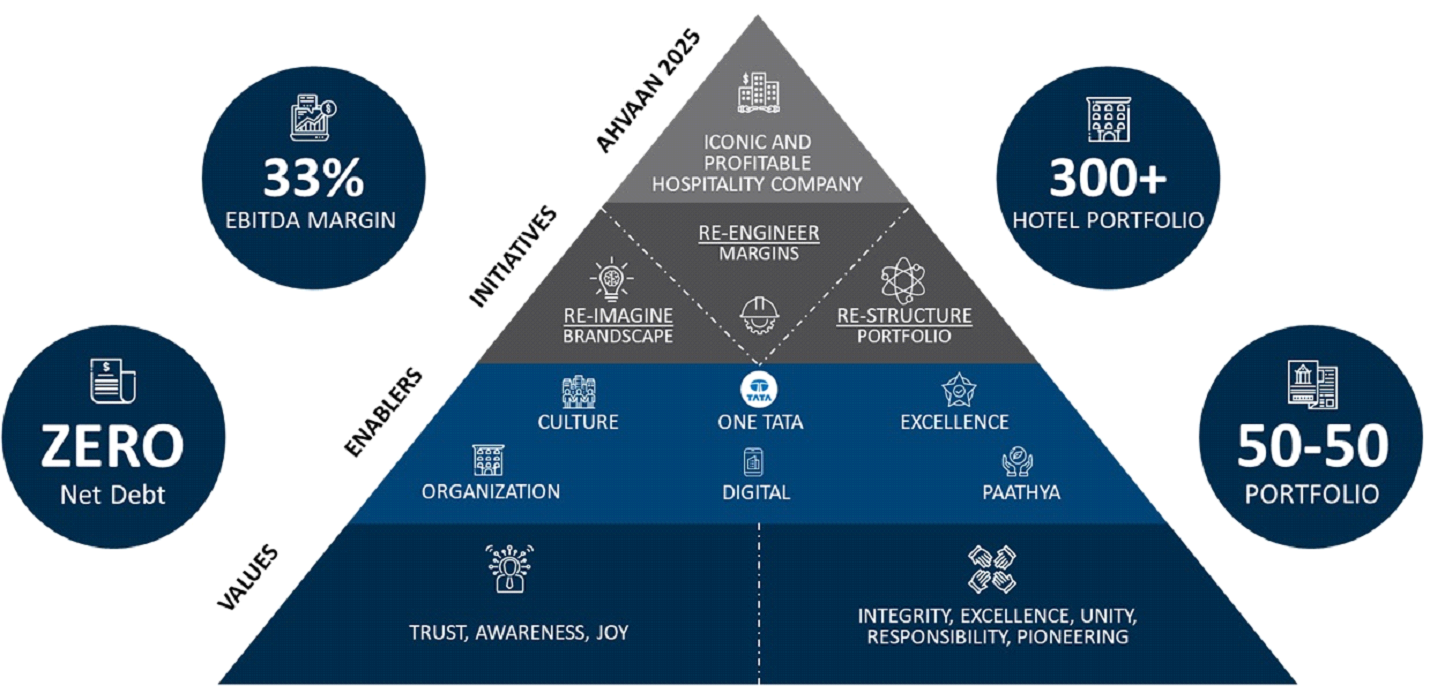 Mr. Giridhar Sanjeevi, Executive Vice President and Chief Financial Officer, IHCL said, "The outlook for hospitality sector is buoyed by demand continuing to outpace supply. IHCL will seek to tap the strong potential for deeper penetration in emerging cities through prudent capital allocation."
With culture, customer and community at its core, Ahvaan 2025 will seek to maximize stakeholder value.
About The Indian Hotels Company Limited
The Indian Hotels Company Limited (IHCL) and its subsidiaries bring together a group of brands and businesses that offer a fusion of warm Indian hospitality and world-class service. These include Taj – the iconic brand for the most discerning travellers and ranked as the World's Strongest Hotel Brand and India's Strongest Brand as per Brand Finance Hotels 50 Report 2022 and India 100 Report 2022, respectively; SeleQtions, a named collection of hotels; Vivanta, sophisticated upscale hotels; and Ginger, which is revolutionising the lean luxe segment.
Incorporated by the founder of the Tata Group, Jamsetji Tata, the Company opened its first hotel - The Taj Mahal Palace, in Bombay in 1903. IHCL has a portfolio of 263 hotels including 75 under development globally across 4 continents, 12 countries and in over 100 locations. The Indian Hotels Company Limited (IHCL) is India's largest hospitality company by market capitalization. It is primarily listed on the BSE and NSE.
Please visit: www.ihcltata.com; www.tajhotels.com; www.seleqtionshotels.com; www.vivantahotels.com; www.gingerhotels.com
For more information, please contact: Kirti.Dhingra@ihcltata.com