IHCL UNVEILS LOYA, A NEW INDIAN CONCEPT RESTAURANT BRAND
~ The flagship Loya debuts at Taj Palace, New Delhi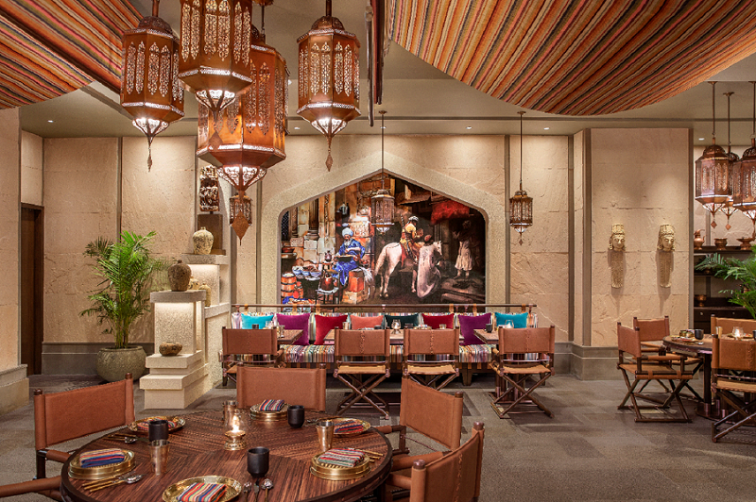 MUMBAI, OCTOBER 19, 2022: Indian Hotels Company (IHCL), India's largest hospitality company, announced the launch of its new Indian-concept restaurant brand, Loya. Debuting at Taj Palace, New Delhi, Loya captures the culinary essence traversing the landscape of North India.
Mr. Puneet Chhatwal, Managing Director and Chief Executive Officer, IHCL, said, "IHCL, with its rich culinary history for over a century, has always been renowned for pioneering global and regional cuisines and concepts. With the addition of Loya, IHCL strengthens its food and beverage portfolio of over 400 restaurants and bars. As the first Loya launches in the food capital of the country, the brand will soon travel to Mumbai, Bengaluru and other cities in India and overseas."
Loya takes diners on a journey through the vivid landscape of the North, from the foothills of the Himalayas to the terrains of Punjab, the snow-capped peaks of Kashmir and beyond. The menu revives lost culinary traditions of cherished and long-preserved authentic recipes made with heirloom ingredients. The spotlight is on the inherent uniqueness and time-honoured cooking techniques of dungaar, the art of smoking and slow-cooking; aromatics of "baghar", spices tempered in hot oil; and sigdi, cooking over an open fire; and the practice of pounding masalas with a sil-batta, pestle and mortar.
The bar menu, Loya Paanch, inspired by the number five and its significance across India, focuses on indigenous beverages and the North's botanical abundance with a contemporary twist on local spirits.
Guests can also enjoy remix of popular folk music from the Indian Subcontinent; indulge in Loya Qisaa, eclectic storytelling; and Loya Bazaar, curated brunches reminiscent of marketplaces of yore.
Loya offers the warmth and comfort of the past intersecting with the energy of today. To know more and make reservations, please visit: Loya.
About The Indian Hotels Company Limited
The Indian Hotels Company Limited (IHCL) and its subsidiaries bring together a group of brands and businesses that offer a fusion of warm Indian hospitality and world-class service. These include Taj – the iconic brand for the most discerning travellers and ranked as the World's Strongest Hotel Brand and India's Strongest Brand as per Brand Finance Hotels 50 Report 2022 and India 100 Report 2022, respectively; SeleQtions, a named collection of hotels; Vivanta, sophisticated upscale hotels; and Ginger, which is revolutionising the lean luxe segment.
Incorporated by the founder of the Tata Group, Jamsetji Tata, the Company opened its first hotel - The Taj Mahal Palace, in Bombay in 1903. IHCL has a portfolio of 245 hotels including 65 under development globally across 4 continents, 11 countries and in over 100 locations. The Indian Hotels Company Limited (IHCL) is India's largest hospitality company by market capitalization. It is primarily listed on the BSE and NSE.
Please visit: www.ihcltata.com; www.tajhotels.com; www.seleqtionshotels.com; www.vivantahotels.com; www.gingerhotels.com
For more information, please contact:  nairita.ghosh@ihcltata.com