IHCL REPORTS A PROFITABLE Q4 ON THE BACK OF 52% REVENUE GROWTH
~ POSTS 192% INCREASE IN EBITDA IN Q4 OVER PREVIOUS YEAR
APRIL 27, 2022: The Indian Hotels Company Limited (IHCL), India's largest hospitality company, reported its consolidated and standalone financials for the fourth quarter ending March 31st, 2022 and the full year FY 2021-22. 
Reported revenue of INR 955 crores in Q4 FY 2021-22, an increase of 52% over Q4 FY 2020-21
Reported EBITDA of INR 242 crores in Q4 FY 2021-22 – a 192 % increase from Q4 FY 2020-21
IHCL raised INR 4000 crores - INR 2000 crores by way of rights issue and an additional INR 2000 crores through QIP
Roots Corporation Ltd. (RCL), which operates the Ginger brand, is now IHCL's wholly owned subsidiary
IHCL launched Paathya, a six-pillared framework, to drive the company's sustainability and social impact measures
Recorded the highest number of new hotel signings in India for the second consecutive year, totaling 19 new hotels
Signs five new hotels in the last quarter including two SeleQtions hotels in Manali and Udaipur, two Vivanta hotels in Nashik and Thane, and a Ginger hotel in Agra
Opened five new hotels in Q4 FY 2021-22 across brands including Taj Exotica Resort & Spa, The Palm, Dubai; Raajkutir, Kolkata – IHCL SeleQtions; Vivanta Turbhe; Ginger Greater Noida and Ginger Kochi
The amã Stays & Trails homestay portfolio grew to over 80 bungalows across the country
Qmin, IHCL's culinary and food delivery platform, expanded to over 20 locations with 15 outlets and multiple food trucks across the country
IHCL achieves milestone of 50 years of managing the iconic Rambagh Palace, Jaipur
Received awards across multiple categories at the HICSA Hotels of the Year Awards 2022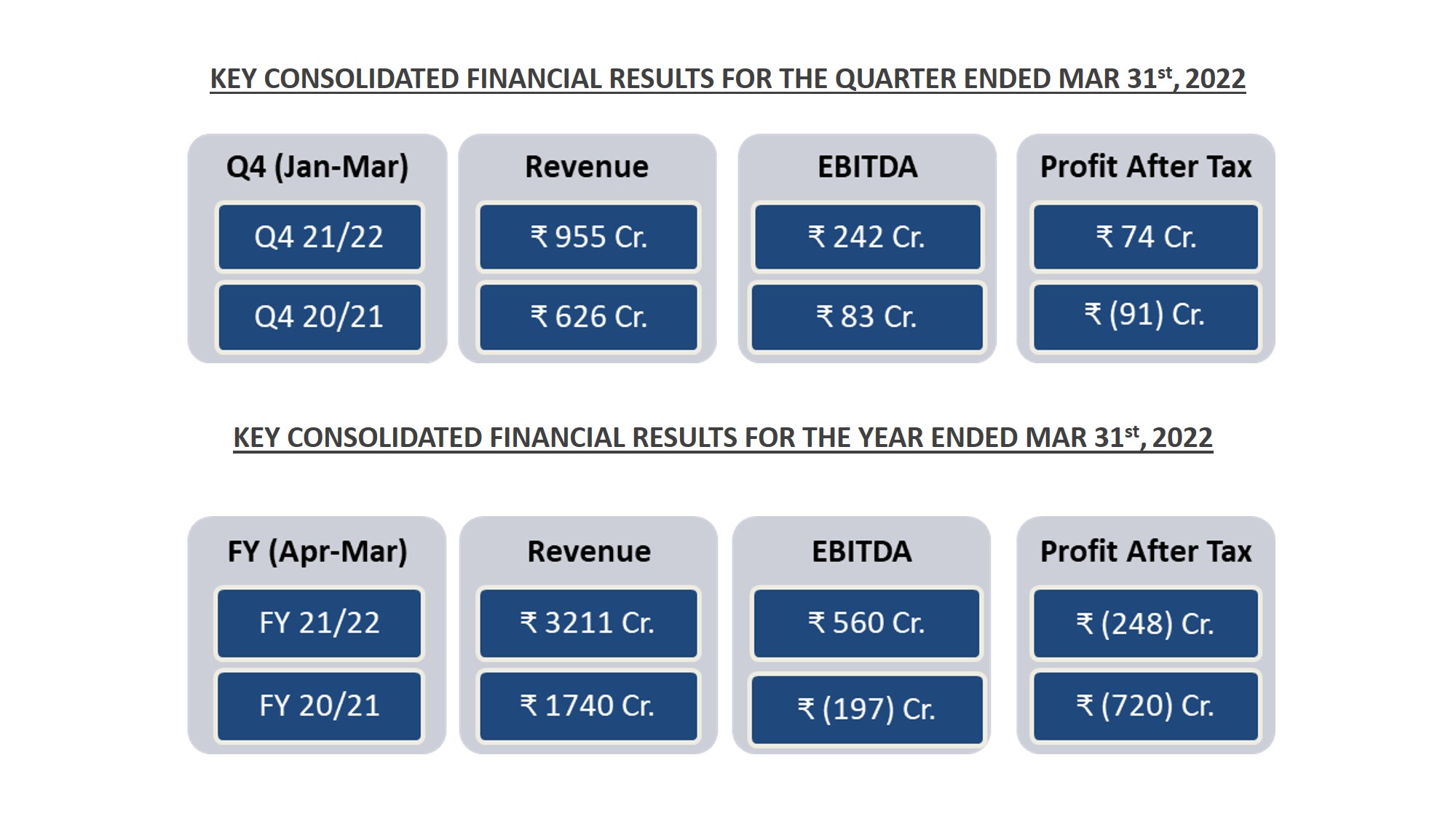 For the year ending March 31st 2022, the Board of Directors have recommended an equity dividend of 40% amounting to Rs. 0.40 per share.
Commenting on the fiscal performance, Mr. Puneet Chhatwal, Managing Director and Chief Executive Officer, IHCL, said, "IHCL reported a 192% increase in EBITDA in the fourth quarter as compared to the same quarter last year. Despite the third wave's impact in January 2022, the company posted its highest ever EBITDA margin of 25.3%."
He further added, "Business outlook is positive with April and May trending ahead of 2019. Our industry leading pipeline along with scaling up of high margin new business like Ginger, amã Stays & Trails and Qmin will provide further impetus."
Confident about the potential of the re-imagined brand Ginger, operated by Roots Corporation Limited (RCL), IHCL has completed the acquisition of the balance shares of RCL making it a wholly owned subsidiary.
Mr. Giridhar Sanjeevi, Executive Vice President and Chief Financial Officer, IHCL, stated, "This year has seen significant progress on the shape of the P&L and Balance Sheet. The successful raising of INR 4000 crores demonstrates continued investor confidence in IHCL. Overall, top line recovery, focus on asset light growth through management contracts and other revenue initiatives, together with the tight cost controls have enabled us to achieve industry leading margins."
For details about IHCL's key highlights and list of awards across FY 2021-22, refer to Annexure I and Annexure II, respectively. 
About The Indian Hotels Company Limited (IHCL)
The Indian Hotels Company Limited (IHCL) and its subsidiaries bring together a group of brands and businesses that offer a fusion of warm Indian hospitality and world-class service. These include Taj – the iconic brand for the most discerning travellers and the World's Strongest Hotel Brand and India's Strongest Hospitality Brand as per Brand Finance 2021, SeleQtions, a named collection of hotels, Vivanta, sophisticated upscale hotels and Ginger, which is revolutionising the lean luxe segment.
Incorporated by the founder of the Tata Group, Jamsetji Tata, the Company opened its first hotel - The Taj Mahal Palace, in Bombay in 1903. IHCL has a portfolio of 235 hotels including 59 under development globally across 4 continents, 11 countries and in over 100 locations. The Indian Hotels Company Limited (IHCL) is India's largest hospitality company by market capitalization. It is primarily listed on the BSE and NSE.
Please visit: www.ihcltata.com ; www.tajhotels.com ; www.seleqtionshotels.com ; www.vivantahotels.com ; www.gingerhotels.com
For more information, please contact: Kirti.Dhingra@ihcltata.com, Parinita.Gawri@ihcltata.com
ANNEXURE I

KEY HIGHLIGHTS OF FY 2021-22
IHCL has launched Paathya, an industry leading initiative, to forge a journey focused on Environmental Stewardship, Social Responsibility, Excellence in Governance, Preserving Heritage, Value Chain Transformation, and Sustainable Growth
Committed towards driving women empowerment and creating an equitable workplace across industries,  IHCL has collaborated with TATA Projects for the construction of the new Ginger Santacruz hotel by an all-woman engineering team
IHCL has partnered with IFC, a member of the World Bank Group, to support innovators worldwide to bring efficient, climate-smart, cost-effective cooling solutions to India's hospitality sector
IHCL has collaborated with the Confederation of Indian Industry (CII) and EHL Education Group, Switzerland to offer a Professional Diploma Program to hospitality industry students at CII's Vocational Education and Training by EHL (VET by EHL) Learning Centres across India
IHCL announced 100 per cent placement of Institute of Hotel Management, Aurangabad (IHM-A) graduating class of 2020
IHCL signed 19 hotels in the current fiscal, adding over 2,000 rooms to its portfolio in destinations such as Delhi-NCR, Mumbai, Kochi Kolkata, Ahmedabad, Bhubaneshwar, Udaipur and debuting in Hampi, Nainital, Jaisalmer, Dehradun, Manali and  among others
Opened thirteen hotels in FY 2021-22, adding over 1,300 rooms to its operational inventory including,

Taj Exotica Resort & Spa, The Palm, a luxury beachfront resort in the cosmopolitan city of Dubai
Opened South Asia's first all women managed luxury apartments with Taj Wellington Mews, Chennai
Expanded presence in East India with the launch of Raajkutir, an IHCL SeleQtions hotel, in Kolkata
Strengthened presence in spiritual circuit with the debut of Pilibhit House, an IHCL SeleQtions hotel in Haridwar
Strengthened presence in the North East with the launch of Vivanta Sikkim in Pakyong
Debuted the Ginger brand in Kochi with Ginger Kalamassery and opened Ginger Greater Noida

IHCL achieves milestone of 50 years of managing the iconic Taj Lake Palace, Udaipur and Rambagh Palace, Jaipur
IHCL's luxury lifestyle store, Khazana, partnered  Tata Trusts' Antaran to present a curated exhibit of handlooms and positively impact the livelihood of thousands of weavers across Odisha, Assam, Nagaland and Andhra Pradesh
With the continued focus on increasingly adopting sustainable practices, amã Stays & Trails has collaborated with Tata Power to install EV charging points at its villas and bungalows
With 77 EarthCheck Certified hotels, IHCL has set a benchmark for environmental sustainability in hospitality with the highest number of 57 EarthCheck Platinum certified hotels globally
ANNEXURE II
AWARDS AND RECOGNITION FOR FY 2021-22
BRAND FINANCE HOTELS 50 2021: Taj has been ranked as the World's Strongest Hotel Brand 2021 by Brand Finance, the first Indian hospitality company to have achieved this honour
BRAND FINANCE INDIA 100 2021: Taj has been rated as the Number One Hospitality Brand in India by Brand Finance. It has continued to retain its position amongst the Top Two Strongest Brands in India across all sectors
VIRTUOSO TRAVEL WEEK 2021 – IHCL has received the Outstanding Community Partner Award for its COVID response initiative – #MealsToSmiles that delivered meals to hospital staff and other frontline workers through the Taj Public Service Welfare Trust
AMROP-ECONOMIC TIMES INDIA'S BEST BOARDS AWARD – IHCL received the Amrop-ET India's Best Boards Award under the Mid-cap category
WORLD SUSTAINABILITY CONGRESS – Won India's Most Ethical Company Award in Leisure and Hospitality 
HICSA Hotels of the Year Awards 2022 – IHCL won awards across multiple categories in these key industry awards
Luxury / Upperscale Hotels Segment: Taj Lakefront, Bhopal
Upscale Hotels Segment: Vivanta Sikkim, Pakyong
Budget / Economy Hotels Segment: Ginger Gajuwaka, Visakhapatnam
TRAVEL + LEISURE'S GLOBAL VISION AWARDS 2022 – Taj Wellington Mews, Chennai, India's first all women-managed luxury residences, has been selected as an honouree in these world renowned awards
TRAVEL+LEISURE WORLD'S TOP HOTELS 2021 AWARDS: Several of our hotels have been featured in the coveted awards across multiple categories
The Top 100 Hotels in the World


- Taj Holiday Village Resort & Spa, Goa 
- Taj Palace, New Delhi
- Rambagh Palace, Jaipur
The Top 25 Hotel Brands in the World

The Top 15 Resort Hotels in Asia


- The Top 15 Resort Hotels in Asia
The Top 15 Resort Hotels in Asia


- Taj Holiday Village Resort & Spa, Goa, India
The Top 5 Resort Hotels in India


- Taj Holiday Village Resort & Spa, Goa
Taj Lake Palace, Udaipur: Rated within the Top 15 Hotels in India
Taj Palace, New Delhi: Rated within the Top 15 Hotels in India
The Taj Mahal Palace, Mumbai: Rated within the Top 15 Hotels in India
Rambagh Palace, Jaipur: Rated within the Top 15 Hotels in India
Taj Fateh Prakash, Udaipur: Rated within the Top 15 Hotels in India
Umaid Bhawan Palace, Jodhpur: Rated within the Top 15 Hotels in India
The Pierre, New York
 Rated within The Top Hotels in New York City
Featured within 36 Best Hotels in New York City
Taj Exotica Resort & Spa, Goa: Rated within the Top 25 Resorts in Asia
Taj Dubai: Rated within the Top 20 Hotels in the Middle East
Taj Jumeirah Lakes Towers: Rated within the Top 20 Hotels in the Middle East
WORLDWIDE HOSPITALITY AWARDS 2021: We won awards across multiple categories in these honourable global awards
The Taj Mahal Palace, Mumbai was awarded Best Iconic Asset
Qmin, IHCL's culinary and food delivery platform won Best Team Achievement
IHCL Goa team was awarded Best Team Achievement
INNERgise by Jiva Spa achieved the Best Wellness Experience award
CONDE NAST TRAVELER GOLD LIST 2022: Umaid Bhawan Palace, Jodhpur featured in the coveted Gold List
BUSINESS TRAVELLER AWARDS 2021: The Taj brand has been recognised as the Best Business Hotel Brand in India
TRAVEL+LEISURE India's Best Awards 2021: We have won awards across multiple categories in these coveted awards
Best Luxury Hotel: Rambagh Palace, Jaipur
Best Hotel Loyalty Programme in India: Taj InnerCircle