IHCL REAFFIRMS ITS COMMITMENT TO SKILL BUILDING
~ OFFERS COURSES IN ASSAM, MADHYA PRADESH AND ORISSA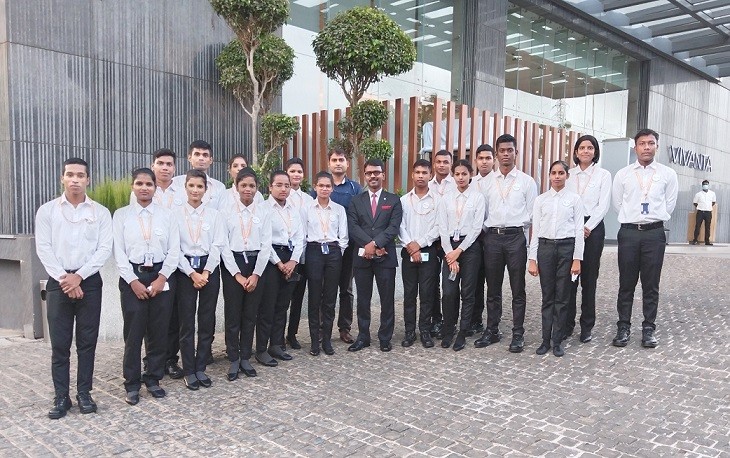 Students of the multi-level skill centre in Bhubaneswar, Orissa
MUMBAI, SEPTEMBER 8, 2022:  Indian Hotels Company (IHCL), in line with Paathya, a framework to drive its sustainability and social impact measures, is further strengthening its commitment to skill building with the aim to create employability for the deserving and marginalised. Skill development courses across Bhubaneshwar, Orissa; Rangajan, Assam and Chhindwara, Madhya Pradesh are offered in collaboration with multiple partners.
Speaking on the occasion, Mr. Gaurav Pokhariyal, Executive Vice President – Human Resource, IHCL, said, "With the industry landscape ripe for skilled individuals to foray into and make a contribution, our knowledge partnership with the skill centres will offer training to bridge the gap in employability. The capability-building will allow for a much larger indirect impact through these partnerships, especially focused on socially and economically backward communities and tribal groups."
IHCL has introduced a multi-level skill centre in Bhubaneswar, Orissa in partnership with TATA Strive, where students pursue courses in food and beverage service with on-the-job training at Vivanta Bhubaneswar. The Don Bosco Tech skill centre in Rangajan, Assam offers skilling courses to unemployed youth from both Assam and Nagaland. The hospitality skill centre in Chhindwara, Madhya Pradesh in partnership with Tata Strive and CII offers a comprehensive entrepreneurship course in cooking and baking.
Regarded as the custodian of Indian hospitality, IHCL continues to invest in building industry-relevant talent pools with an aim to develop and support deserving youth and their families, while contributing to the overall growth of the industry.
About The Indian Hotels Company Limited

The Indian Hotels Company Limited (IHCL) and its subsidiaries bring together a group of brands and businesses that offer a fusion of warm Indian hospitality and world-class service. These include Taj – the iconic brand for the most discerning travellers and ranked as the World's Strongest Hotel Brand and India's Strongest Brand as per Brand Finance Hotels 50 Report 2022 and India 100 Report 2022, respectively; SeleQtions, a named collection of hotels; Vivanta, sophisticated upscale hotels; and Ginger, which is revolutionising the lean luxe segment.
Incorporated by the founder of the Tata Group, Jamsetji Tata, the Company opened its first hotel - The Taj Mahal Palace, in Bombay in 1903. IHCL has a portfolio of 242 hotels including 62 under development globally across 4 continents, 11 countries and in over 100 locations. The Indian Hotels Company Limited (IHCL) is India's largest hospitality company by market capitalization. It is primarily listed on the BSE and NSE.
Please visit: www.ihcltata.com; www.tajhotels.com; www.seleqtionshotels.com; www.vivantahotels.com; www.gingerhotels.com
For more information, please contact:  nairita.ghosh@ihcltata.com