IHCL PAT Rises 184%; Declares 50% Dividend for 2018-19
Profit After Tax at Rs. 287 Crore - Highest in Eleven Years
EBITDA up 25% at Rs. 913 Crore
Mumbai, April 30, 2019: The Indian Hotels Company Limited (IHCL), South Asia's largest hospitality company reported its consolidated and standalone financials for the 4th quarter ending March 31st 2019 and year ending March 31st 2019.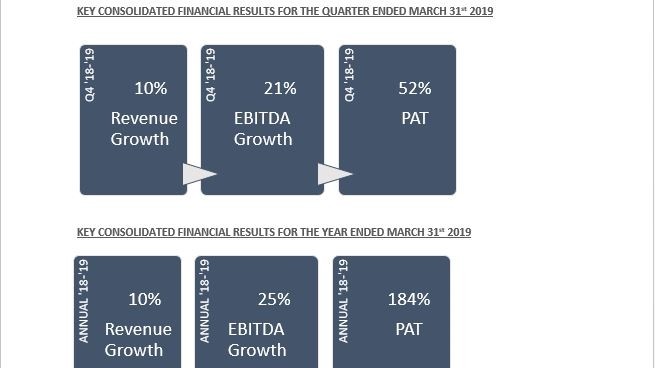 For the year ending March 31st 2019, the Board of Directors have recommended an equity dividend of 50% amounting to Rs. 0.50 per share. This is an increase over the previous dividend pay-outs of 40% and 35% in 2017/18 and 2016/17 respectively.

Commenting on the fiscal performance, Mr. Puneet Chhatwal, MD and CEO, IHCL said: "IHCL is on track in the execution of its strategy, Aspiration 2022. Our reimagined brandscape gave us the opportunity to sign 22 hotels with an inventory of over 3200 rooms across brands in India and key international markets like London, Makkah, Kathmandu and Dubai. We opened five hotels in this fiscal and are well poised to open one hotel per month in light of a healthy pipeline and confirmed momentum of signing new contracts."
Strong fundamentals helped drive higher returns through strategic initiatives for margin expansion and asset management. The company is committed to achieving its long term goals as outlined in Aspiration 2022, whilst delivering world class experiences to its guests.
Mr. Giridhar Sanjeevi, EVP & CFO, IHCL stated "Our customer-centric approach combined with an eye on profitability resulted in the EBITDA margins growing by 229 bps for the year.  We continued to enhance our value proposition through the renewed brands, customer experiences and offerings, whilst deleveraging our balance sheet."
KEY HIGHLIGHTS
IHCL signed 22 hotels in the current financial year and added an inventory of over 3200 rooms to its pipeline via 18 management contracts and four operating leases.
IHCL won the bid for the iconic Taj Mahal, New Delhi which has been an important part of the cultural and historic fabric of the National Capital. The company has signed a 33-year license contract for the hotel with NDMC on April 1, 2019.
The company announced the launch of a new hotel brand - "SeleQtions", which is a collection of named and distinctive properties. SeleQtions was launched with 12 hotels across the country.
The landmark, Taj Connemara, Chennai dating back to 1854 reopened after undergoing a two year- extensive renovation and redesign.
IHCL opened its second hotel in Udaipur – Taj Aravali Resort & Spa. Situated at the foothills of the picturesque Aravalli mountain range, the 92 room resort is spread across 27 acres of lush landscaped gardens.
IHCL renewed its contract for Taj Lake Palace, Udaipur, one of the most photographed hotels in the world.
IHCL unveiled the new look for Ginger in Panjim, Goa post a brand repositioning exercise. Ginger will now operate in the lean luxe segment.
IHCL signed a management contract for two hotels in Goa adding 506 rooms to its pipeline. The company took over the management of the legendary 207 key Cidade de Goa which is a part of the SeleQtions portfolio. An additional 299 rooms which are under construction will be added to the same complex under the Taj brand scheduled to open by the end of this year.
IHCL opened its first mountain resort - Taj Theog Resort & Spa, Shimla in Himanchal Pradesh. Nestled amidst thick Cedar forests and spread over five acres, offering mesmerising views of the mighty Himalayas. 
The company introduced the iconic Taj brand in Rishikesh with the opening of Taj Rishikesh Resort & Spa, Uttarakhand.
The company renovated and upgraded several hotels to stay relevant for the ever-evolving global traveller. 19 hotels were upgraded to the Taj brand. Taj MG Road, Bengaluru unveiled its all-new look recently after a major renovation. Some of the other renovated hotels in key cities include: Taj Palace, New Delhi; Taj Exotica Resort & Spa, Goa; Taj Fort Aguada Resort & Spa, Goa; Taj Bengal, Kolkata; Taj Fisherman's Cove Resort & Spa, Chennai; Taj Krishna, Hyderabad; Taj Ganges, Varanasi; Taj Mahal, Lucknow and St. James' Court, A Taj Hotel, London.
AWARDS & RECOGNITION
GALLUP GREAT WORKPLACE AWARD - IHCL received the prestigious GALLUP Great Workplace Award 2019. An eight-time winner of the award, IHCL is the only Indian hospitality company on the list. 
EARTHCHECK CERTIFICATIONS - IHCL has set a global benchmark in hospitality for environmental sustainability with 8 of its hotels being awarded Platinum certifications and 60 hotels received Gold certifications.
NATIONAL CSR LEADERSHIP CONGRESS & AWARDS - IHCL won the National Award for Best Environment Sustainability 2018.
THE INSTITUTE OF COMPANY SECRETARIES OF INDIA (ICSI) NATIONAL AWARDS - IHCL received a Certificate of Recognition for Excellence in Corporate Governance.
ETHICAL BOARDROOM CORPORATE GOVERNANCE AWARDS - IHCL received top honours at the Ethical Boardroom Corporate Governance Awards 2018.
CFI.co CORPORATE GOVERNANCE AWARDS - IHCL's iconic brand Taj was awarded the Best Hospitality Corporate Governance Award in India.
INDO-GERMAN CHAMBER OF COMMERCE (IGCC) - IHCL was recognised by the IGCC for its Outstanding Contribution towards Best Sustainable Business Practices by a Large Enterprise.
CONDÉ NAST TRAVELLER HOT LIST - Taj Exotica Resort & Spa, Andamans has been acknowledged as one of the Best New Hotel Openings in the World.  
TELEGRAPH UK TRAVEL AWARDS - Taj ranked #2 in the list of the 'World's Best Hotel Groups'.
CONDE NAST TRAVELLER US & UK GOLD LIST - Umaid Bhawan Palace, Jodhpur, one of the most awarded hotels in the world has featured on the globally acclaimed Gold List.
FREDDIE AWARDS - Taj InnerCircle has been bestowed with the special 210 Award in the hotel category for the Middle East/Asia/Oceania region for Strongest Performing Program off the Radar of Voters.
MICHELIN GUIDE - Quilon, Taj's award-winning coastal Indian cuisine restaurant in London, retained its Michelin Star for the 12th successive year.
About The Indian Hotels Company Limited (IHCL)
The Indian Hotels Company Limited (IHCL) and its subsidiaries bring together a group of brands and businesses that offer a fusion of warm Indian hospitality and world-class service. These include Taj – the hallmark of iconic hospitality, SeleQtions, a named collection of hotels, Vivanta, sophisticated upscale hotels and Ginger which is revolutionizing the lean luxe segment.
Incorporated by the founder of the Tata Group, Jamsetji Tata, the Company opened its first hotel - The Taj Mahal Palace, in Bombay in 1903. IHCL operates 179 hotels including 30 under development globally across 4 continents, 12 countries and in over 80 locations.  
The Indian Hotels Company Limited (IHCL) is South Asia's largest Indian hospitality company by market capitalization. It is primarily listed on the BSE and NSE.
Please visit:
www.ihcltata.com; www.tajhotels.com; www.seleqtionshotels.com; www.gingerhotels.com;
Follow Taj 
   I Follow Ginger 
  I Follow SeleQtions 
For more information, please contact:  rakhee.lalvani@ihcltata.com