IHCL MARKS ANOTHER YEAR OF RECORD PORTFOLIO EXPANSION
~ INDUSTRY-LEADING SIGNING OF 36 HOTELS TAKES THE PORTFOLIO TO 260 HOTELS
~ OPENS A RECORD 16 HOTELS 
MUMBAI, APRIL 10, 2023: Indian Hotels Limited (IHCL), India's largest hospitality company, marks yet another year of accelerated portfolio expansion in FY 2022-23. It recorded an industry-leading pipeline with the signing of 36 new hotels and opening of 16 new hotels, in the past one year. The current pipeline stands at 73 hotels.
Commenting on IHCL's growth, Mr. Puneet Chhatwal, Managing Director & Chief Executive Officer, IHCL, stated, "IHCL has witnessed a tremendous year of growth with unprecedented momentum of portfolio expansion. We signed a record 36 hotels in this financial year taking our portfolio to 260 properties. With this growth our managed hotels have now reached a share of 50% from 32% five years ago, resulting in a balanced portfolio mix. This was supported by a fast-paced opening of 16 new hotels. With its iconic brand Taj, IHCL maintains its lead in the luxury segment with 81 hotels in operation and another 17 in pipeline, while the young brand SeleQtions is capitalizing on many conversion opportunities. Vivanta and Ginger have added notable number of hotels and destinations providing consumers with newer choices."
Suma Venkatesh, Executive Vice President - Real Estate & Development, IHCL added, "The robust performance is a testament to power of IHCL's reimagined brandscape. We would like to thank all our owners and partners in reposing their trust in us."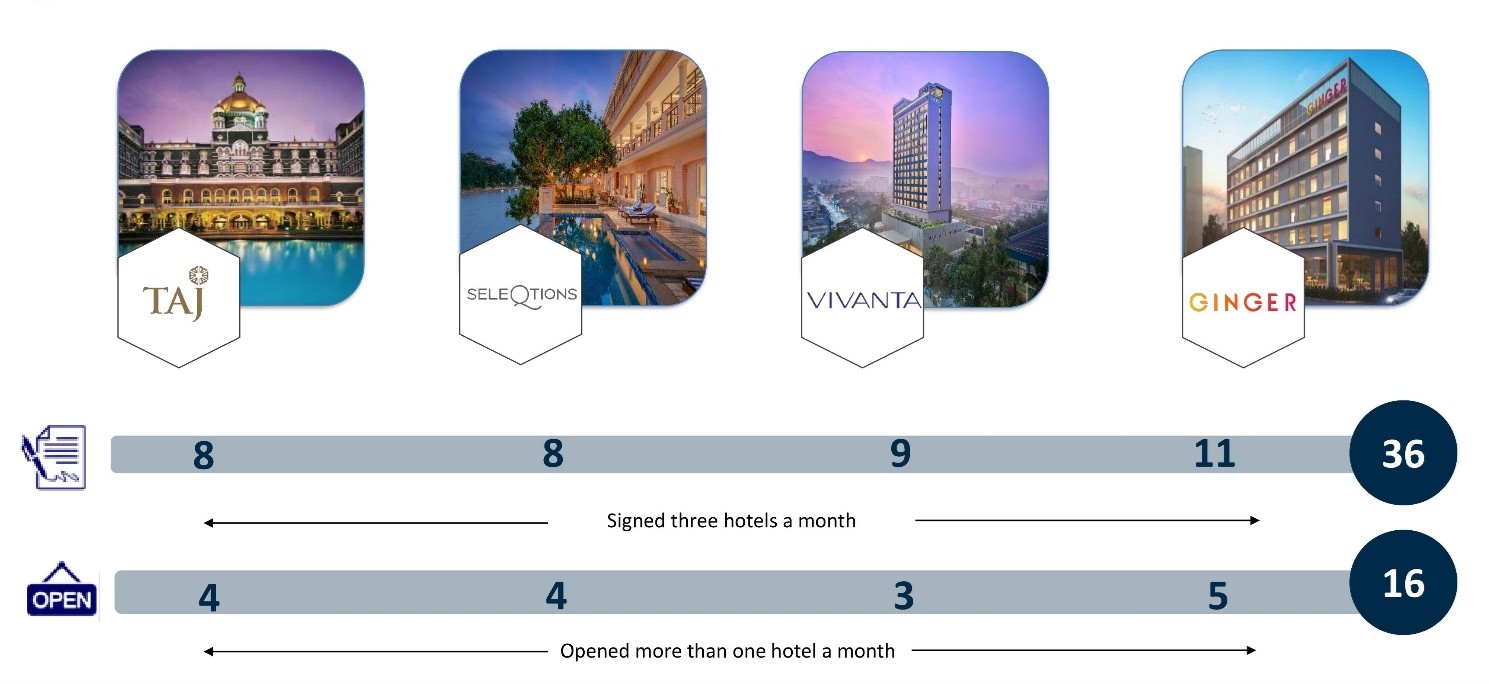 LEADS IN THE LUXURY SEGMENT

With eight new hotel signings, the iconic luxury brand and the World's Strongest Hotel Brand, Taj is slated to reach the 100-hotel milestone from 98 hotels currently. In line with its strategy of pioneering new destinations, Taj announced two resorts in Lakshadweep. Building its presence in state capitals Taj signed two hotels in Gandhinagar and Raipur. Strengthening its footprint in metro cities of Chennai and Bengaluru, IHCL added a Taj hotel in each city and continued focus on key international markets with the signing of a Taj hotel in Riyadh, Saudi Arabia.

Enhancing its leisure offerings, the year saw the opening of Sawai Man Mahal Palace and Taj Amer in Jaipur, Taj Wayanad, Kerala and added Taj City Centre New Town in Kolkata.  

ACHIEVES BALANCED PORTFOLIO

IHCL, as envisioned in its Ahvaan 2025 strategy, achieves a balanced portfolio in FY 2022- 23 of owned/ leased and managed hotels. This was driven by management contracts accounting for 60% of the new signings. The balance 40% predominantly comprised of operating leases for the Ginger brand and a few select investments in Ekta Nagar and Lakshadweep.

GROWTH THROUGH CONVERSIONS

Fuelled by the power of IHCL's brandscape, the year saw a significant growth in the number of conversions led by IHCL SeleQtions, the brand with a distinctive and compelling character. This is in line with IHCL's strategy to proliferate its brands and hotels with a shorter time-to-market and is testament to the robust customer proposition of SeleQtions. Hotel conversions were secured in Rajkot and Mahableshwar and operating hotels were opened including Anand Kashi by the Ganges, Rishikesh, Norbu The Montanna, Dharmashala, Jaagir Manor, Dudhwa, and Baragarh Resort & Spa, Manali.

EXPANSION IN TIER 2 & 3 CITIES

Apart from the metro cities in India, the smaller cities with lesser share of branded rooms have witnessed tremendous growth. Tapping into the opportunity IHCL has built a strong pipeline in tier 2 and 3 cities including

Vivanta branded hotels in Jammu, Haridwar, Vrindavan, Indore, Jamshedpur, Rajahmundry, Katra, and Shillong among others and Ginger branded hotels in Gangtok, Durgapur, Asansol, Nagpur, Ayodhya, Paradeep, Bharuch and others.
With its current portfolio of 260 hotels, IHCL remains well poised to achieve its vision of 300 hotels by 2025. 
About The Indian Hotels Company Limited
The Indian Hotels Company Limited (IHCL) and its subsidiaries bring together a group of brands and businesses that offer a fusion of warm Indian hospitality and world-class service. These include Taj – the iconic brand for the most discerning travelers and ranked as the World's Strongest Hotel Brand and India's Strongest Brand as per Brand Finance Hotels 50 Report 2022 and India 100 Report 2022, respectively; SeleQtions, a named collection of hotels; Vivanta, sophisticated upscale hotels; and Ginger, which is revolutionizing the lean luxe segment.
Incorporated by the founder of the Tata Group, Jamsetji Tata, the Company opened its first hotel - The Taj Mahal Palace, in Bombay in 1903. IHCL has a portfolio of 260 hotels including 73 under development globally across 4 continents, 11 countries and in over 125 locations. The Indian Hotels Company Limited (IHCL) is India's largest hospitality company by market capitalization. It is primarily listed on the BSE and NSE.
Please visit: www.ihcltata.com; www.tajhotels.com; www.seleqtionshotels.com; www.vivantahotels.com; www.gingerhotels.com
For more information, please contact: kirti.dhingra@ihcltata.com
ANNEXURE I
IHCL'S HOTEL BRANDSCAPE
Brands

Hotels/Rooms

Pipeline Hotels /Rooms

Total Hotels/Rooms

Taj

81

(11,726)

17

(3,034)

98

(14,760)

Vivanta

27

(3,800)

19

(2,505)

46

(6,305)

SeleQtions

20

(1,297)

11

(1,035)

31

(2,332)

Ginger

59

(4,814)

26

(2,893)

85

(7,707)

TOTAL

187

(21,637)

73

(9,467)

260

(31,104)
IHCL'S EXPRESSIONS PORTFOLIO
amã Stays & Trails IHCL's branded homestay offering has scaled to a portfolio of 114 bungalows including 48 under development. Qmin has scaled to 37 retail outlets and its app-based delivery services is available in 21 cities.