IHCL Delivers On Its Aspiration 2022 Promise – Reports Eight Consecutive Quarters Of Margin Expansion
~ Reaches milestone of 200 hotels including 42 hotels under development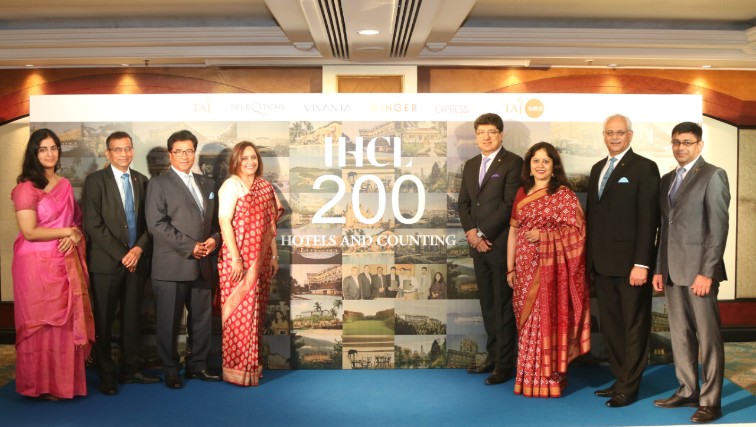 Key Highlights of FY 2019-20
EBITDA margins at 24.4% for 9 months of FY 2019-20
Consistent margin expansion achieved for eight consecutive quarters
Reached a milestone of 200 hotels including 42 hotels under development and an inventory of over 25,000 rooms in over 100 locations
50 new hotels signed in last two years
Opened 12 hotels in 11 months at the rate of over 1 hotel a month in FY 2019-20
Ginger reaches a milestone of 50 hotels in operation with 18 in the pipeline


Aims to open more than one hotel every month in FY 2020-21
To build 371-room Ginger flagship hotel in Santacruz, Mumbai
To open an integrated hotel and conference facility in March in Goa with over 500 rooms and 60,000 sq. ft. of conference space with the new Taj Hotel & Convention Centre, co-located with Cidade de Goa, IHCL SeleQtions
MUMBAI, FEBRUARY 24, 2020: The Indian Hotels Company Limited (IHCL, BSE: 500850; NSE: INDHOTEL), South Asia's largest hospitality company, today held its third Capital Market Day. The Company shared key updates on its five year business strategy, Aspiration 2022.
Mr. Puneet Chhatwal, Managing Director and Chief Executive Officer, IHCL said, "This year continues the transformation of IHCL from a hotel company to a multi-brand hospitality eco-system player. We have executed on our Aspiration 2022 vision and driven strong operational performance with significant improvement across all key financial metrics like profitability, cash-flows, EBITDA margins and debt ratios in the current fiscal. Our re-imagined brandscape with a unique experience and a sustainable value proposition for each hotel brand is resonating with our customers and partners. We signed 50 new hotels in the last 2 years and this growth momentum has helped us reach a portfolio milestone of 200 hotels including 42 hotels under development. We will continue to focus on capturing emerging opportunities across the hospitality industry landscape, thereby creating significant value for all our stakeholders."
IHCL continues to make significant progress in respect to the key pillars of the Aspiration 2022 strategy:    Re-engineer, Re-structure and Re-imagine. Some key highlights include: 
Re-engineering
IHCL re-engineered its financial performance with a continued focus on the topline growth, profitability and margin expansion. It posted a consistent margin expansion for eight consecutive quarters. The consolidated EBITDA margin for the first nine months of FY 2019-20 is 24.4%
It also took steps to ensure a healthier balance sheet with debt reduction, asset management initiatives on sale of non-core assets, as well as higher cash flows. The current net debt to EBITDA ratio is 1.76, down from 2.11 (as of FY 2018-19)
Re-structuring
The company continued on its trajectory to re-structure for scale and reached a milestone 200 hotels with an inventory of 25,000 rooms spread over 100 locations. This includes 42 hotels under development
IHCL harnessed the diverse brandscape to drive asset light growth through management contracts. 43% of our portfolio is now management contracts. This was 32% two years ago
FY2020 will see the opening of more than one hotel a month and some of the locations include Delhi, Trivandrum, Darjeeling, Shillong, Gangtok, Ahmedabad, Navi Mumbai, Kalinganagar, Bhubaneswar and Wayanad
The company is working on becoming Future Ready by developing talent with new skills to take on opportunities generated from scaling the portfolio
Re-imagining
The re-imagined brandscape enabled the company to transform from a hotels business to a hospitality eco-system. It unlocked value by rolling out a new brand of named collection of hotels – SeleQtions. Repositioned Ginger in the lean luxe segment with 20% of its portfolio reflecting the new design and service philosophy. Re-imagined Vivanta prototype will be launched in Bengaluru next month. amã Stays & Trails expanded its footprint, and now has a collection of 20 heritage properties in unique and experiential locations across India
It strengthened its individual service brands – The Chambers – Taj's exclusive business club was relaunched with enhanced features and added over 100 new members. It also announced an extension in London. The Company launched – niu&nau – a chain of salons to capture the growing beauty and grooming segment
The Company is re-imagining its F&B offerings with new innovations. IHCL has tied up with AB InBev, the world's leading brewery, for an industry first on-site chain of microbreweries. It announced a partnership with globally acclaimed Italian restaurant chain, Paper Moon, and will open the first Paper Moon in India at Taj Fort Aguada Resort & Spa
IHCL's Future Ready approach has helped the company implement innovative business and financial models to drive profitability and scale.
About The Indian Hotels Company Limited (IHCL)
The Indian Hotels Company Limited (IHCL) and its subsidiaries bring together a group of brands and businesses that offer a fusion of warm Indian hospitality and world-class service. These include Taj – the hallmark of iconic hospitality, SeleQtions, a named collection of hotels, Vivanta, sophisticated upscale hotels and Ginger, which is revolutionizing the lean luxe segment. 
Incorporated by the founder of the Tata Group, Jamsetji Tata, the Company opened its first hotel – The Taj Mahal Palace, in Bombay in 1903. IHCL has a portfolio of 200 hotels including 42 under development globally across 4 continents, 12 countries and in over 100 locations. The Indian Hotels Company Limited (IHCL) is South Asia's largest hospitality company by market capitalization. It is primarily listed on the BSE and NSE. 
Please visit:
www.ihcltata.com; www.tajhotels.com; www.seleqtionshotels.com; www.vivantahotels.com; www.gingerhotels.com
For more information, please contact:  rakhee.lalvani@ihcltata.com
Follow us on social media: 
Follow IHCL         
The Indian Hotels Company Limited (IHCL)
Follow Taj           
@TajHotels |
@TajHotels |
@TajHotels | 
 Taj Hotels
Follow SeleQtions 
@SeleQtions |
@Seleqtions |
@Seleqtions
Follow Vivanta      
@VivantaHotels |
  @VivantaHotels |
@VivantaHotels  
Follow Ginger       
@Ginger |
@GingerHotels |
  @GingerHotels | 
@GingerHotels