IHCL DEBUTS IN VRINDAVAN, UTTAR PRADESH WITH THE SIGNING OF A VIVANTA HOTEL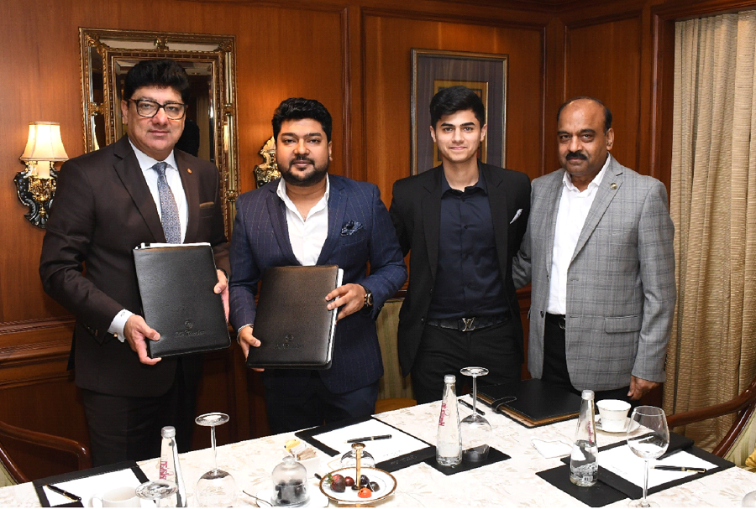 L TO R: MR. PUNEET CHHATWAL, MD&CEO, IHCL AND MR. PULKIT AGRAWAL, MR YASH AGRAWAL AND MR. RAJEEV KUMAR AGRAWAL OF BRIJWASI HOSPITALITY
MUMBAI, DECEMBER 15, 2022: Indian Hotels Company (IHCL), India's largest hospitality company, today announced the signing of its first hotel in Vrindavan, Uttar Pradesh. This management contract is a greenfield project slated to open in 2026. 
Speaking on the occasion, Ms. Suma Venkatesh, Executive Vice President - Real Estate & Development, IHCL said, "India is renowned for its spirituality across the globe. This signing is in line with IHCL's vision of expanding its presence in major pilgrim destinations. We are delighted to partner with Brijwasi Hospitality for a Vivanta hotel in Vrindavan."  
The 120 key hotel is situated in Rukmani Vihar, a short driving distance from popular temples including the Banke Bihari and ISKCON. It is also close to other important religious spots like Govardhan, Gokul, Nandgaon, Barsana and Mathura. Other facilities will include an all-day diner, swimming pool, fitness centre and a spa. The hotel will also offer over 730 sq.mt of banqueting space including meetings rooms and banquet halls. 
Mr. Pulkit Kumar Agrawal, Director, Brijwasi Hospitality said, "We are delighted to bring the Vivanta brand to Vrindavan in partnership with IHCL. We look forward to delivering a world class hospitality experience to the guests visiting the holy city."
Vrindavan, located on the banks of the Yamuna is a historical city in the state of Uttar Pradesh. It is a significant part of the "Krishna pilgrimage circuit" and has 5500 temples dedicated to the worship of Lord Krishna and his divine consort Radha.
With the addition of this hotel, IHCL will have 17 hotels across Taj, SeleQtions, Vivanta and Ginger brands across Uttar Pradesh including seven under development.
About Brijwasi Hospitality
Brijwasi Hospitality is a part of Brijwasi Group, Mathura. Brijwasi Group has interests in Food and Beverage, Hotels and Real Estate. Established in early 1920s, Brijwasi has been a brand synonymous with the famous local delicacy – Mathura Pedas. It operates several food and beverage outlets in the region. The group also owns and operates three midscale hotels in Mathura, under the Brijwasi brand.
About The Indian Hotels Company Limited
The Indian Hotels Company Limited (IHCL) and its subsidiaries bring together a group of brands and businesses that offer a fusion of warm Indian hospitality and world-class service. These include Taj – the iconic brand for the most discerning travellers and ranked as the World's Strongest Hotel Brand and India's Strongest Brand as per Brand Finance Hotels 50 Report 2022 and India 100 Report 2022, respectively; SeleQtions, a named collection of hotels; Vivanta, sophisticated upscale hotels; and Ginger, which is revolutionising the lean luxe segment.
Incorporated by the founder of the Tata Group, Jamsetji Tata, the Company opened its first hotel - The Taj Mahal Palace, in Bombay in 1903. IHCL has a portfolio of 250 hotels including 65 under development globally across 4 continents, 11 countries and in over 100 locations. The Indian Hotels Company Limited (IHCL) is India's largest hospitality company by market capitalization. It is primarily listed on the BSE and NSE.
Please visit: www.ihcltata.com; www.tajhotels.com; www.seleqtionshotels.com; www.vivantahotels.com; www.gingerhotels.com
For more information, please contact:  Kirti.dhingra@ihcltata.com