IHCL CONTINUES ON ACCELERATED GROWTH PATH WITH RECORD PORTFOLIO EXPANSION
~ ON TRACK TO ACHIEVE 300-HOTELS PORTFOLIO BY 2025 WITH INDUSTRY-LEADING SIGNING OF 50 HOTELS 
~ AND OPENING OF 27 HOTELS 
IN 24+ MONTHS
MUMBAI, AUGUST 26, 2022: Indian Hotels Limited (IHCL), India's largest hospitality company, has continued to chart its journey of rapid expansion, with an industry-leading signing of 50 new hotels in addition to opening 27 new hotels in the past 24+ months. This period marks IHCL signing the most number of hotels in India in both, 2020 and 2021, adding over 5,500 keys to its portfolio
VAST FOOTPRINT ENVELOPING THE INDIAN SUB-CONTINENT
IHCL has a presence in over 100 locations across India
Expansive footprint in 31 out of 36 States and Union Territories in India
Rich history of pioneering destinations such as Goa, Rajasthan, Kerala, Bhutan, Nepal and more recently, the Andaman Islands and North-East India
IHCL is also developing key tourism destinations such as Diu and Lakshadweep, for which it has recently received the letter of awards for two hotels in each destination
The company has continued to develop key tourism circuits such as the Himalayan, spiritual and safaris circuit
IHCL is the only Indian hospitality company with marquee hotels in key global destinations such as London and New York, in addition to Sri Lanka, Dubai, Maldives and South Africa among others
DIVERSE BRANDSCAPE TARGETING MULTIPLE SEGMENTS
As envisioned in our Ahvaan 2025 strategy, IHCL aims to expand its current portfolio of 242 hotels to 300 hotels
Taj, the iconic luxury brand and the World's Strongest Hotel Brand, is slated to grow to 100 hotels
With a global presence in key markets, the Taj brand offers authentic Palaces, city hotels, world-class resorts, serviced residences and safaris
The Vivanta and SeleQtions brands, offering contemporary and distinct experiences, respectively, will scale to a portfolio of 75 hotels
Ginger – which is revolutionizing the lean luxe market – will be an important growth vehicle and will scale to 125 hotels
'amã Stays & Trails', India's first branded homestay portfolio, will scale to 500 properties by 2025
RESPONSIBLE APPROACH TO GROWTH
IHCL will focus on re-structuring its portfolio to achieve a 50:50 mix between its owned/leased and managed hotels, which currently stands at 54:46

This will include a combination of management contracts for Taj, SeleQtions and Vivanta hotels, while Ginger's expansion will be driven predominantly through operating leases
IHCL will continue to make smart investments in strategic assets for long-term growth such as Ginger Santacruz and the two upcoming hotels in Kevadia
These investments will be enabled by unlocking capital through strategic partnerships, monetization and simplification
The focus on maintaining strategic assets will see IHCL retain the iconic Taj Malabar Resort & Spa, Cochin within its fold
Commenting on IHCL's accelerated growth, Mr. Puneet Chhatwal, Managing Director & Chief Executive Officer, IHCL, stated, "IHCL has continued on its trajectory of portfolio expansion in a rapidly evolving hospitality landscape, with two signings each month over the last 24 months. This has been supported by a fast-paced opening of hotels. IHCL is well-poised to meet our goal of a 300-hotel portfolio by 2025, driven by an asset light model to achieve profitable growth. We look forward to the continued support of our owners and partners who have reposed their trust in us."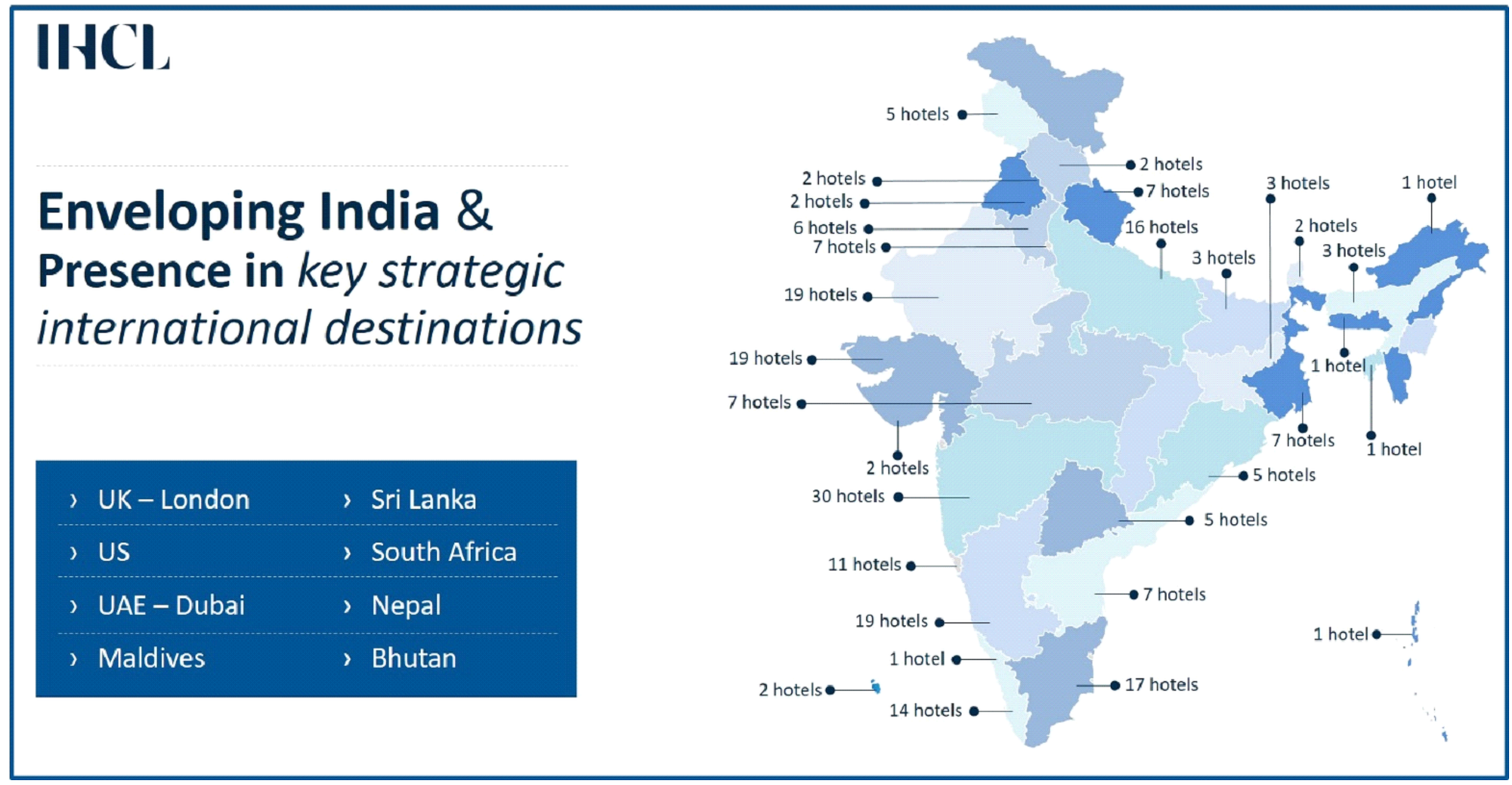 Suma Venkatesh, Executive Vice President – Real Estate and Development, IHCL, further added, "Having the maximum number of signings in India in the past two years is a testament to the power of our brands. IHCL continues to be the preferred partner for investors, enabling us to develop long-term partnerships across multiple projects. The long-term renewal of our agreements is a testament to the stakeholder value IHCL creates."
IHCL will look to strengthen its presence in key global markets that have substantial customer crossover with India, through strategic partnerships. The recent opening of Taj Exotica Resort & Spa in Dubai is in line with this vision.
About The Indian Hotels Company Limited
The Indian Hotels Company Limited (IHCL) and its subsidiaries bring together a group of brands and businesses that offer a fusion of warm Indian hospitality and world-class service. These include Taj – the iconic brand for the most discerning travellers and ranked as the World's Strongest Hotel Brand and India's Strongest Brand as per Brand Finance Hotels 50 Report 2022 and India 100 Report 2022, respectively; SeleQtions, a named collection of hotels; Vivanta, sophisticated upscale hotels; and Ginger, which is revolutionising the lean luxe segment.
Incorporated by the founder of the Tata Group, Jamsetji Tata, the Company opened its first hotel - The Taj Mahal Palace, in Bombay in 1903. IHCL has a portfolio of 242 hotels including 61 under development globally across 4 continents, 11 countries and in over 100 locations. The Indian Hotels Company Limited (IHCL) is India's largest hospitality company by market capitalization. It is primarily listed on the BSE and NSE.