IHCL ANNOUNCES LAYING OF THE FOUNDATION STONE FOR TWO NEW HOTELS IN EKTA NAGAR, GUJARAT
~ The Vivanta and Ginger-branded hotels will offer 275 rooms near the Statue of Unity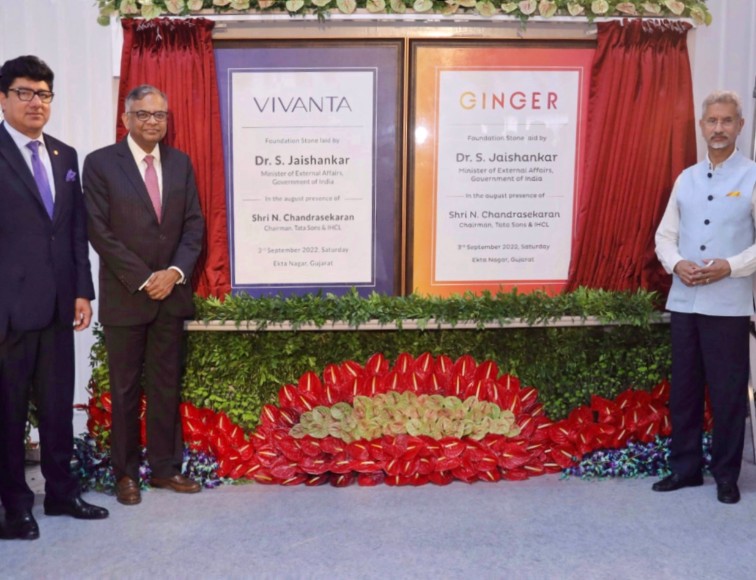 From left to right: Mr. Puneet Chhatwal, MD & CEO, IHCL; Mr. N. Chandrasekaran, Chairman, Tata Sons; and Dr. S. Jaishankar, Minister of External Affairs, at Ekta Nagar
MUMBAI, SEPTEMBER 3, 2022: Indian Hotels Company (IHCL), India's largest hospitality company, today announced two upcoming hotels in close proximity to the famed Statue of Unity in Ekta Nagar, Gujarat. Mr. Jaishankar, Minister of External Affairs laid the foundation stone in the presence of Mr. N. Chandrasekaran, Chairman, Tata Sons and Mr. Puneet Chhatwal, Managing Director & CEO, IHCL.
Mr. Puneet Chhatwal, Managing Director and Chief Executive Officer, IHCL, said, "It is our privilege to be a part of the vision to develop a world class destination in Ekta Nagar. The rapid growth of our footprint in Gujarat is an exciting development for IHCL, and these hotels will be a significant addition to our portfolio. Ekta Nagar is planned as a leading tourism destination in the country and IHCL, in partnership with the Sardar Sarovar Narmada Nigam Ltd. (SSNNL), will offer exceptional experiences for travellers with the two hotels. We are delighted to bring our signature hospitality to the region."
Among other dignitaries, Mr. Ghanshyambhai Patel, President Bharatiya Janata Party – District Narmada; Mrs. Shweta Teotia, Collector – District Narmada; Mrs. Paryushaben Vasava, President, District Panchayat, Narmada; and Mr. Prashant Sumbe, Superintendent of Police, District Narmada too were present at the event.
The two hotels include a 125-room Vivanta and a 150-room Ginger. Located at a short drive from the Statue of Unity, the hotels will offer a variety of dining and recreational facilities across both properties. In addition, the Vivanta hotel will feature conferencing and wellness facilities to cater to business as well as leisure travellers. This is a Greenfield project slated to open in 2025.
Located in the Narmada district in the heart of Gujarat, Ekta Nagar is set to be an iconic destination. It offers many tourist attractions such as the Statue of Unity, Valley of Flowers, Zarvani eco-tourism and Shoolpaneshwar temple among others.
With the addition of this hotel, IHCL will have 19 hotels in the state of Gujarat including four under development.
About The Indian Hotels Company Limited
The Indian Hotels Company Limited (IHCL) and its subsidiaries bring together a group of brands and businesses that offer a fusion of warm Indian hospitality and world-class service. These include Taj – the iconic brand for the most discerning travellers and ranked as the World's Strongest Hotel Brand and India's Strongest Brand as per Brand Finance Hotels 50 Report 2022 and India 100 Report 2022, respectively; SeleQtions, a named collection of hotels; Vivanta, sophisticated upscale hotels; and Ginger, which is revolutionising the lean luxe segment.
Incorporated by the founder of the Tata Group, Jamsetji Tata, the Company opened its first hotel - The Taj Mahal Palace, in Bombay in 1903. IHCL has a portfolio of 242 hotels including 62 under development globally across 4 continents, 11 countries and in over 100 locations. The Indian Hotels Company Limited (IHCL) is India's largest hospitality company by market capitalization. It is primarily listed on the BSE and NSE.
Please visit: www.ihcltata.com; www.tajhotels.com; www.seleqtionshotels.com; www.vivantahotels.com; www.gingerhotels.com
For more information, please contact:  nairita.ghosh@ihcltata.com