EXPERIENCE THE MAGIC OF INDIA'S LIVING CULTURAL HERITAGE WITH IHCL HOTELS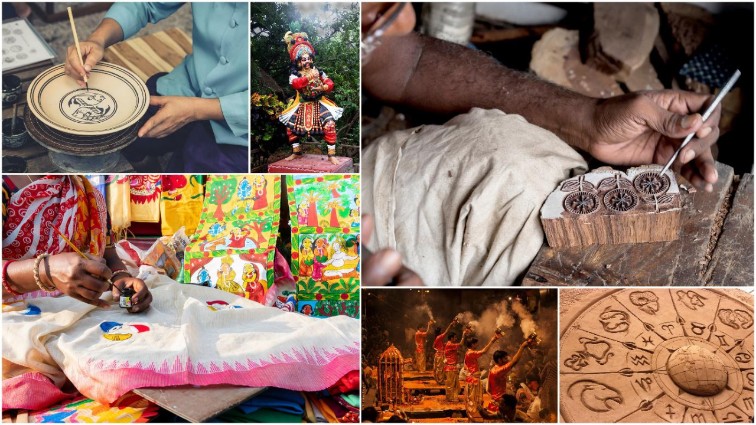 MUMBAI, APRIL 12, 2022: Indian Hotels Company (IHCL), India's largest hospitality company, has been a proud custodian of the country's rich heritage for over a century. This World Heritage Day, under the company's recent collaboration with UNESCO, travellers can immerse themselves in the fabric of cultural experiences spread across the landscape of the country that define India's living heritage.
Beyond India's riches of monuments and scriptures lies an extraordinary array of intangible traditions pertaining to craftsmanship, music, dance, art, theatre and more. Like beloved heirlooms, these traditions are passed from one generation to the next and provide communities with a sense of continuity, as they are recreated over time. The partnership of IHCL and UNESCO aims to offer experiential tours, showcasing the living heritage of the country across various IHCL hotels.
Discover a love story of patterns and textiles through Bagru Hand Block Printing and a Turko-Persion tradition kept alive via Blue Pottery at Jaipur, a celebration of the divine force, Durga Puja in Kolkata or Ganga Aarti in Varanasi. Experience Karnataka's vibrant past and festivities via Janpada Loka and Mysuru Dasara or stories hand moulded in terracotta by Molela Terracotta Art, Udaipur. See the unfolding of a story through Patachitra at Pingla village in rural Bengal.
Discover the intangible gems of the country, and get a glimpse into the associated wealth of skills, expressions, artefacts and people.

For more information, please visit here.
About The Indian Hotels Company Limited (IHCL)
The Indian Hotels Company Limited (IHCL) and its subsidiaries bring together a group of brands and businesses that offer a fusion of warm Indian hospitality and world-class service. These include Taj – the iconic brand for the most discerning travellers and the World's Strongest Hotel Brand and India's Strongest Hospitality Brand as per Brand Finance 2021, SeleQtions, a named collection of hotels, Vivanta, sophisticated upscale hotels and Ginger, which is revolutionising the lean luxe segment.
Incorporated by the founder of the Tata Group, Jamsetji Tata, the Company opened its first hotel - The Taj Mahal Palace, in Bombay in 1903. IHCL has a portfolio of 235 hotels including 59 under development globally across 4 continents, 11 countries and in over 100 locations. The Indian Hotels Company Limited (IHCL) is India's largest hospitality company by market capitalization. It is primarily listed on the BSE and NSE.
Please visit: www.ihcltata.com.com; www.tajhotels.com; www.seleqtionshotels.com; www.vivantahotels.com; www.gingerhotels.com
For more information, please reach out: parinita.gawri@ihcltata.com 
Follow us on social media:

Follow IHCL         
The Indian Hotels Company Limited (IHCL)
Follow Taj            
@TajHotels |
 @TajHotels |
 @TajHotels | 
 Taj Hotels
Follow SeleQtions 
@SeleQtions | 
@Seleqtions |
 @Seleqtions
Follow Vivanta      
@VivantaHotels |
  @VivantaHotels |
 @VivantaHotels  
Follow Ginger       
@Ginger |
 @GingerHotels |
  @GingerHotels | 
@GingerHotels