Experience The Unparalleled Beauty Of The Jungles With Taj Safaris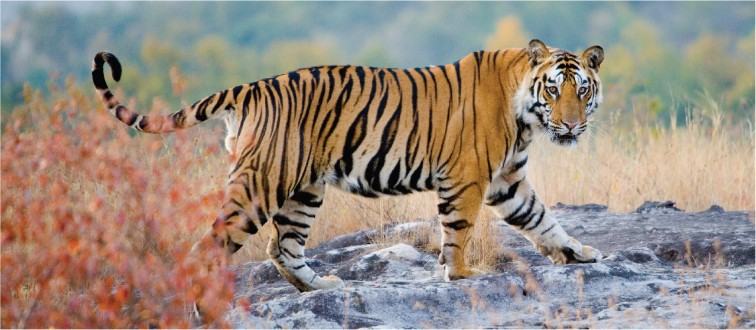 Mumbai, March 15, 2018: Escape to the jungles this summer and catch an unforgettable glimpse of exciting wildlife in India and Nepal. Be it the thrill of a close encounter with India's royal Bengal tigers or the majestic one –horned Rhinoceros in Nepal, the Taj Safaris present an unmatched opportunity to embrace adventure at its best across with its luxurious jungle lodges.
Located within some of the worlds most renowned National Parks in the central state of Madhya Pradesh in India and Nepal at the UNESCO World Heritage listed jungle of Chitwan; each lodge promises a travel experience unlike any other. From exploring the jungles following tiger tracks or marveling at rare wildlife species, Taj Safaris encapsulates the wildlife experience with unrivalled finesse. The twice daily safaris, conducted by expert naturalists in specially designed Tata open 4X4 vehicles with theatre style seating is an integral part of the Taj Safaris experience.  And for visiting families, there are more than enough activities planned for the children, which include interesting and intriguing experiences such as diamond sifting and fishing or simply indulging in some of their favourite games.
Discover how a travel journey can change you in many ways with Taj Safaris on the Wildlife Trails Offers.
About Taj Hotels Palaces Resorts Safaris
Established in 1903, the iconic Taj Hotels Palaces Resorts Safaris is Indian Hotels Company Limited's (IHCL) brand for the world's most discerning travellers seeking authentic experiences in luxury. From world- renowned landmarks to modern business hotels, idyllic beach resorts to authentic Grand Palaces, each Taj hotel offers an unrivalled fusion of warm Indian hospitality, world-class service and modern luxury. The unique portfolio comprises 100 hotels across 62 locations around the globe including presence in India, North America, United Kingdom, Africa, Middle East, Malaysia, Sri Lanka, Maldives, Bhutan and Nepal. For over a century, The Taj Mahal Palace, Mumbai, the crown jewel has set a benchmark for fine living with exquisite refinement, inventiveness and warmth. Taj Hotels Palaces Resorts Safaris is part of the Tata Group, India's premier business house. Vivanta provides new generation travellers a contemporary and creative hospitality experience that matches their work-hard, play-hard lifestyles. 
The Gateway Hotel welcomes guests to a refreshingly enjoyable and hassle-free experience, anytime, everywhere, offering the highest consistency in quality, service and style. 
Taj Hotels Palaces Resorts Safaris is the flagship brand of Indian Hotels Company Limited (IHCL). IHCL also operates hotels in the economy segment with the Ginger brand, a pioneer in the branded budget hotel space in India and also it's largest. Indian Hotels Company Limited runs TajSats Air Catering, a joint venture of the Indian Hotels Company, and SATS (formerly known as Singapore Airport Terminal Services), the market leader in airline catering, providing inflight catering at key cities
For more information, please visit www.tajhotels.com
Follow Taj Hotels Palaces Resorts Safaris