Book Jungle Safari Package Today!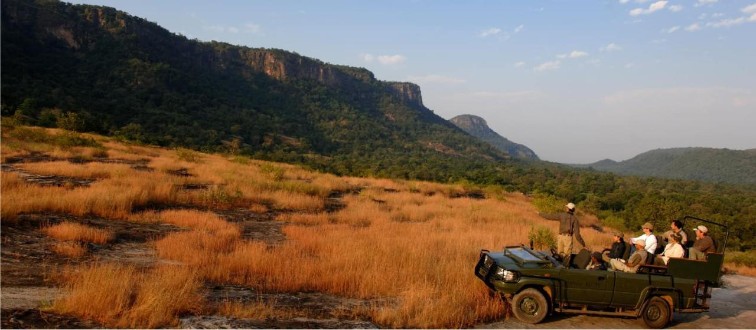 MUMBAI, OCTOBER 5, 2021: It is that time of the year again – the jungles are calling and Taj Safaris, India's first and only luxury wildlife circuit, is now welcoming guests back to the country's diverse wildlife circuit. Discover the unparalleled beauty of the jungles and seek enthralling adventure in some of the world's most renowned National Parks in India and Nepal.
Guests can explore the wilderness through the eyes of expert naturalists as they track the rich wildlife through the diverse flora and fauna, to spot the elusive Royal Bengal tiger. The safari drives, breakfast in the jungle and dinners by the river, all make for a magical holiday. Experience the local way of living through the Taj Safaris lodges in Mahua Kothi in Bandavgarh National Park, Baghvan in Pench National Park, Banjaar Tola in Kanha National Park, Pashan Garh in Panna National Park and Meghauli Serai, Chitwan National Park, Nepal. While enabling livelihood for neighbouring communities such as the Pardhis, Gonds and Baiga, Taj Safaris' unique tourism model provides a deeper insight into the forest ecosystem.

The best of Taj Safaris now also comes alive through the Wildlife Escape, an all-inclusive offer comprising daily meals, a safari ride as well as recreational activities and witness nature in its purest form. To know more, please visit here.

About Taj Safaris

Breaking new ground in India, Taj Safaris offers India's first and only luxury wildlife circuit. Its four lodges based in India's tiger heartland, Madhya Pradesh and one in Chitwan National Park, Nepal; provide guests with the ultimate wildlife experience. Taj Safaris' lodges are founded on sustainable tourism principles and its specially-trained naturalists offer an interpretive and unforgettable wildlife experience coupled with the legendary service that the Taj is renowned for.
Taj Safaris first opened its doors at Mahua Kothi—Bandhavgarh National Park in 2006. Three more lodges complete the Madhya Pradesh wildlife circuit: Baghvan—Pench National Park, Pashan Garh – Panna National Park and Banjaar Tola – Kanha National Park. In 2016, Taj Safaris opened its first international lodge, Meghauli Serai—Chitwan National Park.
To know more about Taj Safaris and to make bookings, please visit  www.tajhotels.com
For more information, please contact: rakhee.lalvani@ihcltata.com