Treasured by Taj:This Valentine's Day, Experience Ultimate Romance from Hilltop Havens to Remote Safari Lodges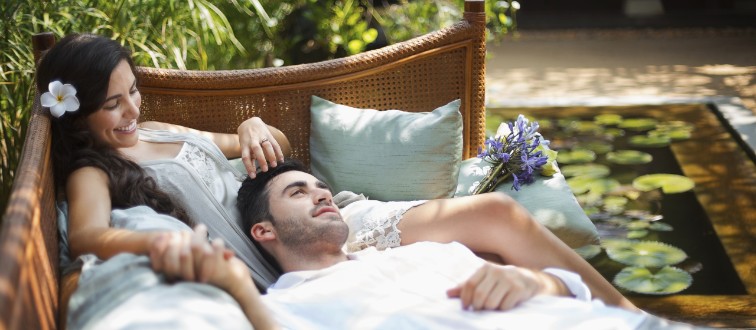 This Valentine's Day, Taj Hotels Palaces Resorts Safaris invites guests to celebrate love with one-of-a-kind experiences-– from witnessing indigenous tigers roam Bandhavgarh National Park, to pottery classes for two in an exclusive studio perched above a 180-acre rainforest.
Whether it's a remote romance in the wilderness or the idyllic Zen of an ocean-side resort - from New York City to the heights of the Himalayas – a distinct set of ambiences are sure to set the mood. Through March 31, 2018, Taj is offering guests 10% off their stays when booking directly via Taj Hotels.
Romance in the Wild:
Mahua Kothi: Nestled among the picturesque Vindhya Hills and lush tropical forests, Bandhavgarh National Park is a renowned tiger reserve and one of the most beautiful parks in India. The dramatic landscape is home to a dense forest brimming with exotic flora and fauna. Just twenty minutes from the park's entrance, the stunning Mahua Kothi, a Taj Safari Lodge provides an intimate oasis with just twelve suites, or kutiyas—traditional jungle village huts. Guests can enjoy a private meal in the shaded courtyard or share a swim in the pool. For ultimate romance, take in the incredible Indian sunset over lake-side sundowner cocktails. Indulge in an early evening of sleep before heading out to witness the region's rich wildlife—including tigers, leopards, jungle cats and sloth bears. 
Banjaar Tola: Taj Safaris' Banjaar Tola extends across a 90-acre private concession overlooking Kanha National Park, and boasts two elegant camps of nine suites each. These luxurious, contemporary ensuite tents offer exotic, ethereal elegance—the textiles have been designed in tones of delicate saffron and green, with rich block-printed Madhya Pradesh cottons and silks. Set in the central Indian Highlands, the immersive experiences on offer are seemingly endless—from traditional tribal dancing via bonfire, to personalized cookery lessons, bird watching via private deck or couples massages in the privacy of a personal tent overlooking the nearby river.
Idyllic Zen:
Taj Bekal Resort & Spa, Kerala: Spread across 26 acres, this beach resort is an intimate oasis providing wellness and adventure. The confluence of the backwaters and the sea make the ambience truly remarkable and one of a kind. Guests can enjoy a walk on the beach before a romantic dinner for two beside their private plunge pool. Revitalize with authentic Ayurveda therapies or opt for some personalised wellness menus at the Jiva Spa. The spa is internationally renowned for its treatments by the hands of skilled therapists.  
Hilltop Havens:
Taj Madikeri Resort & Spa, Coorg: Perched 4000 feet above sea level in the midst of a 180-acre rainforest is the Taj Madikeri Resort & Spa, Coorg. With Kodagu architecture, an infinity pool and four experiential dining experiences amongst hills reaming with flora and fauna, serenity runs deep at this five-star haven.
The traditional architecture provides a gentle sloping of the roof, and all rooms open into a central courtyard. The enchanting entrances provide stunning views of the star-flooded skies. Enjoy romantic dinners, swim in the infinity pool or indulge in a treatment at the Jiva spa while soaking in an unparalleled view of the rainforest. Couples can also enjoy an immersive experience at the exclusive pottery studio.
Taj Tashi, Bhutan: The ambrosial Kingdom of Bhutan, also called The Last Shangri La on Earth, is an ancient empire secluded high in the Himalayas and feels as if it's the gateway to paradise on earth. Set in the stunningly picturesque Thimphu Valley, overlooking the mesmerising Wang Chu River, is the magnificent Taj Tashi. Ideally situated to explore the kingdom's spectacular monasteries, centuries-old street festivals, scenic mountain passes and pristine wilderness. The 66 spacious rooms and suites overlook the exquisite mountains and township, and capture the essence of Bhutanese art and architecture.
Try Bhutan's fiery cuisine, gaze at the mesmerising prayer wheels, explore the vibrant local markets, or relax with a special Bhutanese Hot Stone Bath at the Jiva Spa.
Enchanting Fairy-tale:
Taj Jai Mahal Palace, Jaipur: With its blend of Rajasthan heritage, elegance and luxury, live like royalty at the 270-year old Taj Jai Mahal Palace. Built in 1745, the palace is a great example of Indo-Saracenic architecture set amidst 18 acres of landscaped Mughal gardens. Taj Jai Mahal Palace has been the residence of three Prime Ministers of the princely state of Jaipur. Painstakingly restored and recently refurbished, it is now a luxury five-star Taj heritage hotel equipped with all modern-day comforts. The 94 rooms and six suites offer unbeatable views of the city and palace gardens.
Nestled within the luxurious ambience of the palace are several signature pampering experiences, including Bajot Private Dining, a truly regal and romantic dinner.  Couples can unwind with rejuvenating treatments and therapies at the spa, or center mind and body with yoga and meditation.
Taj Lake Palace, Udaipur: Often referred to as the most romantic hotel in the world, Taj Lake Palace was built in 1746 as the pleasure palace of Maharana Jagat Singh II. One of the most recognized residences across the globe, the heritage hotel offers 66 luxurious rooms and 17 grand suites. Located on an island in the midst of Lake Pichola affords every room breath-taking views of nearby City Palace, the Aravalli, Machla Magra Hills and Jag Mandir.
Couples can indulge in royal treatments with a spa boat experience at Jiva Spa, unlike anything else in the world with carefully created treatments honouring the ancient wellness heritage of India. Known as the Venice of the East, the city of Udaipur, with its elaborate palaces, serene lakes, exotic temples and resplendent gardens, offers an array of guest experiences that seem endless.
City Oasis:
The Pierre, A Taj Hotel, New York: Located in the heart of New York City overlooking Central Park, The Pierre is an icon and landmark on Fifth Avenue that embodies pure elegance. Built in the 1920s, New York's ever-changing culture has left a unique imprint on the history of this luxurious five-star hotel on the Upper East Side. The 189 rooms and suites are ideal for relaxation and indulgence. From here, guests enjoy magnificent views of Central Park, midtown Manhattan and the famed New York skyline.
Couples can explore the city's most sought-after restaurants or spend the evening taking in a show at The Metropolitan Opera, a romantic horse-drawn carriage ride through Central Park or a visit to Lincoln Center.
St. James' Court, A Taj Hotel, London: Located in the very heart of central London, St. James' Court, continues to retain the sophistication and romance of days bygone, with architectural features embodying an illustrious past. Just footsteps from St. James Park, and conveniently close to Westminster Cathedral, Big Ben and the theatre district, the hotel is perfectly positioned to pursue London in its truest sense.
In a country that values understatement, St. James' Court, A Taj Hotel, London is an English classic typifying the discreet charm of one of the city's finest hotels. Explore the hotel gallery and experience the buildings' distinguished pedigree, from the handsome façade and stylish lobby to the award-winning St. James' Courtyard and Michelin-starred restaurant, Quilon.
The Taj Mahal Palace, Mumbai: Experience true grandeur at this flagship Taj hotel that offers incredible views of the Arabian Sea alongside refined century-old hospitality. The Taj Mahal Palace opened its doors in 1903, and is a true legend having played host to royalty, eminent personalities and celebrities from across the globe.  Each of the 550 rooms & suites between the palace and tower wing is a striking blend of nostalgic elegance, rich history and modern facilities.
Enjoy signature experiences such as a romantic afternoon tea at Sea Lounge or private dining at the Chef's Studio.
Taj West End, Bengaluru: Situated in a lush 20-acre garden, this historic hotel evokes colonial charm and boasts 117 magnificent rooms and suites, each offering a gorgeous view.  Home to the second oldest tree in the city and a Victorian-era post-box that's still in use, the ambient hotel showcases a charming insight into days gone by. Alongside the modern amenities and five-star comfort, guests tend to forget they're in the heart of a thriving metropolis.
Couples can enjoy lounging by the pool, long walks and treatments at the Jiva Grande Spa. A guest favourite is ending the evening with a romantic moonlit dinner at the Tulip Gazebo.
For more information and to book your stay, please visit Taj Festive Specials
About Taj Hotels Palaces Resorts Safaris
Established in 1903, the iconic Taj Hotels Palaces Resorts Safaris is Indian Hotels Company Limited's (IHCL) brand for the world's most discerning travellers seeking authentic experiences in luxury. From world-renowned landmarks to modern business hotels, idyllic beach resorts to authentic Grand Palaces, each Taj hotel offers an unrivalled fusion of warm Indian hospitality, world-class service and modern luxury. For over a century, The Taj Mahal Palace, Mumbai, the crown jewel has set a benchmark for fine living with exquisite refinement, inventiveness and warmth. Taj Hotels Palaces Resorts Safaris is part of the Tata Group, India's premier business house. Vivanta provides new generation travellers a contemporary and creative hospitality experience that matches their work-hard, play-hard lifestyles. The Gateway Hotel welcomes guests to a refreshingly enjoyable and hassle-free experience, anytime, everywhere, offering the highest consistency in quality, service and style. 
Taj Hotels Palaces Resorts Safaris is the flagship brand of Indian Hotels Company Limited (IHCL). IHCL also operates hotels in the economy segment with the Ginger brand, a pioneer in the branded budget hotel space in India and also its largest. Indian Hotels Company Limited runs Taj SATS Air Catering, a joint venture of the Indian Hotels Company, and SATS (formerly known as Singapore Airport Terminal Services), the market leader in airline catering, providing inflight catering at key cities.

For more information, please visit www.tajhotels.com
Follow Taj Hotels Palaces Resorts Safaris