QMIN DELIVERS OVER 57,000 MEALS TO ASSIST FLOOD AFFECTED COMMUNITIES IN ASSAM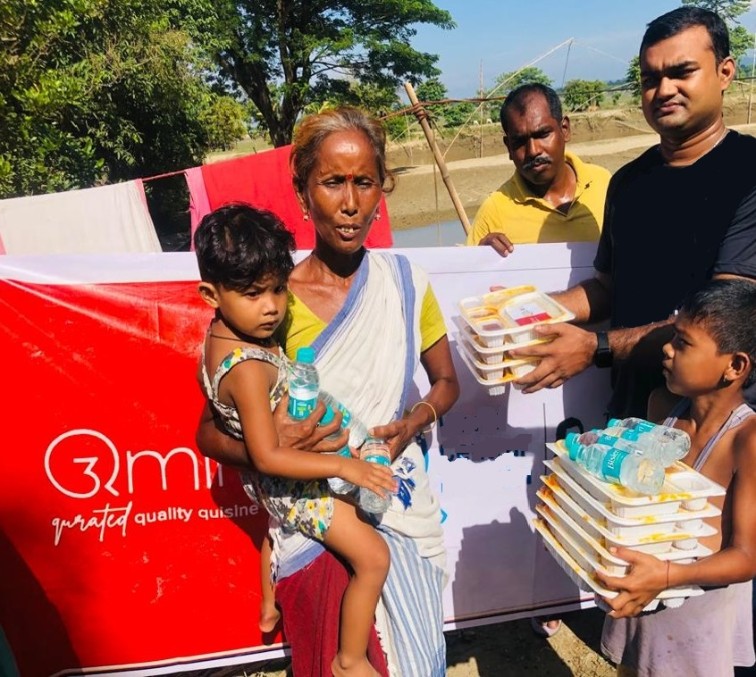 MUMBAI, JULY 27, 2022: Jamsetji Tata had once said, "In a free enterprise, the community is not just another stakeholder in business, but is in fact the very purpose of its existence." This ethos has always been the guiding force for Indian Hotels Company (IHCL), India's largest hospitality company. In line with its values and focus on community as defined by its ESG+ framework, Paathya, IHCL has extended a helping hand to flood affected families in Assam with Vivanta Guwahati offering over 57,000 meals from its culinary platform, Qmin, across 17 affected villages.
Gaurav Pokhariyal, Executive Vice President – Human Resources, Indian Hotels Company, said, "IHCL has always been at the forefront to be of service to the nation during times of need. The Assam floods are a devastating calamity that have impacted over 14 districts across the state. Distributing over 57,000 Qmin meals in 24 days to impacted people at far flung areas spread across Assam is a testament to our team's
resilience in the face of adversity. At IHCL, we keep community at the heart of all that we do and will continue in our endeavor to assist the people of Assam."

With over 9 lac people affected by the floods in Assam in addition to expansive destruction of crops, livestock and property, the local community has united to provide key resources and amenities to those adversely impacted. Vivanta Guwahati rapidly assembled a team to provide nourishing, wholesome Qmin meals in association with Chef Sanjeev Kapoor and World Central Kitchen. Given the immense flooding in the region, the team has travelled via local waterways on canoes, rafts and vel – boats made of banana trees – to access people in distant villages.

This community-focused initiative is a part of IHCL's long-term commitment to drive its sustainability and social impact measures under it ESG+ framework, Paathya.
About The Indian Hotels Company Limited

The Indian Hotels Company Limited (IHCL) and its subsidiaries bring together a group of brands and businesses that offer a fusion of warm Indian hospitality and world-class service. These include Taj – the iconic brand for the most discerning travellers and ranked as the World's Strongest Hotel Brand and India's Strongest Brand as per Brand Finance Hotels 50 Report 2022 and India 100 Report 2022, respectively; SeleQtions, a named collection of hotels; Vivanta, sophisticated upscale hotels; and Ginger, which is revolutionising the lean luxe segment.
Incorporated by the founder of the Tata Group, Jamsetji Tata, the Company opened its first hotel - The Taj Mahal Palace, in Bombay in 1903. IHCL has a portfolio of 240 hotels including 62 under development globally across 4 continents, 11 countries and in over 100 locations. The Indian Hotels Company Limited (IHCL) is India's largest hospitality company by market capitalization. It is primarily listed on the BSE and NSE.
Please visit: www.ihcltata.com; www.tajhotels.com; www.seleqtionshotels.com; www.vivantahotels.com; www.gingerhotels.com
For more information please write to: nairita.ghosh@ihcltata.com