The Indian Hotels Company Limited (IHCL) Signs a New Hotel in Bhubaneswar, Odisha
Strategic domestic expansion to drive growth momentum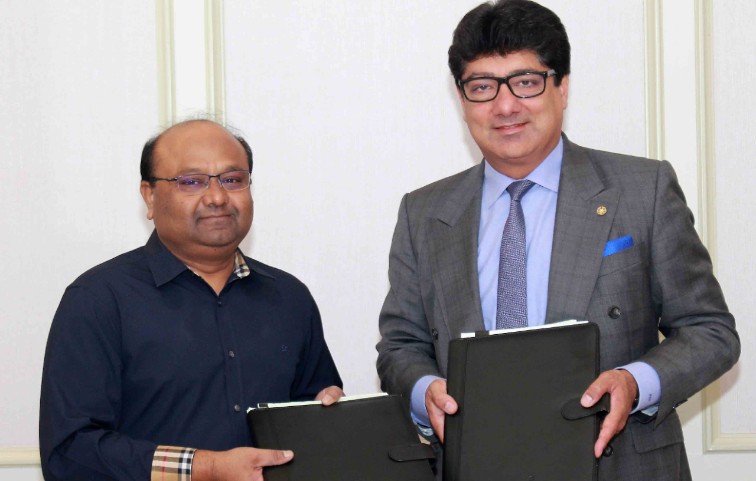 In the picture from left - Mr. Jagadish Prasad Naik, MD, Lifeline Multi-Ventures Pvt. Ltd. and Mr. Puneet Chhatwal, MD & CEO, IHCL
Mumbai, November 12, 2018:  The Indian Hotels Company Limited (IHCL), South Asia's largest and most iconic hospitality company, today announced its second hotel in Odisha with the signing of a new Vivanta hotel in Bhubaneswar through a management contract with Lifeline Multi-Ventures Private Limited. This signing is in line with the Company's strategic expansion plans for driving aggressive growth.
Commenting on the signing, Mr. Puneet Chhatwal, Managing Director and Chief Executive Officer, IHCL said, "The signing of Vivanta Bhubaneswar is in line with Aspiration 2022 and our domestic expansion strategy of consolidating presence in key capital cities. Bhubaneswar has emerged as one of the fast-growing, important trading and commercial hubs in Odisha and eastern India. It offers immense potential for both leisure and business travellers. We are delighted to partner with Lifeline Multi-Ventures Private Limited for this hotel."
Vivanta Bhubaneswar located at Patrapada in Kalinga Nagar is part of DN Regalia Mall, a mixed use development. The hotel will comprise 137 well-furnished guest rooms and other features including multi-cuisine restaurants, recreation facilities, modern meeting spaces, well equipped conference rooms and banqueting facilities. It is slated to open in early 2020
Commenting on the partnership, Mr. Jagadish Prasad Naik, Managing Director, Lifeline Multi -Ventures Private Limited said "We are proud to partner with IHCL. We are delighted that through this association with the pioneers of the Indian hospitality industry, we are introducing the Vivanta brand to Bhubaneswar."
Bhubaneswar is the administrative, political and financial capital of Odisha. It is one of modern India's first planned and fastest-developing cities. Bhubaneswar is also an emerging information technology (IT) and education hub. The city is supposed to have over 1000 temples, earning it the tag of 'Temple City of India'. With Puri and Konark it forms the Swarna Tribhuja ("Golden Triangle"), one of eastern India's most visited destinations.
About Lifeline Multi - Ventures Private Limited 
Lifeline Multi-Ventures Private Limited is a wholly owned subsidiary of DN Homes, which is one of the largest, most prestigious real estate developers of Odisha. D. N. Homes which was launched in 2003 has had several successful ventures to their credit in last 15 years. Their work spans across development of schools, residential complexes, commercial and retail projects.
About The Indian Hotels Company Limited
The Indian Hotels Company Limited (IHCL), and its subsidiaries, bring together a group of brands and businesses that offer a fusion of warm Indian hospitality and world-class service. These include Taj –the hallmark of iconic hospitality, Vivanta  with its collection of sophisticated upscale hotels, and Ginger which is revolutionizing the lean luxury segment.
Incorporated by the founder of the Tata Group, Jamsetji Tata, the Company opened its first hotel - The Taj Mahal Palace, in Bombay in 1903. IHCL operates 170 hotels including 25 under development globally across 4 continents, 12 countries and in over 80 locations.  
The Indian Hotels Company Limited (IHCL) is amongst South Asia's largest Indian hospitality company by market capitalization. It is primarily listed on the BSE and NSE.
Please visit www.theindianhotels.com; www.tajhotels.com; www.gingerhotels.com
For more information, please contact:  rakhee.lalvani@tajhotels.com