IHCL REPORTS 85% REVENUE GROWTH AT RS. 1134 CRORE IN Q3 FY 2021-22
~ POSTS PROFIT AFTER TAX OF RS. 76 CRORE IN Q3 FY 2021-22
~ 30.4% EBITDA MARGIN IN Q3 FY 2021-22
MUMBAI, FEBRUARY 1, 2022: The Indian Hotels Company Limited (IHCL) reported its consolidated financials for the third quarter ending December 31st, 2021.
Revenues up by 85% to Rs. 1134 crore in Q3 FY 2021-22 vs Q3 FY 2020-21
EBITDA improves by 805% to Rs. 344 crore in Q3 FY 2021-22 vs Q3 FY 2020-21 resulting in 30.4% EBITDA Margin for the quarter
Reports PAT of Rs. 76 crore in Q3 FY 2021-22
Signs five new hotels including two SeleQtions hotels in Jaisalmer and Bhubaneswar, and three Ginger hotels in Coimbatore, Dehradun and Goregaon
Opened three new hotels across brands including:

-Taj Lakefront, Bhopal at a landmark location in the heart of the city
-Strengthened presence in the North East with the launch of Vivanta Sikkim in Pakyong
-Expanded presence in East India with the launch of Raajkutir, an IHCL SeleQtions hotel, in Kolkata

The amã Stays & Trails homestay portfolio grew to 72 bungalows across the country
IHCL achieves milestone of 50 years of managing the iconic Taj Lake Palace, Udaipur
Qmin, IHCL's culinary and food delivery platform, expanded its presence with 11 Qmin outlets in Bengaluru and two Qmin gourmet stores in New Delhi
Received global awards across categories at the Worldwide Hospitality Awards 2021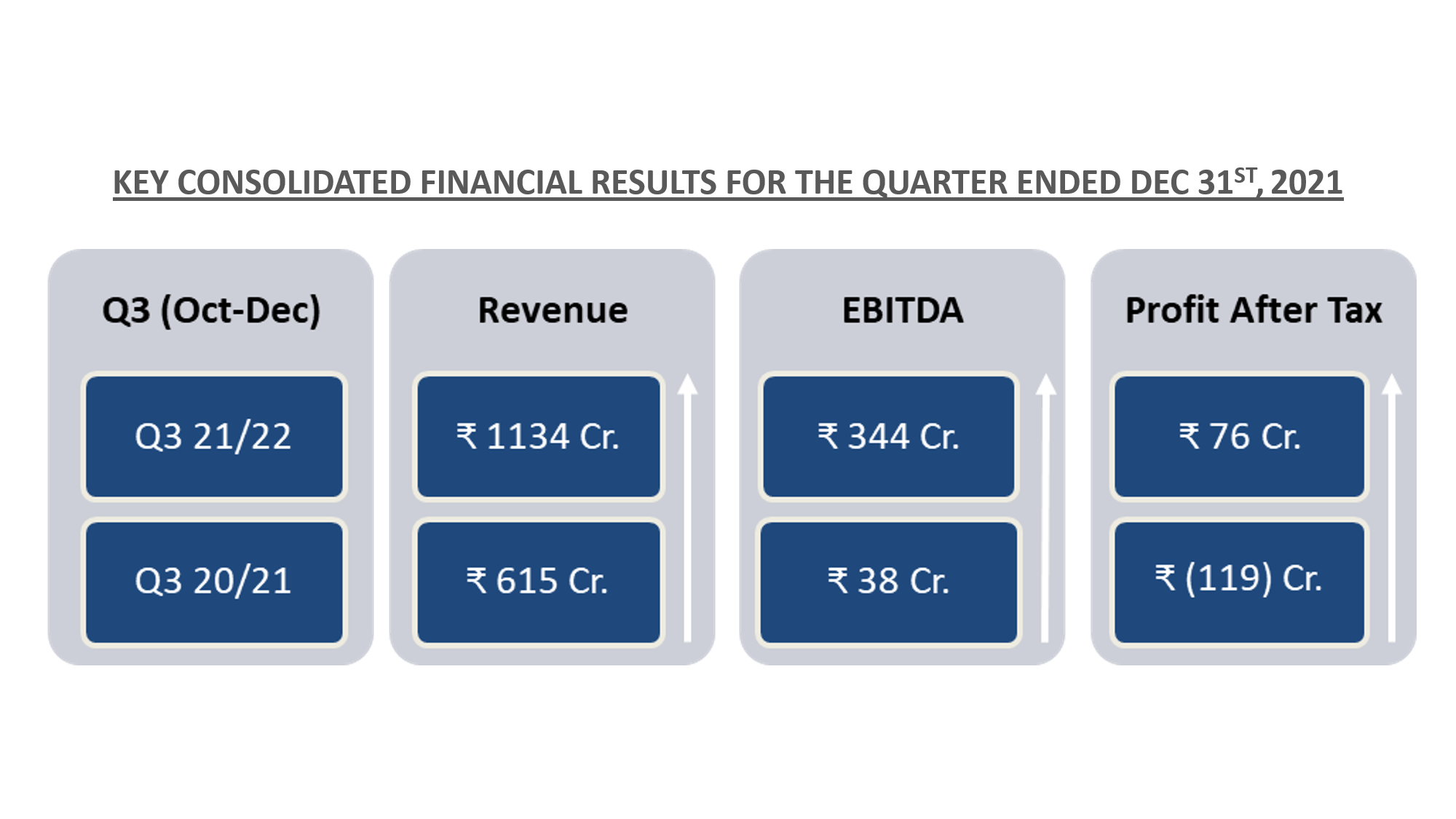 Mr. Puneet Chhatwal, Managing Director and Chief Executive Officer, IHCL, said, "The momentum of quarter-on-quarter growth has continued in the third quarter led by the upswing in domestic demand and recovery in international markets. IHCL reported a Profit After Tax of Rs. 76 crore in Q3 for the first time in this fiscal. With an EBITDA Margin of 30.4% in Q3, the company's performance is closely reflective of pre-COVID levels. We will continue to strengthen our portfolio and growing the new businesses while maintaining our asset light strategy."

Despite the ongoing challenges of the pandemic, IHCL continues on its path of business expansion and consolidation with the acquisition of the balance shares of Roots Corporation Limited.

Mr. Giridhar Sanjeevi, Executive Vice President and Chief Financial Officer, IHCL, said, "IHCL has maintained a strong performance with a significant increase of 85% in revenue this quarter compared to corresponding quarter in the previous year. We have also deployed the recent equity raised through the rights issue to retire debt as per the objects of the issue, thereby strengthening IHCL's objective of being a zero-debt company in the long term."
About The Indian Hotels Company Limited

The Indian Hotels Company Limited (IHCL) and its subsidiaries bring together a group of brands and businesses that offer a fusion of warm Indian hospitality and world-class service. These include Taj – the iconic brand for the most discerning travelers and the World's Strongest Hotel Brand as per Brand Finance 2021, SeleQtions, a named collection of hotels, Vivanta, sophisticated upscale hotels and Ginger, which is revolutionising the lean luxe segment.
Incorporated by the founder of the Tata Group, Jamsetji Tata, the Company opened its first hotel - The Taj Mahal Palace, in Bombay in 1903. IHCL has a portfolio of 232 hotels including 61 under development globally across 4 continents, 12 countries and in over 100 locations. The Indian Hotels Company Limited (IHCL) is India's largest hospitality company by market capitalization. It is primarily listed on the BSE and NSE.
Please visit: www.ihcltata.com ; www.tajhotels.com ; www.seleqtionshotels.com ; www.vivantahotels.com ; www.gingerhotels.com
For more information, please contact: Parinita.Gawri@ihcltata.com, Kirti.Dhingra@ihcltata.com
ANNEXURE I

OTHER HIGHLIGHTS OF Q3 FY 2021-22
IHCL has opened three new hotels across brands including:
Taj Lakefront, Bhopal at a landmark location in the heart of the city
Continued commitment to harness the tourism potential of the North East by stepping into Sikkim with Vivanta Sikkim in Pakyong
Further expanded presence in East India with the launch of the heritage-inspired Raajkutir – IHCL SeleQtions in Kolkata
IHCL signed five new hotels across its SeleQtions and Ginger brands:

Two SeleQtions hotels including Gorbandh Palace in Jaisalmer and one in Bhubaneswar
Ginger continued on its path of rapid growth with the signing of three new hotels in Coimbatore, Dehradun and Goregaon

The amã Stays & Trails homestay portfolio is now 72 bungalows including the recent launch of a bungalow in Kolkata and new signings in Chandigarh, Gurgaon, Kanha, Kochi and Lonavala

Launched two new Qmin stores at The Connaught and Ambassador – IHCL SeleQtions hotels in New Delhi and 11 new Qmin outlets in Bengaluru. Qmin is present in 20 cities delivering from over 90 IHCL restaurants across India

IHCL has collaborated with the Confederation of Indian Industry (CII) and EHL Education Group, Switzerland to offer a Professional Diploma Program to hospitality industry students at CII's Vocational Education and Training by EHL (VET by EHL) Learning Centres across India

IHCL announced 100 per cent placement of Institute of Hotel Management, Aurangabad (IHM-A) graduating class of 2020

With the continued focus on increasingly adopting sustainable practices, amã Stays & Trails has collaborated with Tata Power to install EV charging points at its villas and bungalows
ANNEXURE II
AWARDS AND RECOGNITION
IHCL has been recognized across categories at the global Worldwide Hospitality Awards 2021
The Taj Mahal Palace, Mumbai was awarded Best Iconic Asset
Qmin, IHCL's culinary and food delivery platform, received Best Team Achievement
The IHCL Goa team was awarded Best Team Achievement
INNERgise by Jiva Spa achieved the Best Wellness Experience award
10 IHCL hotels were recognized across categories in the Conde Nast Traveler 2021 Readers' Choice Awards

Top 15 Hotels in India

- Taj Lake Palace, Udaipur
- Taj Palace, New Delhi
- The Taj Mahal Palace, Mumbai
- Rambagh Palace, Jaipur
- Taj Fateh Prakash, Udaipur
- Umaid Bhawan Palace, Jodhpur

The Pierre, New York was listed in the Top Hotels in New York City and 36 Best Hotels in New York City
Taj Exotica Resort & Spa, Goa featured in the Top 25 Resorts in Asia
Taj Dubai featured in the Top 20 Hotels in the Middle East
Taj Jumeirah Lakes Towers, Dubai featured in the Top 20 Hotels in the Middle East
Umaid Bhawan Palace, Jodhpur featured in the coveted Conde Nast Traveller Gold List 2022
The Taj brand has been recognized as the Best Business Hotel Brand In India in the Business Traveller Awards 2021