IHCL'S LUXURY LIFESTYLE STORE, KHAZANA, AND TATA TRUSTS' ANTARAN JOIN HANDS
~ Present a curated exhibit of handlooms from across India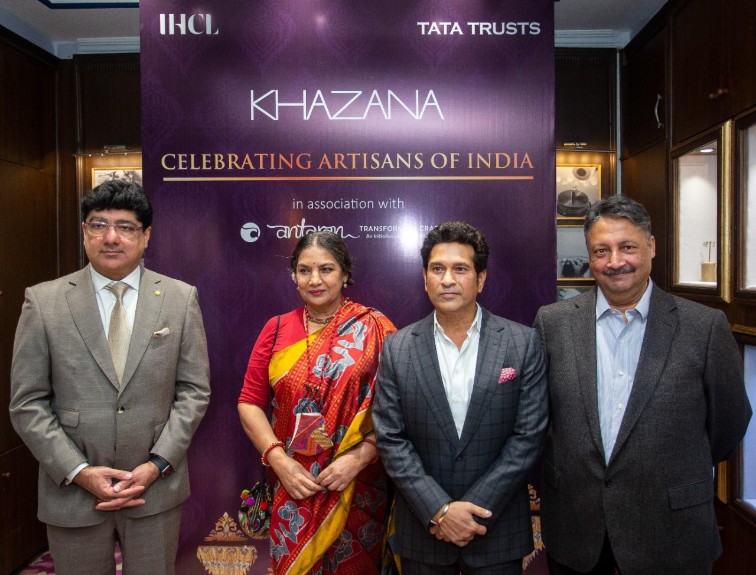 Left to right: Puneet Chhatwal, Managing Director and Chief Executive Officer, IHCL; Shabana Azmi; Sachin Tendulkar; N. Srinath CEO, Tata Trusts at the Khazana store at Taj Lands End, where the curated exhibit of handlooms was unveiled
MUMBAI, AUGUST 12, 2021, 2021: Indian Hotels Company (IHCL), South Asia's largest hospitality company's luxury lifestyle store, Khazana, announced its partnership with Antaran - Transforming Crafts; Tata Trust's Craft-Based Livelihood Programme. For over four decades, Khazana has provided a platform to showcase India's rich heritage of traditional art, craft and textiles. Antaran works towards strengthening the ecosystem and empowering entrepreneurship and self-employment of artisans from lesser known craft clusters in the country. This unique collaboration between Khazana and Antaran furthers the intent to impact the livelihood of thousands of weavers across Odisha, Assam, Nagaland and Andhra Pradesh.

Speaking on the occasion Puneet Chhatwal, Managing Director and Chief Executive Officer, IHCL said, "This partnership is in line with IHCL's commitment of giving back to the community. Khazana celebrates the boundless creativity of Indian craftsmen and showcases the work of local artisans to a discerning global audience while providing sustainable livelihoods. We are delighted to partner with Antaran in helping to further the cause of supporting traditional crafts of the country."

A curated exhibit of Indian handlooms inaugurated at Khazana at Taj Lands End, Mumbai presented a handpicked collection of masterpieces created using traditional weaves of the regions. This will soon be available in other Khazana stores. Khazana with its wide footprint operates 17 luxury lifestyle stores across nine cities with three stores opening soon in Chennai, Shimla and Bhopal.

At the launch of the showcase N. Srinath CEO, Tata Trusts said, "Tata Trusts' Antaran initiative was established to shine a spotlight on hidden clusters of unique craft-forms across the country. In everything we do, our goal is to empower artisans through education, exposure and access to markets, such that they can build enduring sources of income. This partnership will offer these fine products, the true khazana of Indian heritage and culture, an audience hitherto untapped".
Initiated to bring seminal changes in craft development, Tata Trusts' Antaran has in the past three years, nurtured around 1,507 artisans and has created 147 micro-enterprises across its six regions. The intervention aims to directly benefit 3,000 households involved in pre-loom, on-loom and post-loom processes, while also impacting the livelihood of thousands of other weavers in these regions. This unique initiative also presents designers and buyers an opportunity for creative collaboration with weavers.
To know more, please visit here.
About The Indian Hotels Company Limited

The Indian Hotels Company Limited (IHCL) and its subsidiaries bring together a group of brands and businesses that offer a fusion of warm Indian hospitality and world-class service. These include Taj – the iconic brand for the most discerning travelers and the World's Strongest Hotel Brand and India's Strongest Hospitality Brand as per Brand Finance 2021, SeleQtions, a named collection of hotels, Vivanta, sophisticated upscale hotels and Ginger, which is revolutionising the lean luxe segment.
Incorporated by the founder of the Tata Group, Jamsetji Tata, the Company opened its first hotel - The Taj Mahal Palace, in Bombay in 1903. IHCL has a portfolio of 221 hotels including 53 under development globally across 4 continents, 12 countries and in over 100 locations. The Indian Hotels Company Limited (IHCL) is South Asia's largest hospitality company by market capitalization. It is primarily listed on the BSE and NSE.
Please visit: 

For more information, please contact: rakhee.lalvani@ihcltata.com
About Tata Trusts
Since inception in 1892, Tata Trusts, India's oldest philanthropic organisation, has played a pioneering role in bringing about an enduring difference in the lives of the communities it serves. Guided by the principles and the vision of proactive philanthropy of the Founder, Jamsetji Tata, the Trusts' purpose is to catalyse development in the areas of health, nutrition, education, water, sanitation and hygiene, livelihood, digital transformation, migration and urban habitat, social justice and inclusion, environment and energy, skill development, sports, and arts and culture. The Trusts' programmes, achieved through direct implementation, partnerships and grant making, are marked by innovations relevant to the country. For more information, please visit www.tatatrusts.org   
LinkedIn: Tata Trusts; Twitter: @tatatrusts; Facebook: Tata Trusts; Instagram: tata_trusts
About Antaran  
An initiative by Tata Trusts to bring seminal changes in craft development, beginning with the Handloom sector, designed to transform traditional crafts through a multidimensional approach for technical, design, enterprise and market development interventions to strengthen craft based livelihoods. Antaran creates awareness about the rich heritage of Indian handloom and handicrafts, bring due recognition and returns to traditional artisans for their unique skills through a five-year program through Incubation & Design Centres for handloom development in select lesser known clusters of Assam, Nagaland, Odisha and Andhra Pradesh. These Centres work as education and business development hubs for artisans, enabling them to be designer-weavers and build a community of micro-entrepreneurs across the handloom value chain in each region.
Media Contact:

Nayantara Dutta, Tata Trusts, ndutta@tatatrusts.org +91 9819052768
Prerna Jain, Current Global, PJain@CurrentGlobal.com +91 970202224