IHCL Expands Presence in Uttar Pradesh with the Signing of A Vivanta Hotel in Gorakhpur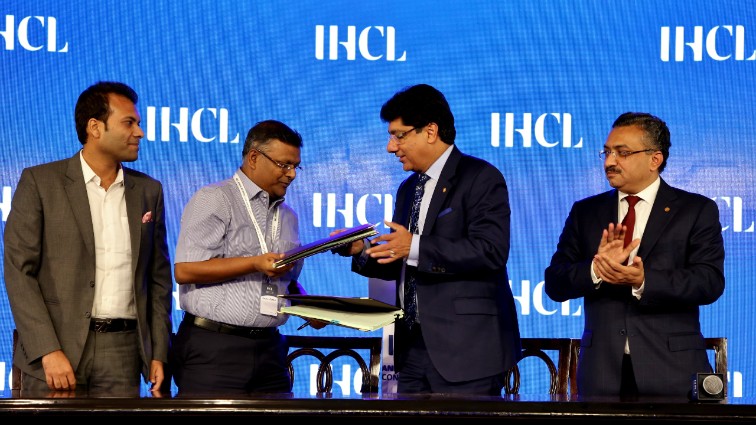 In the picture from left - Mr. Mayank Agarwal, Mr. Shobhit Agarwal, Partners at AD Estate Developers, Mr. Puneet Chhatwal, Managing Director & Chief Executive Officer, IHCL and Mr. Rajendra Misra, Executive Vice President & General Counsel, IHCL
Mumbai, May 23, 2019: The Indian Hotels Company Limited (IHCL), South Asia's largest hospitality company, today announced the signing of a new Vivanta branded hotel in Gorakhpur, Uttar Pradesh.  This hotel is owned by AD Estate Developers under a management contract by Vivanta.
Commenting on the signing of this agreement, Mr. Puneet Chhatwal, Managing Director and Chief Executive Officer, IHCL said "Gorakhpur's hospitality market is in its nascent stage, enabling IHCL to have an early mover's advantage to capture the growing lodging demand in the city.  We are pleased to partner with AD Estate Developers in bringing the Vivanta brand to Gorakhpur."
Vivanta Gorakhpur will be part of a mixed-use development project. The hotel will comprise 110 guest rooms and other features including multi-cuisine restaurants, recreation facilities and modern meeting spaces. It is slated to open in 2022.  
Commenting on the partnership, Mr. Shobhit Agarwal, Partner, AD Estate Developers said "We are proud to partner with IHCL, a company renowned as the pioneers of the Indian hospitality industry."
Gorakhpur is a city situated along the banks of the Rapti River in the north-eastern part of Uttar Pradesh. It is conveniently located near the Nepal border and is a famous religious centre. It is home to many historic Buddhist sites.
Vivanta Gorakhpur will be the 13th IHCL branded hotel in Uttar Pradesh, strengthening the company's presence in the state.
About AD Estate Developers
AD Estate Developers, is a joint venture between Gallantt group and Mr Shobhit Agarwal. Gallantt group is a diversified group involved in steel and power manufacturing. It consists of 2 integrated steel plants with a captive power plant at Kutch, Gujarat and Gorakhpur, Uttar Pradesh. It is a public listed company listed on both the premier Stock Exchanges of India i.e. BSE & NSE. Gallantt has ventured into real estate with its housing project in Lucknow.
Mr. Shobhit Agarwal is a prominent developer based in Gorakhpur. They have completed several prominent retail, commercial and housing development projects in and around Gorakhpur under the brand name "Gemini". He is also the President of CREDAI, a renowned body of real estate developers. Recently they have also opened Hotel Sarovar Portico in the city, which is part of a premium mixed-use development.
About The Indian Hotels Company Limited (IHCL)
The Indian Hotels Company Limited (IHCL) and its subsidiaries bring together a group of brands and businesses that offer a fusion of warm Indian hospitality and world-class service. These include Taj – the hallmark of iconic hospitality, SeleQtions, a named collection of hotels, Vivanta, sophisticated upscale hotels and Ginger which is revolutionizing the lean luxe segment.
Incorporated by the founder of the Tata Group, Jamsetji Tata, the Company opened its first hotel - The Taj Mahal Palace, in Bombay in 1903. IHCL operates 179 hotels including 30 under development globally across 4 continents, 12 countries and in over 80 locations.  
The Indian Hotels Company Limited (IHCL) is South Asia's largest Indian hospitality company by market capitalization. It is primarily listed on the BSE and NSE.
Please visit:
www.ihcltata.com; www.tajhotels.com; www.seleqtionshotels.com; www.vivantahotels.com; www.gingerhotels.com;
Follow Taj 
   I Follow Ginger 
I Follow SeleQtions 
For more information, please contact:  rakhee.lalvani@ihcltata.com