IHCL Unveils Jaagir Manor: A Luxurious Retreat in Dudhwa, Uttar Pradesh
~ A slice of luxury within the forests of the Terai Himalayas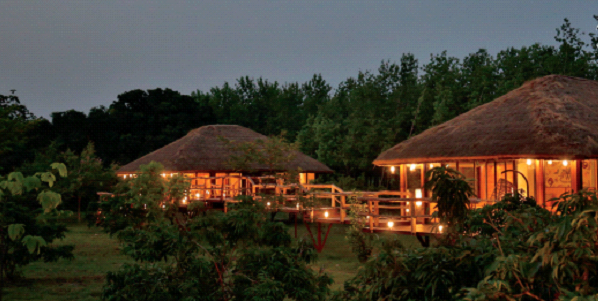 MUMBAI, JANUARY 12, 2023: Indian Hotels Company (IHCL), India's largest hospitality company, today marked its debut in Dudhwa, Uttar Pradesh with the opening of Jaagir Manor – a SeleQtions hotel. With design inspired by Victorian elegance, the hotel is a serene oasis in the heart of the rainforests of the Terai Himlayas bordering Nepal.
Commenting on the occasion, Mr. Puneet Chhatwal, Managing Director and Chief Executive Officer, IHCL, said, "IHCL has always been a pioneer of positioning new and lesser explored destinations on the tourism map. Located within the Dudhwa wildlife corridor, Jaagir Manor brings alive yet another hidden gem of India and opens the gateway for travelers to embrace nature at its best. We are delighted to announce the opening of this SeleQtions hotel and believe that this will tap into the immense tourism potential of this location."

Featuring a combination of heritage rooms dating back to the 1940's and luxury villas, the 20-room hotel is nestled within tranquil orchards and surrounding forests. Located at a comfortable driving distance from Lucknow, guests can delight in a leisurely vacation away from the bustle of the city or embark on an adventure to explore all that the destination has to offer. From glocal and Indian delicacies at the all-day diner, The Pavilion, to intimate barbeque evenings, Jaagir Manor's culinary offerings will satiate one's tastebuds. Guests can also indulge in a variety of experiences ranging from organic farm excursions, to meeting the local Tharu Tribe, private game drives, and a trip to the Nepal border among others.

Speaking about the opening, Mr. Kamaljit Singh & Mrs. Deepi Singh, Owners of Dudhwa Adventure Resorts Pvt. Ltd., said, "IHCL, with its legacy of warm Indian hospitality, has always accelerated tourism in the regions they step into. The opening of Jaagir Manor in partnership with IHCL will further leverage the unique offerings of Dudhwa."

Located in the northern state of Uttar Pradesh, the Dudhwa wildlife corridor, which stretches across over 490 square miles of untamed jungles that encompass four distinct forest fragments, is home to several species of mammals and birds. It is known for its rich wildlife and flora and fauna and is a wildlife lover's paradise. 

With the addition of this hotel, IHCL will have 17 hotels across brands in the state of Uttar Pradesh including seven under development.

To know more please visit: https://www.seleqtionshotels.com/ 

About The Indian Hotels Company Limited
The Indian Hotels Company Limited (IHCL) and its subsidiaries bring together a group of brands and businesses that offer a fusion of warm Indian hospitality and world-class service. These include Taj – the iconic brand for the most discerning travellers and ranked as the World's Strongest Hotel Brand and India's Strongest Brand as per Brand Finance Hotels 50 Report 2022 and India 100 Report 2022, respectively; SeleQtions, a named collection of hotels; Vivanta, sophisticated upscale hotels; and Ginger, which is revolutionising the lean luxe segment.
Incorporated by the founder of the Tata Group, Jamsetji Tata, the Company opened its first hotel - The Taj Mahal Palace, in Bombay in 1903. IHCL has a portfolio of 252 hotels including 67 under development globally across 4 continents, 11 countries and in over 100 locations. The Indian Hotels Company Limited (IHCL) is India's largest hospitality company by market capitalization. It is primarily listed on the BSE and NSE.
Please visit: www.ihcltata.com; www.tajhotels.com; www.seleqtionshotels.com; www.vivantahotels.com; www.gingerhotels.com
For more information, please reach out to:  kirti.dhingra@ihcltata.com