Elevate Your Workspace with AMA: Grab a Desk with a View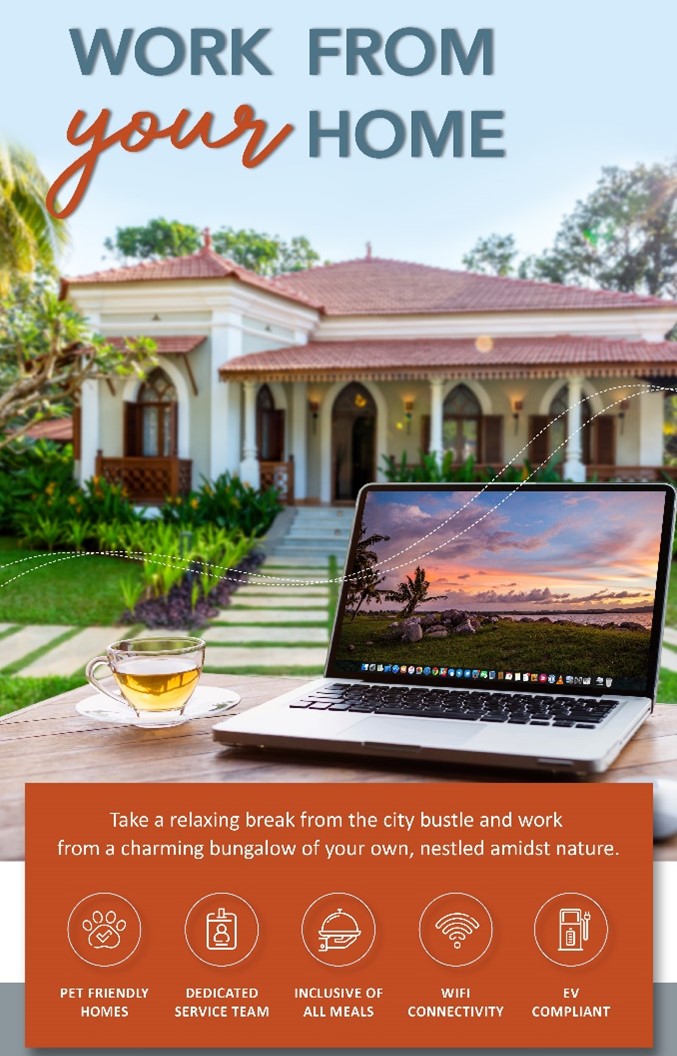 MUMBAI, JANUARY 13, 2022: With the lines between work and leisure increasingly blurring as people are confined to their homes, there is a growing demand for private working environs that allow one to balance the two. With the new Work From Your Home offer by amã Stays & Trails, guests can now remotely work from breath-taking destinations while spending quality time with their loved ones including their furry friends, all in the safety of their exclusive amã Stays & Trails bungalows.
While each of the private villas offer all the modern trappings required for a seamless day of productivity including high-speed internet connectivity – here the work desk comes with a view. Be it the sound of the waves in the beachside town of Goa or cozied up in the chill of the mist-laden hills of Coorg and Munnar or overlooking beautiful pristine vistas in Lonavala and Alibaug – there is something for everyone.
With their own dedicated staff, each pet-friendly bungalow is a safe sojourn in itself, offering immersive experiences and the joys of slow living while connecting with nature. Guests can bask in the simple delights of home-cooked meals, backyard picnics and long walks, as well as immerse themselves in authentic local experiences, all while maintaining work-life harmony.
What makes the amã Stays & Trails properties even more ideal is that they are all located at drivable distances from key cities, making them just an easy road trip away. Each of the bungalows are equipped with EV charging points for guests to recharge their electric vehicles, making these driving vacations even more accessible for all while having a low travel carbon footprint.
Guests can now avail of special discounts based on the length of stay beginning at 15 per cent for a minimum stay of seven nights upto 50 per cent for a minimum stay of 30 nights with the Work From Your Home offer. With this offer, guests can book their exclusive amã Stays & Trails luxury villas and heritage bungalows till 31st January, 2022 for stays until 30th September, 2022.
For more details, please visit here. 
About amã Stays & Trails 
A new concept of homestays from The Indian Hotels Company Limited (IHCL), amã Stays & Trails homestays are present across multiple destinations in Goa, Haryana, Himachal Pradesh, Karnataka, Kerala, Madhya Pradesh, Maharashtra, Punjab, Rajasthan, Tamil Nadu, Uttarakhand and West Bengal. With the addition of the new bungalows, the brand currently has a portfolio of 72 bungalows with 32 under development. From living the simple life in heritage bungalows at pristine locations to discovering untouched trails and local cuisine, amã Stays & Trails is your home away from home. 
Please visit: www.amastaysandtrails.com