Discover Authentic Experiences Rooted in the Rich Traditions of India With Jiva Spas at Taj Hotels Palaces Resorts Safaris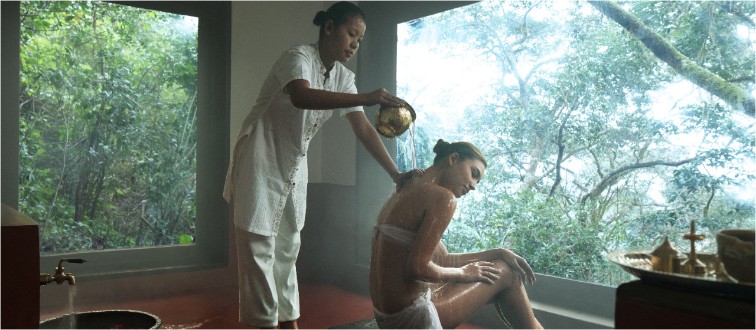 5 April, 2018 – Drawing inspiration from centuries-old traditions of wellness in India, Taj Hotels' signature Jiva Spas offer holistic sanctuaries in environments that lend themselves to overall well-being.  From elaborate palaces to the mountains of Bhutan and the rainforest in Coorg to experiences surrounded by water in the Maldives, Udaipur and the backwaters of Kerala, the time-tested therapies and rituals at Jiva Spas harken back to royal heritage and ancient Indian spiritual remedies.
Jiva Spa Boat at the renowned Taj Lake Palace, Udaipur, and an experience reflective of the lavish lifestyle of the royal family of Udaipur awaits. At Taj Exotica Resort & Spa, Maldives, guests can partake in a signature mud bathing experience in the Alepa Pavilion and an enlightening yoga and meditation session set against blue skies and turquoise waters of the Indian Ocean. Kerala, renowned for the ancient Indian holistic science of Ayurveda, is home to the 165,000 square-foot Jiva Grande Spa with a dedicated Ayurveda Centre at Taj Bekal Resort & Spa bordered by the Arabian Sea and palm-fringed backwaters.
At Jiva Spa at Taj Tashi in the mountainous Kingdom of Bhutan, the traditional Bhutanese Hot Stone baths are a unique experience involving wood-fired river stones that release minerals into the water and offer a soothing physical and mental calmness.  Taj Madikeri Resort & Spa, Coorg in Southwest India with spectacular views of a rainforest, offers the signature Gudda Bath, inspired by rituals undertaken in local households, where the water used for bathing is heated in a "Gudda" or copper vessel over a wood-fire.
A unique highlight at the Jiva Spa at Taj Usha Kiran Palace in Gwalior is the Mangal Snan, a saffron-infused royal bath accompanied by live classical music akin to ancient royal traditions where it was undertaken before an important coronation or wedding ceremony.
For more details on Jiva Spas, visit: https://jivaspa.tajhotels.com/
About Taj Hotels Palaces Resorts Safaris
Established in 1903, the iconic Taj Hotels Palaces Resorts Safaris is Indian Hotels Company Limited's (IHCL) brand for the world's most discerning travellers seeking authentic experiences in luxury. From world- renowned landmarks to modern business hotels, idyllic beach resorts to authentic Grand Palaces, each Taj hotel offers an unrivalled fusion of warm Indian hospitality, world-class service and modern luxury. The unique portfolio comprises 100 hotels across 62 locations around the globe including presence in India, North America, United Kingdom, Africa, Middle East, Malaysia, Sri Lanka, Maldives, Bhutan and Nepal. For over a century, The Taj Mahal Palace, Mumbai, the crown jewel has set a benchmark for fine living with exquisite refinement, inventiveness and warmth. Taj Hotels Palaces Resorts Safaris is part of the Tata Group, India's premier business house. Vivanta provides new generation travellers a contemporary and creative hospitality experience that matches their work-hard, play-hard lifestyles. 
The Gateway Hotel welcomes guests to a refreshingly enjoyable and hassle-free experience, anytime, everywhere, offering the highest consistency in quality, service and style. 
Taj Hotels Palaces Resorts Safaris is the flagship brand of Indian Hotels Company Limited (IHCL). IHCL also operates hotels in the economy segment with the Ginger brand, a pioneer in the branded budget hotel space in India and also it's largest. Indian Hotels Company Limited runs TajSats Air Catering, a joint venture of the Indian Hotels Company, and SATS (formerly known as Singapore Airport Terminal Services), the market leader in airline catering, providing inflight catering at key cities
Follow Taj Hotels Palaces Resorts Safaris



For more information, please contact rakhee.lalvani@tajhotels.com​