Celebrate the Holy Month of Ramadan with the Taj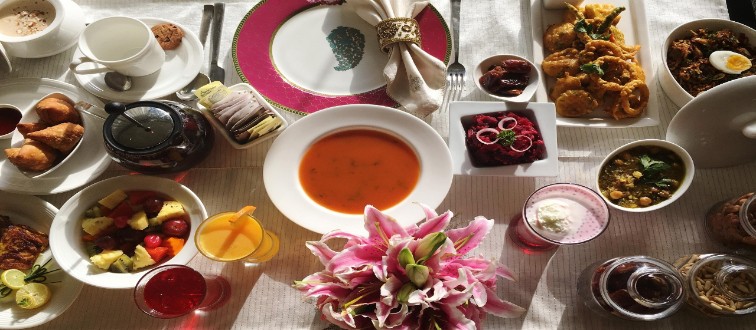 Mumbai, May 24, 2018: This Ramadan, the iconic Taj Hotels offers Iftar menus with modern flair across its hotels, making them the perfect place to spend the holy month with family and friends.
Guests can start their meal in the evening with dates, fruits, crudités and nuts while sipping on some refreshing sherbet; making way to delectable kebabs, biryanis and sumptuous desserts. The signature dishes include an assortment of appetizers including Chicken cutlet in Mapla, Samak Meshwi and Lebanese delicacies like Hummus, Fattoush, and Falafel.  The array of  main course options include Bamia Bil Lahm -an Egyptian lamb stew, Kabsa Bil Dijaj -a flavourful rice with chicken from Saudi Arabia and Mutton Khichda for the meat lovers. The quintessential Iftar meal concludes on a sweet note with a wide array of desserts such as Omali, Shahi Tukda, Baklava and K'nafi Jibni.
With spectacular dining venues such as Souk at The Taj Mahal Palace, Mumbai, Anise at Taj Coromandel, Chennai, Mynt at Taj West End, Bangalore, Adaa at Taj Falaknuma Palace, Hyderabad and Bombay Brasserie at Taj Dubai among others; diners can enjoy a large selection of traditional delicacies inspired by local and international cuisines, as well as a wide variety of gourmet desserts for Iftar.
To find out more details on Ramadan specials, please visit www.tajdining.com
About Taj Hotels Palaces Resorts Safaris
Established in 1903, the iconic Taj Hotels Palaces Resorts Safaris is Indian Hotels Company Limited's (IHCL) brand for the world's most discerning travellers seeking authentic experiences in luxury. From world-renowned landmarks to modern business hotels, idyllic beach resorts to authentic Grand Palaces, each Taj hotel offers an unrivalled fusion of warm Indian hospitality, world-class service and modern luxury. The unique portfolio comprises 100 hotels across 62 locations around the globe including presence in India, North America, United Kingdom, Africa, Middle East, Malaysia, Sri Lanka, Maldives, Bhutan and Nepal.  Vivanta provides travellers a contemporary and creative hospitality experience that matches their bon-vivant lifestyles. The Gateway Hotel brand welcomes guests to a refreshingly enjoyable and hassle-free experience, anytime, everywhere, offering the highest consistency in quality, service and style.
For more information, please visit www.tajhotels.com