amã STAYS & TRAILS AND TATA POWER COLLABORATE TO CONTRIBUTE TOWARDS A GREENER TOURISM FUTURE BY SETTING UP EV CHARGING STATIONS
~ Over 30 amã Stays & Trails homestays across 11 destinations equipped with Tata Power EZ Charge Network
~ The move will cater to the changing requirements of environmentally-conscious consumers by reducing their travel carbon footprint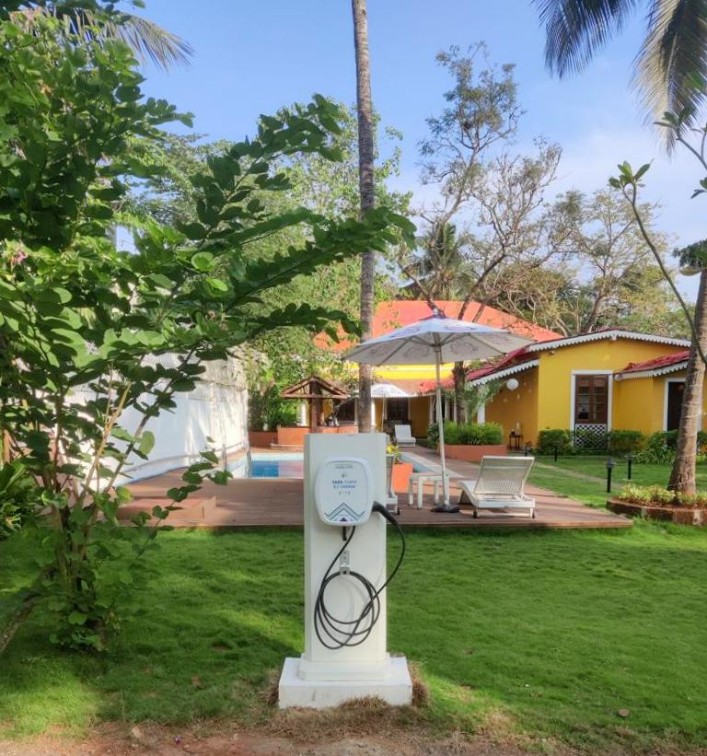 MUMBAI, DECEMBER 02, 2021: A rising demand for sustainable transport infrastructure has resulted in an increasing number of hospitality brands investing in electric vehicle (EV) charging points. With sustainability at the core of Indian Hotels Company (IHCL), the company's brand, amã Stays & Trails – India's first branded homestay portfolio, has collaborated with Tata Power – one of India's largest private sector integrated companies, to install EV charging points at over 30 of its villas and heritage bungalows across 11 destinations. This is a step forward in catering to the evolving needs of our environmentally conscious consumer customers by reducing their travel carbon footprint and embracing a more sustainable future.
This collaboration marks an important step for both flagship Tata Group Companies in furthering their commitment towards adopting more sustainable and cost-efficient business practices. Under the partnership, Tata Power EZ Charge has established EV chargers for guests staying at the amã Stays & Trails homestays, allowing them to recharge their electric vehicles easily. Guests can be assured of Tata Power's reliable and worry-free EV charging points within the comfort of their homestay, making driving vacations in their electric vehicles even more accessible while discovering breath-taking destinations with amã Stays & Trails.
With a portfolio of 59 heritage bungalows and villas including 23 in pipeline, amã Stays & Trails brings alive the local culture and heritage of the destination through authentic and immersive experiences. Now families and groups of friends can bond together in the exclusivity of beautiful bungalows and villas while enjoying a reliable and seamless EV charging experience courtesy of Tata Power.
Tata Power has deployed an extensive EV charging infrastructure with over 1000 EV charging points across 180 different cities under the EZ Charge brand along with a digital platform to facilitate an easy & smooth customer experience. This network of public EV charging stations provides innovative and seamless EV charging experiences for Tata Power's customers across Offices, Malls, Hotels, Retail Outlets, and places of public access, enabling clean mobility and freedom from range anxiety. Tata Power EZ Chargers ecosystem covers the entire value chain of Public chargers, Captive chargers, Bus/ Fleet chargers, and Home chargers. Tata Power has also developed a robust software platform for customers of EV charging and has released a mobile-based application (Tata Power EZ Charge) to give its consumers a simple and easy charging experience. The app helps in locating EV charging stations, charging EVs, and making bill payments online, making it one of its kind.
About amã Stays & Trails
A new concept of homestays from The Indian Hotels Company Limited (IHCL), South Asia's largest hospitality brand, amã Stays & Trails homestays are present across multiple destinations in Kerala, Tamil Nadu, Karnataka, Goa, Maharashtra, West Bengal, Uttarakhand, Himachal Pradesh and Rajasthan. With the addition of the new bungalows, the brand currently has a portfolio of 59 bungalows with 23 under development. From living the simple life in heritage bungalows at pristine locations to discovering untouched trails and local cuisine, amã Stays & Trails is your home away from home.
For more information, please visit:  www.amastaysandtrails.com
About Tata Power
Tata Power (NSE: TATAPOWER; BSE:500400) is one of India's largest integrated power companies and together with its subsidiaries and jointly controlled entities, has an installed / managed capacity of 13,068 MW. The Company has a presence across the entire power value chain - generation of renewable as well as conventional power including hydro and thermal energy, transmission & distribution, coal & freight, logistics, and trading.
The Company had developed the country's first Ultra Mega Power Project at Mundra (Gujarat) based on super-critical technology. With 4.2 GW of clean energy generation from solar, wind, hydro, and waste heat recovery accounting for 32% of the overall portfolio, the company is a leader in clean energy generation.
It has successful public-private partnerships in generation, transmission & distribution in India viz: Powerlink's Transmission Ltd. with Power Grid Corporation of India Ltd. for evacuation of Power from Tala hydro plant in Bhutan to Delhi, Maithon Power Ltd. with Damodar Valley Corporation for a 1,050 MW Mega Power Project at Jharkhand.
Tata Power is currently serving more than 12 million consumers via its Discoms, under public-private partnership model viz Tata Power Delhi Distribution Ltd. with Government of Delhi in North Delhi, TP Northern Odisha Distribution Limited, TP Central Odisha Distribution Limited, TP Western Odisha Distribution Limited, and TP Southern Odisha Distribution Limited with Government of Odisha.
With a focus on sustainable and clean energy development, Tata Power is steering the transformation an integrated solutions providers by looking at new business growth in distributed generation through rooftop solar and microgrids, storage solutions, EV charging infrastructure, ESCO, home automation & smart meters et al.
With its 107 years track record of technology advancements, project execution excellence, world-class safety processes, customer care, and green initiatives, Tata Power is well poised for multi-fold growth and is committed to lighting up lives for generations to come. For more information visit us at: www.tatapower.com