Intimate And Immersive Family Holidays With amã Stays & Trails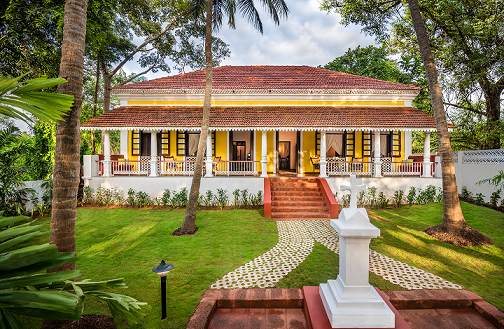 MUMBAI, AUGUST 20, 2020:Recreate the nostalgia of intimate family holidays with amã Stays & Trails group of heritage bungalows, guesthouses and homestays at unique locations across the country. Guests can unwind with unexplored experiential escapes in pristine locations in elegant homely comfort.
amã Stays & Trails offers a diverse range of destinations with authentic sights and sounds – the perfect recipe for a magical holiday. Nestled in the coffee plantations adorning the hills of Coorg, the vintage properties exude a colonial charm amid the irresistible natural beauty of the plantations. Take long walks; savour the coffee made from freshly ground beans; relish the local cuisine; run, play, explore and step out for sight-seeing and adventures. Hidden within the rainforests of Karnataka, Chikmagalur offers acres of green hills covered in coffee shrubs. A retreat here allows you to immerse yourself into a relaxed way of life,enjoying a cozy and comfortable bonfire with your friends and family after a long day.
For beach lovers, there are the soft sands, shimmering waters and swaying palms in Goa.Experience a classic Goan rendezvous amidst lush lanes, quaint churches, heritage homes and tropical fruit trees.Or guests can get a taste of God's Own Country at Alappuzha with its azure blue skies, untouched vegetation, palm fringed backwater canals and houseboats.
The latest addition to the amã Stays & Trails portfolio is Madh Island, a quaint fishing village amidst the hustle of Mumbai in Maharashtra. Madh Island is an oasis in the city that never sleeps, famous for breath-taking sunsets across the Arabian Sea.Seafood aficionados can rejoice at the freshest catch from the sea reaching the bay early in the morning, brought in by the Koli community – the ethnic descendants of Mumbai. 
For making a booking for your next dream holiday, visit www.amastaysandtrails.com
Every property has implemented additional stringent hygiene and safety protocols across all customer touchpoints, from pre-arrival to check-out whilst delivering its trademark Tajness through a renewed and restrengthened commitment. Visit here to get more information on Tajness - A Commitment Restrengthened.
A new concept of homestays from Indian Hotels Company (IHCL), South Asia's largest hospitality brand, amã Stays & Trails homestays are present across Coorg, Chikmagalur, Goa, Alapuzzha and now Mumbai. With the addition of Madh Island, the brandhas a portfolio of 20 bungalows.From living the simple life in heritage bungalows at pristine locations to discovering untouched forest trails and local cuisine, an amã Stays & Trails holiday takes you back to the basics.
Please visit:  www.amastaysandtrails.com
For more information, please contact:  rakhee.lalvani@ihcltata.com

Follow us on social media:
Follow IHCL         
The Indian Hotels Company Limited (IHCL)
Follow amã Stays & Trails      
@amã Stays & Trails |
  @amã Stays & Trails |
 @amã Stays & Trails