IHCL Announces The Opening Of Taj Skyline In Ahmedabad,Gujarat
~ Brings luxury hospitality to the dynamic city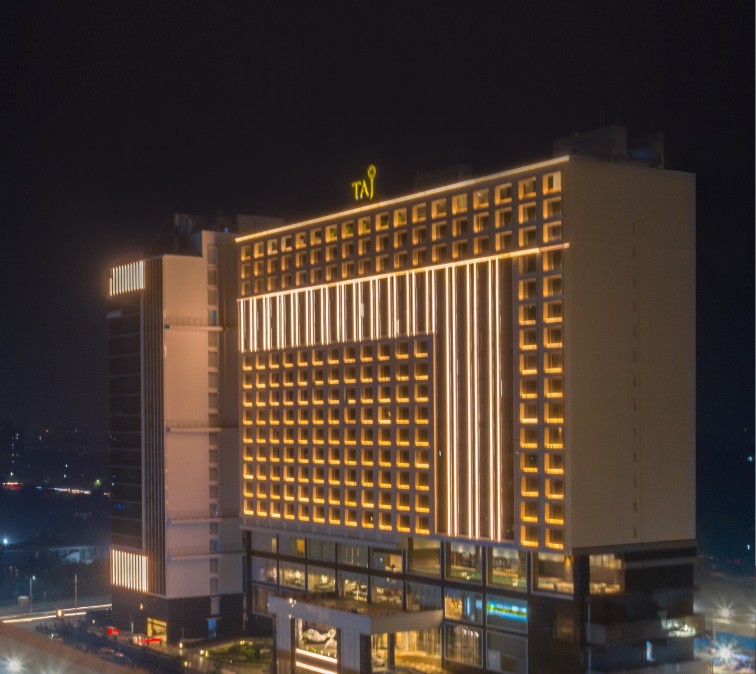 MUMBAI, DECEMBER 1, 2020: Indian Hotels Company's (IHCL) iconic brand, Taj, today announced the opening of its new hotel in Ahmedabad, Gujarat. Soaring over 18 storeys, Taj Skyline will be an elegant addition to Ahmedabad's historic and modern architectural landmarks in the city.
Mr. Puneet Chhatwal, Managing Director and Chief Executive Officer, IHCL, said, "With Taj Skyline, IHCL's marquee brand, Taj, steps into Ahmedabad, which is an extremely important industrial and economic hub in India. This further strengthens our aim to be present at all significant business locations across the country. We look forward to extending our unparalleled service ethos, which has defined us for over a century, to the city of Ahmedabad."

Strategically located at a comfortable driving distance from the airport, important commercial centres as well as Gandhinagar – the state capital, Taj Skyline is a 315-room contemporary luxury hotel offering panoramic views of the city's skyline. The hotel's design captures the evolving spirit of the city, drawing subtle inspirations from the local design and culture in its interiors.

In line with its philosophy of raising the bar of the culinary landscape, Taj Skyline introduces Shamiana, the popular all-day diner, to Ahmedabad – its third outpost after Mumbai and Dubai. Guests can also enjoy Pan Asian cuisine at Nonya or relish international and local comfort food at Emperor's Lounge. Taj Skyline, with its tastefully designed banqueting and conferencing spaces with independent access and breakaway rooms, is perfect for events and weddings. The hotel also features the signature Jiva Spa and a temperature-controlled indoor swimming pool.

"Taj Skyline is the ideal venue for travellers looking to seamlessly balance business and leisure. We are looking forward to welcoming guests to this new luxury address in Ahmedabad. From sweeping vistas of the city to authentic flavours at our restaurants, guests can delight in experiences that reflect Ahmedabad's vibrant dynamism," said Aveek Sengupta, General Manager, Taj Skyline.

Located on the banks of the Sabarmati River, Ahmedabad is the largest city in the state of Gujarat. The historic part of the city is India's first UNESCO Urban World Heritage site.

With the addition of this hotel, IHCL will have thirteen hotels in Gujarat, including one under development.
To know more and to make your reservation, please visit Taj Skyline Ahmedabad.
About Taj 
Established in 1903, Taj is The Indian Hotels Company Limited's (IHCL) iconic brand for the world's most discerning travellers seeking authentic experiences in luxury and has been rated as India's Strongest Brand as per Brand Finance India 100 2020 report. From world-renowned landmarks to modern business hotels, idyllic beach resorts to authentic Grand Palaces, each Taj hotel offers an unrivalled fusion of warm Indian hospitality, world-class service and modern luxury.
The unique portfolio comprises hotels across the globe including presence in India, North America, United Kingdom, Africa, Middle East, Malaysia, Sri Lanka, Maldives, Bhutan and Nepal.  

Please visit: www.tajhotels.com 
Follow us on social media:

For more information, please contact:  rakhee.lalvani@ihcltata.com