The Indian Hotels Company Limited (IHCL) Partners with Tata Medical Center Ahead of World Cancer Day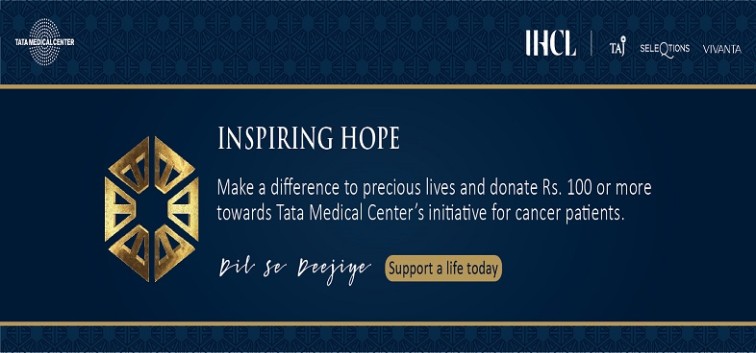 Mumbai, January 31, 2018: The Indian Hotels Company Limited (IHCL) has partnered with Tata Medical Center ahead of World Cancer Day to launch 'Dil Se Deejiye', a philanthropic initiative specifically aimed at raising funds for Tata Medical Center, Kolkata. Through this initiative, IHCL will collect a voluntary contribution of INR 100 or more from guests across its hotels.
Established to serve all sections of society with 50% of the beds earmarked for the underprivileged, Tata Medical Center, Kolkata is a state-of-the-art center for cancer research, diagnosis and treatment.
Speaking on the initiative, Mr. Puneet Chhatwal, Managing Director and Chief Executive Officer, IHCL, said, "IHCL is partnering with Tata Medical Center for this noble cause. Tata culture's ethos is rooted in the spirit of giving back to society and 'Dil Se Deejiye' reflects our commitment to support cancer cure in India. A contribution, no matter how small, will go a long way."
Recently, on the occasion of 115 years of The Taj Mahal Palace, Mumbai, the Company raised and donated substantial funds towards the same cause.
"East India has the highest number of cancer patients. The statistics of the people waiting for treatment in the region are staggering. Small change for guests is a big change for us. I am grateful to IHCL for partnering on this initiative." said Geeta Gopalakrishnan, Honorary Director, Donor Relationships, Tata Medical Center.
Make a difference to precious lives by contributing INR 100 or more to the Tata Medical Center, Kolkata, over and above your bill on check-out. To know more and to make your donation, please visit http://tmckolkata.com/donation/donation_inr.php
About Tata Medical Center:
Tata Medical Center is an INR 350 crore not-for-profit facility, providing comprehensive cancer treatment and care in Kolkata. Set up by the Tata group in May 2011, in response to the alarming increase in cancer cases in East India, almost half the number of beds in this hospital are reserved for the treatment of under-privileged patients. Tata Medical Center, Kolkata aims to cure, and in many cases offer free treatment to those afflicted with cancer in the North East of India. The Tata Group, pioneers in the alleviation of this disease in India and runs the Tata Medical Center, Kolkata.
About The Indian Hotels Company Limited
The Indian Hotels Company Limited (IHCL), and its subsidiaries, bring together a group of brands and businesses that offer a fusion of warm Indian hospitality and world-class service. These include Taj – the hallmark of iconic hospitality,Vivanta with its collection of sophisticated upscale hotels, and Ginger which is revolutionizing the lean luxury segment.
Incorporated by the founder of the Tata Group, Jamsetji Tata, the Company opened its first hotel - The Taj Mahal Palace, in Bombay in 1903. IHCL operates 177 hotels including 30 under development globally across 4 continents, 12 countries and in over 80 locations.
The Indian Hotels Company Limited (IHCL) is amongst South Asia's largest Indian hospitality company by market capitalization. It is primarily listed on the BSE and NSE.
Please visit www.theindianhotels.com; www.tajhotels.com; www.gingerhotels.com
For more information, please contact:  rakhee.lalvani@tajhotels.com