IHCL ANNOUNCES THE OPENING OF TAJ CITY CENTRE IN KOLKATA, THE CITY OF JOY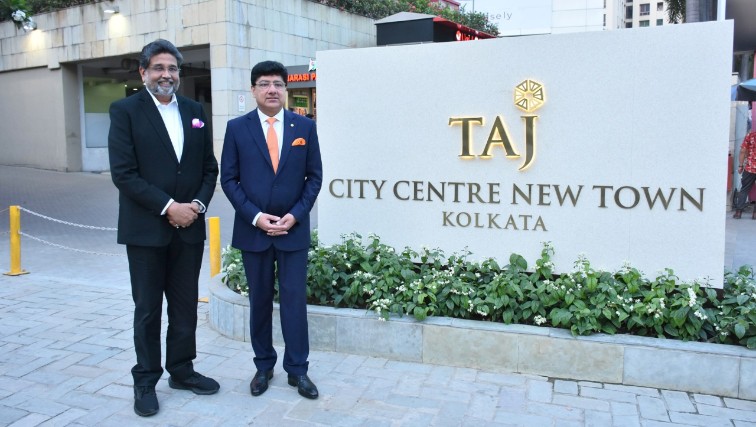 From left to right: Mr. Harshavardhan Neotia, Chairman, Ambuja Neotia Group and Mr. Puneet Chhatwal, MD & CEO, IHCL at the launch of Taj City Centre New Town, Kolkata
MUMBAI, MAY 7, 2022: Indian Hotels Company Limited (IHCL), India's largest hospitality company, today announced the opening of Taj City Centre New Town hotel in Kolkata, West Bengal. An epitome of grandeur and affluence, the hotel embodies a unique blend of old world charm and modern day charisma that is set to provide a one of a kind luxury escapade to its travellers.
Mr. Puneet Chhatwal, Managing Director and Chief Executive Officer, IHCL, said, "We are excited to announce the second Taj hotel in Kolkata with the launch of Taj City Centre, New Town. Regarded as India's intellectual, artistic and cultural capital, Kolkata is a dominant commercial hub of eastern India and we remain committed to growing our presence in the city. This new opening further strengthens our partnership with the Ambuja Neotia Group."

The 137 rooms and 10 suites at Taj City Centre New Town, Kolkata offer a soothing sojourn away from the city's hustle and bustle. From the luxurious suites with private jacuzzi to charming rooms, it is a surreal escape with state-of-the-art amenities. Guests can enjoy gastronomical delights from tantalizing global cuisines at the signature all-day-diner Shamiana; experience Asian delights in a vibrant semi-alfresco setting at Wykiki; and the finest collection of brews and bakes at The Emperor's Lounge. It also features the award-winning Indian and all-natural Jiva Spa. The hotel has six banquet halls to host sophisticated conferences and lavish social events.      

Speaking on the occasion, Mr. Harshavardhan Neotia, Chairman, Ambuja Neotia Group, said, "We are delighted to extend our partnership with IHCL once again. Taj City Centre New Town is perfectly positioned to capture Kolkata's growing status as a business and leisure destination."

With the addition of this hotel, IHCL will have six hotels across brands in Kolkata including one under development.

About the Ambuja Neotia Group

Ambuja Neotia is a prominent and respected corporate house headquartered in Kolkata with its forte in real estate and recent forays into hospitality, healthcare, and education.
The company, under the stewardship of Mr. Harshavardhan Neotia has been responsible for landmark projects in and around Kolkata. Udayan, Kolkata's first condoville built on the PPP (Public-Private Partnership) model made good living 'affordable' for the first time in the country and earned Shri Harshavardhan Neotia, the Padmashree in 1999. This was followed by several mini township projects and housing complexes in Kolkata, Durgapur, Burdwan and Siliguri.

With City Centre Salt Lake, the mall concept was revolutionised. Leisure destinations like The Fort Raichak and Ganga Kutir were created by the river Ganges. The Group also forayed into healthcare with the setting up of Bhagirathi Neotia Woman and Child Care Centre. Eco space Business Park was developed to give the city smarter, greener workspaces for better work-life balance.  With the vision of imparting education that transforms students into leaders for global society, the Group embarked on a new journey with The Neotia University.

About The Indian Hotels Company Limited (IHCL)

The Indian Hotels Company Limited (IHCL) and its subsidiaries bring together a group of brands and businesses that offer a fusion of warm Indian hospitality and world-class service. These include Taj – the iconic brand for the most discerning travellers and the World's Strongest Hotel Brand and India's Strongest Hospitality Brand as per Brand Finance 2021, SeleQtions, a named collection of hotels, Vivanta, sophisticated upscale hotels and Ginger, which is revolutionising the lean luxe segment.
Incorporated by the founder of the Tata Group, Jamsetji Tata, the Company opened its first hotel - The Taj Mahal Palace, in Bombay in 1903. IHCL has a portfolio of 236 hotels including 59 under development globally across 4 continents, 11 countries and in over 100 locations. The Indian Hotels Company Limited (IHCL) is India's largest hospitality company by market capitalization. It is primarily listed on the BSE and NSE.
Please visit: www.ihcltata.com.com; www.tajhotels.com; www.seleqtionshotels.com; www.vivantahotels.com; www.gingerhotels.com
For more information, please reach out: parinita.gawri@ihcltata.com